The Confederation of Real Estate Developers' Association of India (CREDAI), is the apex national body of private real estate developers of the country. With its 157 city chapters, 23 state federations and a membership of about 11,500, CREDAI occupies a "pride of place" in the nation's progress and development with its significant 7% contribution to the GDP as against the overall 8% contribution of real estate sector to the nation's GDP.
Being a significant contributor, CREDAI is the forefront in not only voicing the concerns of the real estate sector, but also in taking the leadership role in the process of formulating the national and state level policies in close interaction with the government at different levels. By playing such an important role, CREDAI endeavors to create conducive environment for the promotion and growth of the real estate sector. Over the years, CREDAI has emerged as a recognised voice of India's real estate industry.
CREDAI Hyderabad is the Hyderabad chapter of CREDAI national, promoting real estate development in Hyderabad with a national impetus. CREDAI Hyderabad comprises a league of developers and builders who have over the years earned a reputation among buyers and investors.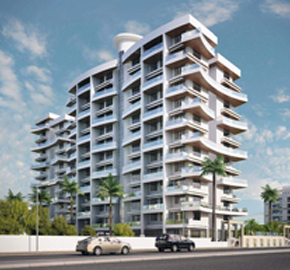 Aiming at taking the realty sector of the state to higher standards, CREDAI Hyderabad constantly strives to bring in the best practices prevalent in the industry nationwide in terms of innovative ideas, latest trends and standards in construction activities. It takes sincere efforts to maintain integrity and transparency in the realty sector. As an integral part of CREDAI, the apex body of organised real estate developers across India, CREDAI Hyderabad voices and represents issues and proactive policies before the government and other concerned authorities. The association will seek to address the issues pertaining to taxation and stamp duty, promulgate prudent strategies for affordable housing and to provide good return of investment for consumers.
Objectives of CREDAI
Present proactive policies
Promote stability and growth
Uphold ethical business values
Create and enforce guidelines among developers
Provide an attractive investment environment
Corporate Social Responsibility (CSR) Activities
Objectives of CREDAI Hyderabad
To perpetuate an ethical code of conduct the following is mandatory for all the member developers / builders of CREDAI Hyderabad:
To maintain integrity and transparency in the profession of real estate development.
To represent the overall interests of developers / builders in Hyderabad by engaging in regular dialogue and representation with concerned authorities, on policy or regulation related issues.
To create a platform for developers / builders to work together towards improving the quality of development and construction related activities by sharing efficiency ideas, and eventually work towards sustainable constructions.
To disseminate data, statistics and other related real estate development information to its members.
To promote the interest of construction workers and to educate them on best practices.
To provide a transparent platform for property purchasers, sellers and housing finance agencies, thus promoting stability and growth in the real estate sector.
To address grievances in a timely fashion.
To be the knowledge bank for all property related enquiries in Hyderabad.
To promote CSR Activities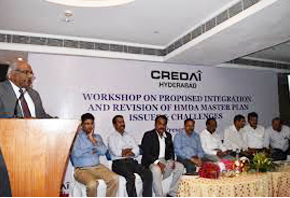 CREDAI – Behind Millions Of Happy And Satisfied Home Buyers
It is said that "Home is where the heart is". Naturally, no money is better spent than on a home that has a character and personality of its own and that shapes the home buyer in many different ways. Therefore, CREDAI Hyderabad deems essential that the "Code of Conduct" is mandatorily practiced by all its member developers so as to achieve comparable high standards of integrity and transparency in the development of housing projects and ensuring the maintaining of ethical standards that should satisfy the needs of the home buyers.
CREDAI, Hyderabad also creates a platform for developers to work together towards improving quality of construction and housing development. CREDAI, Hyderabad provides a transparent platform for property buyers, sellers and housing finance companies alike. All these help promote close interactions and relations among all the stakeholders which foster sustainable development of the real estate sector. Further, CREDAI Hyderabad addresses and attends to grievances of property purchasers and tries to resolve them as feasibly as possible.
By creating hassle-free customer experiences, accountability, transparent practices and code of conduct, CREDAI Hyderabad stands behind millions of happy and satisfied home buyers who bought their homes from its developer members over the years. And now, CREDAI Hyderabad offers another opportunity to millions more to buy and enjoy their homes.
Follow and connect with us on Facebook, Twitter, LinkedIn, Elets video