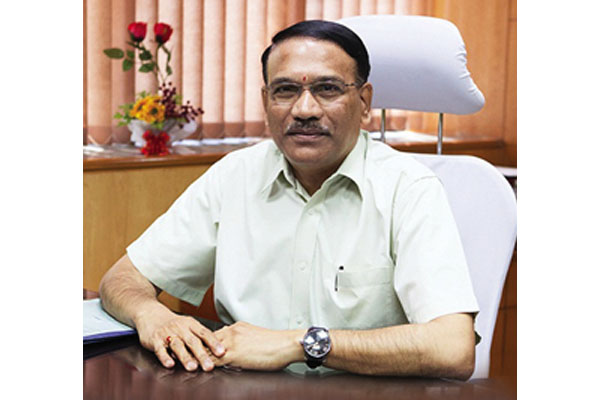 Telangana State Road Transport Corporation (TSRTC) has launched 100 new services to neighbouring states yielding an additional annual revenue of Rs 65 crore, says G V Ramana Rao, Managing Director of TSRTC, in conversation with Elets News Network (ENN).
How has TSRTC improvised its operations across the state in recent years?
TSRTC has been functioning separately since June, 2015 after bifurcation of the state (Andhra Pradesh). With a fleet of 10,400 vehicles, it serves 95 lakh passengers a day, earning a daily average revenue of `9.52 crore. During 2015-16, TSRTC realised gross revenue of Rs 4,095 crore against an expenditure of 4,797 crore, which meant incurring a loss `701 crore. Revision of pay scales to its 55,000 employees with 44% fitment benefit was implemented in 2015 retrospectively from April 2013, which resulted in an additional burden of about `600 crore per annum.
We have taken various measures to absorb the financial burden on wage increase and to make the profitability trend towards positive growth. We have introduced 100 new services to the neighbouring states to yield additional revenue of `65 crore annually. We have also planned to introduce 300 more buses to yield additional earnings of `186 crore annually. Upgrading 100 ordinary services on longer routes into express services to reduce travel time and introduce 117 semi-low floor Jawaharlal Nehru National Urban Renewal Mission (JNNURM) buses in Karimnagar, Khammam and Mahaboobnagar cities to enable effective public transport system in the cities are some other measures TSRTC has implemented.
We have also streamlined rationalisation of hire rates for chartered services to make the system attractive and passenger-friendly resulting in `3.5 crore earning per month. TSRTC also developed an in-house software programme for generating product-wise and service-wise break even earnings for all 13,060 services for effective awareness among the managers and crew members. Computerisation of services' flow charts showing all the services at a particular bus station or terminus has also helped the corporation utilise its buses and crew members.
How have you been able to save on the cost spent on fuel?
We have negotiated with public sector oil companies for supply of High Speed Diesel (HSD) oil at bulk rates to save `35.40 crore per annum. We are using bio-diesel at 35 depots and 2,000 buses with 10% mix which has resulted in saving of `1.54 crore per annum. Lowering the re-order levels for indenting HSD oil and other store items for reduced inventories and use of advanced products like self-lubricated PP shafts, HP power cool and synthetic power steering oil with enhanced drain period for reduced cost per kilometre are couple of other measures.
Which are the areas where TSRTC has invested hugely to make the corporation better?
The government of Telangana has provided a fund of `350 crore for 2016-17 as financial assistance for procurement of 1,436 buses including mini buses towards replacement and augmentation. We have also invested `23 crore for introduction of mini AC buses to be operated from residential localities in Hyderabad, Warangal and Nizamabad and `25 crore for deployment of 136 mini non-AC buses in rural areas for better connectivity. Besides, `17.5 crore for modernisation of Mahatma Gandhi Bus Station, Jubilee Bus Station and Karimnagar Bus Stations and construction of modern bus station at Khammam Bus Station at the cost of `15 crore are few other investments.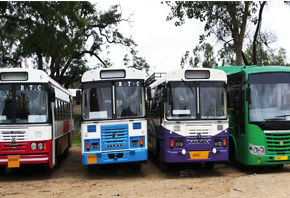 Besides availability of good water, which are the facilities the corporation has focused on improving to make passengers' lives easier?
Introduction of mini AC buses called "Vajra" for operation between Hyderabad- Warangal and Hyderabad – Nizamabad, online ticket booking and ticket booking through mobile app for these mini-AC buses for speedy travel, modernisation of bus stations, cashless transaction system in all 112 services in Siddipet depot and Point of Sales (PoS) machines in Mahatma Gandhi bus station and in Siddipet bus station and wi-fi internet connectivity at 10 major bus stations across the state, four city bus stations in Hyderabad and 75 metro luxury AC buses operating in Hyderabad city are some of the major initiatives we have launched.
How the Corporation is making optimum use of Information Technology? TSRTC has focused a lot on computerised operations and maintenance processes, online reservation system and electronic ticket issuing machines for all the services of the corporation. Further, we have designed Centralised Integrated System (CIS) to migrate and integrate all the current IT modules into an Enterprise resource planning (ERP) system. Further, about 1,180 drivers operated Ticket Issuing Machines (TIMs) and 11,034 Conductor TIMs are being used in the Corporation as well. We are also glad to update you that computerised Bus Pass Project is also in place through which 16.21 lakh bus passes are issued per year, realising earnings to the tune of `267.76 crore. We have also proposed automatic fare collection systems in buses with smart cards.
We have implemented Vehicle Tracking & Passenger Information System (VT&PIS) in 1951 vehicles. Break-even cost analysis and flow chart programme on common corridors are two innovative projects developed in-house and recognised at national-level by Skoch Foundation.
How do you plan to address the grievances of passengers?
We have started to collect feedback from commuters. Experienced professionals are being engaged to assess the passengers' satisfaction levels for improving the service quality. The received complaints are being addressed. We are also arranging periodical training to the erring staff at Staff Training Colleges on behavioural aspects.
What is your longterm strategy to make TSRTC a huge profit making Corporation?
We are focussing on all round development of Telangana state Road Transport Corporation. We have recently signed a Memorandum of Understanding (MoU) with Hindustan Petroleum Corporation Limited (HPCL) for setting fuel outlets in unused lands to get lease rentals and dealership commission on sales. Further, adoption of e-tendering system to realise maximum potential rental income, revenue through packaged drinking water in major bus stations and leasing of available spaces in major bus stations for construction of mini theatre are some of the important elements of our strategy to boost the revenue. We are also working on Build Operate and Transfer (BOT) scheme to augment revenues and to develop vacant lands.