Buoyed by the success achieved by implementing Intelligent Transport Management System (ITMS) project in the State, UPSRTC now wants to introduce a mobile application for online reservation of tickets and real-time information tracking of buses on all routes, says Dr Ashish Kumar Goel, Managing Director, Uttar Pradesh State Road Transport Corporation, in an interview with Arpit Gupta of Elets News Network (ENN)
Please give us an overview of Uttar Pradesh State Road Transport Corporation.
UPSRTC, a passenger road transport corporation of Uttar Pradesh, operates in UP and neighbouring states (now including Kathmandu and Pokhara in Nepal) with a fleet of around 10,000 buses of which 7,500 are owned and 2500 hired. We currently operate in four categories of services.

Super Luxury / High End – Volvos / Scania – Long distance AC Luxury buses currently 85 (projected fleet 150 in current year)
JanRath / Shatabdi – Comfortable 2×2 AC buses – Long distance AC buses currently 165 (projected fleet 300+ in current year)
Ordinary – Non-AC buses currently 7000+ (bread & butter segment)
Lohia Gramin Sewa – Ordinary buses connects villages to towns (thru tehsil / blocks) currently around 1000 (projected fleet 1500 in current year)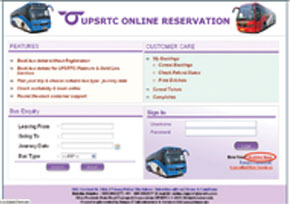 We also operate in Uttarakhand, Haryana, Delhi, Rajasthan, MP, Punjab, and shall soon commence Bihar operations. A new segment of Ordinary AC buses (52 seater – 3×2 configuration – AC) will be added. On an average, our services cover over 33 lakh km providing services to over 15 lakh passengers and earning over `10 crore daily.
UPSRTC earned a net profit of `2.48 crore in 2014-15. It had last earned a net profit of Rs 10.67 crore in 2008-09 and had slipped into losses owing to implementation of 6th Pay Commission in 2009-10, followed by GoI policy of HSD pricing making fuel costlier for bulk buyers in 2012-13.
The turnaround is attributable to a series of policy interventions including bi-annual fare revision linked to cost of operations; reduction in aged fleet and non-performing routes; introduction of technology by way of ITMS Project, Control & Command Center, digitisation and effective monitoring of operations and revenue – resulting in increase of revenues, load factor, utilisation of fleet, reduced idling of buses & decrease in cost of operations; and moreover, monitoring of speed helped in reducing intensity of accidents and saving lives apart from financial savings in MACT claims & litigations.
The turnaround of UPSRTC is attributable to a series of policy interventions including bi-annual fare revision linked to cost of operations; reduction in aged fleet and nonperforming routes, and ITMS among others
How the Intelligent Transport Management System (ITMS) has changed the way UPSRTC operates?
Uttar Pradesh is the first state to launch ITMS in such a vast geographical area. UPSRTC is the pioneer State Transport Corporation, undertaking a comprehensive project of this nature. To strengthen and improve its service levels and service delivery, the UPSRTC embarked on a scheme for passenger-centric Intelligent Transport Management System in 2013-14.
Challenges
There was manual ticketing system through denominations tickets, manual reconciliation of revenue and no facilities for ticket status tracking advance reservation and public information system. Also, there was no method to monitor the state run buses on regularity, punctuality, unauthorised halts, over speeding and unscheduled operations.
The solutions were found with electronic ticketing, web-based online tickets and advance reservations, mobile-based ticketing, current counter tickets, use of hand-held point of sale machines (PoS) for on-board-tickets and introduction of Smart Card Travel Cards and Passes.
Real-time tracking of all moving buses for operations control, arrival & departure information and disaster management have also helped immensely. Besides, passenger information system, real-time updates about the bus arrival & departures, SMS-based enquiry and IVRS – Dial 149 have also been launched.

What other IT-led projects have been implemented by UPSRTC?
Our initiatives of e-Governance and m-Governance for better services include:
Online Reservation System (ORS):
Implemented with payment gateway to ensure ticket revenue goes to UPSRTC bank account directly. Available for popular High End Services and Ordinary AC services.
Counter Ticketing:Around 150 counters for current booking and issue of Smart Card MST & passes have been set up.
Electronic Ticketing Machines, Vehicle Tracking System, Central and Regional Control Centers, 24×7 Call Centre Service and portal of upsrtconline.co.in for ticket booking, among others. 

When is UPSRTC launching its mobile ticketing app for online reservation?
In the beginning, the mobile app 'UPSRTC' will be useful for booking online tickets of high-end buses. The Android application will be launched on 30th July. It will be available in Google playstore. Our iOS application is also ready and processed for approval. As and when Apple approves it, we will be launching it. We are planning to tie up with mobile payment wallets like PayTM, Pocket by ICICI, Airtel Money, etc. for payment convenience for passengers.
What are major challenges in implementing IT initiatives?
In the IT sector, the turnover of manpower is very high so we are concentrating on training our workforce also. Increasingly the functions are being performed by our employees. We have such a system that none of our data is lost.
What is the progress of Smart Card pass system?
Any plans to add more features to attract more passengers. We have Smart Card pass system based on NFC – RFiD cards (Monthly Seasons Ticket, Open Ended Combo – Travel cum Shopping Wallet, Over the counter – faceless cards) and are contemplating day boarding pass, single use cards, etc. as per passenger requirements. Our present bankers for cards are SBI and ICICI and HDFC is under consideration. Smart Card passes were introduced in 2014- 15 and registration has crossed 1.35 lakh. These cards are issued by banks – ICICI & SBI – and are combo cards with prepaid travel wallet in RFiD (NFC) & Shopping wallet in Magnetic Swipe Card. We are also planning tie-ups with taxi aggregators like Uber, Ola, Rides, etc. for integrated booking & last mile connectivity on our booking portals.
Which areas do you feel have scope for further technological advancement?
Technology has helped us in tracking and recovery of stolen hired buses and was appreciated and accepted by operators. We are testing the implementation of fuel management system through Indian Oil Corporation. We plan to go in for implementation of CCTV surveillance on buses for women safety.
Follow and connect with us on Facebook, Twitter, LinkedIn, Elets video