The State of Punjab has traditionally been high on the narcotic drugs smuggled into the State from bordering Pakistan. While the security agencies are playing their part in curbing the trans-border menace, the various drug de-addiction centres are doing exceedingly well in rehabilitating the drug-addiction victims. An in-depth report by Priya Yadav of Elets News Network (ENN)
Blame it on Punjab's 'strategic location', or failure of successive governments in the State to check the menace, but the worrisome truth is that Punjab is on a constant high. More disturbingly, it is not just a high number of the youth, middle-aged and the elderly, who are in a vice-like grip of intoxication, but increasingly children, as young as eight-years-old, are getting addicted to a plethora of abusive substances available freely in Punjab's hinterland.
An alarmingly high quantity of drugs, like heroine, is pushed into India from Pakistan via Punjab, which is the main transit route for the drug smugglers. It is reported that the recent terror attack on Pathankot Air Base was conducted by Pakistani terrorists, who entered India using the route that drug smugglers use to pump in narcotics in the State. Punjab is not just waging a war on the terror front – Pakistan has launched a proxy drug war in the State, targeting the population, primarily the youth. And the worrying part is that they are winning this battle big time.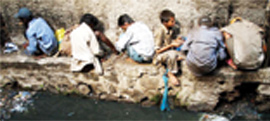 A recent study conducted by the All India Institute of Medical Sciences (AIIMS), New Delhi has revealed that opioids worth Rs. 7,500 crore are consumed in Punjab every year. In a survey that is First of its kind, the National Drug Dependence Treatment Centre at AIIMS has reported that more than 1.23 lakh people in Punjab are dependent on heroin. is means that 0.84 per cent, about 2.3 lakh of the entire State's population, is opioid-dependant, if artificial substances having the same impact on nervous system as opiates, are taken into account. e survey reveals that opioiddependent people are spending approximately Rs. 20 crore daily on these drugs. On an average, a heroin-dependent individual spends about Rs. 1,400 per day.
The State Government, acutely aware of the problem, which has become a political issue in elections, has adopted a multi-pronged strategy to deal with the situation. A high-profile committee of experts from the Post Graduate Institute of Medical Education and Research was invited by the Punjab Government to suggest measures to curb the menace.
Following this, 27 drug de-addiction centers (DDCs) have been made operational in the State. To provide tertiary level facilities, have Model DDCs (50-bedded each) have been set up at Jalandhar, Patiala and Bathinda and these drug de-addiction centres will work under Amritsar, Patiala and Faridkot medical colleges.
In all, there are 27 drug de-addiction centres (DDCs) operational in Punjab, and to provide tertiary-level facilities, five model DDCs (50 bedded each) have been set up at Jalandhar, Patiala and Bathinda that will work under Amritsar, Patiala and Faridkot medical colleges
The 50-bedded Model Drug De-addiction Centres at Amritsar and Faridkot have been made fully functional. Continuing its e"orts beyond de-addiction to rehabilitation, the Government of Punjab has approved 21 counseling & rehabilitation centres of 50 beds each, even as the centre at Amritsar is of 100 beds capacity.
As part of the strategy, detailed guidelines have been framed and circulated to run these centres. The State Drug Controller has issued the order for supply of Buprenorphine medicine to only licensed DDCs. A computer programme has also been designed to eff"ectively monitor the inow of patients.
Before this, Punjab had reported a widespread use of pharmaceutical or synthetic drugs. The Government is struggling to put a number to those addicted to synthetic drugs, as the State's police are discovering deep-rooted distribution networks of those in the synthetic drugs trade.
Even as security forces are brainstorming on guarding the country's frontiers, it is the enemy within that Punjab needs to focus on. It is not just a trickle of terrorists being pushed into the country to wage terror, but an army of addicts – men, youth, children craving for heroine, synthetic drugs and liquor that the Government needs to be really worried about.
Punjab is traditionally known to have a very high population of alcoholics, with liquor addiction considered a household menace, so much so that the women in hundreds of villages in the State, who are prime victims of alcoholism, have taken upon themselves to physically uproot or burn the liquor vends in their villages. More than a hundred gram panchayats have given a"davits to the State Government not to allow a liquor vend in their village, because it is devastating families and leaving women penniless and helpless victims of domestic violence.
However, the State Government itself is high on the money that liquor sales fetch to the State co"ers. Data shows that the revenue from excise and sale of liquor has increased phenomenally over the years. The State Government makes more than Rs. 5,500 crore in a year from liquor sales, a figure that was Rs. 3,000 crore three years ago. In 2014, in the State's population of 2.77 crore (2011 census), it le 12.15 liquor bottles a year for each citizen.
With increasing awareness about the threat that intoxication is posing to the State's future, various strategies are being devised to tackle the situation. is includes a wide network of drug de-addiction centres, cracking down on the drug besides adopting advanced techniques in treating drug addicts.
Follow and connect with us on Facebook, Twitter, LinkedIn, Elets video