To recognise the unfailing commitment of the Uttarakhand Government towards technological empowerment of the local populace, Elets Techonomedia, in association with the State Government, organised 'e-Uttarakhand 2015' in Dehradun on 27th June 2015. The occasion witnessed thought leaders, visionaries, policy makers and implementation specialists come together on one platform to discuss, debate and propose the future course for the state. The event served well the objective of churning out strategies for rapid development of IT industry and better eGovernance services.

Here we reproduce the views and insights of the key speakers at the event in a nutshell.
IT Connect in Land of Gods
Uttarakhand Chief Minister Harish Rawat said that IT revolution has indeed changed the entire world and made everything simple. However, he alsoaccepted that with the advancement of technology, disparities have also gone up among the users. The chief minister said the government has started over 100 Jan Seva Kendra (centres) to bring all key services under one platform, unfortunately, people are still not familiar with the technology.
"The Government and private players should work in tandem to encourage people to use technology and make it simple to make eGovernance a success. I will suggest that the government should sensitise and motivate people so that we can make online services a huge hit," Rawat remarked. He candidly admitted that with the advancement of technology, many political leaders like MPs and MLAs are coming with requests of making their areas Wi-Fi enabled. He gave best wishes to the Uttarakhand government officials and private firms' representatives for attending the event.
---
Uttarakhand Gears up for 'eKumbh'
Uttarakhand Chief Secretary N Ravi Shanker said that the country is going to witness a broadband revolution in 2016 followed by mobile telecom revolution in 2004 and cable television revolution in 1992. "Entire Haridwar district will be connected on fibre network next year when Ardha Kumbh would be organised, which can be christened as 'eKumbh' because of eGovernance initiatives being taken by the government of Uttarakhand," Shanker said. He requested IT-experts and entrepreneurs to take initiatives to develop IT-infrastructure in the State on the lines of Karnataka, Maharashtra, Tamil Nadu, Delhi, Punjab and Haryana, etc., which are much advanced in technology in comparison to Uttarakhand, adding that the State is striving to become a next IT-hub.
The Chief Secretary further said, "We have to use electronics or e-Applications to tide over the difficulties, which the State is witnessing to maintain the balance between environment and boosting economy."
---
Governance at Doorsteps
IT Secretary, Uttarakhand Government Deepak Kumar said that the government has rolled out various Government-to- Citizen (G2C) services while
his department is also rendering technical advices to other government functionaries. Under 'Apki Sarkar Apke Dwar' programme, IT department has opened 120 government centres and 1,100 'Deo Bhoomi Jan Seva', run by trained village youth to render eGovernance services to citizens where people can get birth/death certificates, deposit electricity/phone bills and apply for the income and other certificates. He said that Uttarakhand was glad to organise e-Uttarakhand summit 2015 in association with Elets Technomedia Pvt Limited where entrepreneurs and ICT experts from across the country had turned up to participate in the event.
Session 1 – eGovernance and mGovernance: Best & Next Practices
The Big Leap in Technology
Today, the world is changing because of technology revolution. Mobility is changing the way we browse, network and connect. Between 2003 to 2008, the devices connected on the Internet had overtaken the world population and by 2050 we expect 50 billion devices to connect on to the net. There are more than 900 million active users in India, out of which 250 million are mobile Internet users, higher in number than the sanitation available at the households. Interestingly, women have started using Internet more than men. Nearly 70 per cent of India's Internet traffic is through mobile, which is increasing at a phenomenon speed with 3G and 4G coming up. We are witnessing that the data has now started replacing voice because people are using Facebook and WhatsApp.
---
Digital Solutions for Easier Life
eGovernance has come in a big way to play an effective role. It is being used across the world for almost every application i.e. to book rail tickets,tourist destinations and sometimes to block a seat of management or an engineering college. The private sector has taken a substantial lead in introducing eCommerce and eBusiness. Governments have also caught up in reaching out to the citizens at large. Southern states like Karnataka, Andhra Pradesh, Tamil Nadu and Maharashtra have taken big leap in providing services, but Uttar Pradesh has also done a commendable job in using IT and eGovernance solutions to provide effective services to citizens. In fact, UP stands at third position in terms of using electronic transactions in government process during last five months.
---
Get Problems Resolved e-Way
The online portal of Suraaj Department known as Samadhan aims to empower people through use of IT. This portal is personally monitored and reviewed by the CM to ensure compliance of citizens' grievances. There are three levels to resolve public grievances generally in 30 days and maximum in 40 days. If a particular complaint is not redressed in 30 days then it automatically goes to the higher levels, like to the district magistrate, commissioner and then to the chief secretary. Secretary of Suraaj Department, Mohd Shahid said, "Our department has made several online applications like old age pension to address grievances. We had earlier launched Mahiti Shakti programme to empower people through these portals."
---
Digital Solutions for Transparency
We had introduced automation in the commercial tax department to maintain transparency and increase efficiency. The first one is eRegistration, earlier it used to take a lot of time for one who wanted to get through the process of registration and there was very less accountability on the part of officers concerned who is taking the application. But once it was made online, it became mandatory for everybody to apply online so the date is locked and within two days the entire servicing is done. Second is eReturn where all kinds of returns are now quarterly. Besides, VAT returns, we also have CST returns. It is not a separate activity to be done in Uttarakhand. We also have invoice data.
---
Help Goes Cloud-borne
We have started a new cloud call centre—Jan Samvad Seva through which a person can lodge his/her grievance directly using mobile phone. All complaints directly goes to the DM to ensure better compliance. Just one phone call is required to register a complaint round-the-clock which is having 300 lines, so that there is no call jam or call waiting problem. Interestingly, the complainant can get the status of his/her complaint through Internet as well as SMS when it is updated at the call centre. Recently, we have connected Department of Revenue, Social Welfare, PWD, Disaster Management, Police, Irrigation and Food & Civil Supplies with the Centre. A grievance has to be addressed within 30 days and the status should be provided online to the applicants.
---
IT for a Better Tomorrow
After the creation of Uttarakhand State, timely disbursement of salary was a big concern. The government had decided to open pay and account office in the treasury department. Earlier all DDOs were preparing and submitting the bills manually in the treasury departments but later automation was introduced with the support of NIC. Currently, all the bills are being generated online including treasury. It is also generating online pension to maintain transparency and reduce costly service delivery. The main steps that have been eliminated after the computerisation manual posting of accounts, manual communication of budget, issuance of NOCs and budget reallocation, among others.
Session 2 – Challenges in Cyber Security
CCTV Monitoring is a Must
CCTV needs proper monitoring to prevent untoward incidents. It is the duty of the management to ensure that CCTVs are being monitored. The corporate espionage case that occured in the petroleum ministry, the camera operator had himself turned off the CCTVs making it difficult to get the video footage. Similarly, a Police Inspector had shot at another cop at Vakola police station. Later, it was found that the CCTVs were not working. Similarly, a girl child was molested in Mumbai and when the recorder of CCTV was checked, it was found it wasn't working. So the moral of the story is that monitoring of CCTV cameras is extremely important. One should check video footage on a daily basis as a standard operating procedure to take preventive measures.
---
Cyber Security Need of the Hour
Cyber security holds extreme importance in today's era. With the advancement of technology, the number of cyber crimes has also gone up significantly. The Snowden revelations have exposed that how big nations are snooping on other countries and monitoring every possible activity from their servers. The future wars will be on cyber space, which is affecting everyone's life right from an individual to a country. The reach of cyber crime is increasing day by day in sync with technological advancements. There is nothing secured in Internet database. As an instance if one thinks that his mail, banks and social media site passwords are 100 per cent secure then it's not true, as everything is passing through web browsers.
---
Be Secure, Be Safe
Challenges to cyber security are very real and dangerous. In today's life Internet has become a lifeline in every aspect of life, business and delivery of essential services. Cyber-crime is on the rise and has far reaching impact like disruption of critical infrastructure, financial frauds and data breaches. The threat is no longer static, as it is diverse and constantly evolving. There are numerous kinds of cyber crimes like identity threats, financial frauds and cyber defamation with the help of Internet, hacking, forgery, printing counterfeits currency notes from computer, fishing, credit card frauds and corporate espionage among others. Emerging trends in the cyber crime is not only about money. With the increase in mobile internet penetration, threats in social media are also augmenting. Police have to be one step ahead of the cyber criminals.
---
Helpline to Prevent Wildlife Crime
We have recently opened a call centre to ensure forest and wildlife security. As Uttarakhand has around 70 per cent forest cover, the wildlife crime is also prevailing considerably. The call centre was launched on 30 June 2014 in Kumaoun region and after obtaining a good response, we unveiled it across the State for wildlife protection on 5 June, 2015 on World Environment Day. We have given a facility to people to register wildlife related complaints through a phone helpline. Its India's first automatic call centre, which has over 300 lines to prevent choking of calls, one can also upload photos and videos of illicit wildlife crimes on the URL of the website."The Government and private players should work in tandem to encourage people to use technology and make it simple to make eGovernance a success," he said.
Session 3 – Leveraging Technology for Building Smart Cities under
Digital India Programme
Tech-Savvy India to Beat Counterparts
In India, we have got massive challenges like shortage of doctors, nurses, teachers among others. We have to find ways to leverage technology to solve some of those challenges. When we talk about smart city, the pace of technology is accelerating at a phenomenal pace, so it is changing business modules and making businesses go out of their comfort zones very fast. In India, 590 million people will live in cities by the year 2030, which is almost one third of the population of the country. It is going to put huge stress on the urban infrastructure. The government can deliver governance on mobile devices by using Wi-Fi as a transport mechanism.
---
Go High-tech to Become Smart Citizen
A city could be considered as Smart City if it makes the lives of citizens easy. If the citizens are given hassle-free services by the government then it is supposed to be a Smart City. Every part of such cities should be meticulously planned and must have an efficient public transport system. The 21st century governance is not about people standing in a queue at the government office to avail a particular service. A Smart City has to necessarily incorporate technology to deliver all the essential services. The MDDA has launched an ERP system, which is functioning for the past two years that has made peoples' lives easy. We wanted to make it a complete e-office and implement the ERP. We took the government to citizens (G2C) services first for the convenience of citizens.
---
Single-Window Solution
Although there is no standard definition of a Smart City but it's a concept that could have good waste management, lighting, and IT infrastructure. It is important to highlight infrastructure requirement, which is very essential. The mobile connectivity should be strengthened in the remote areas and there should be one-time fee and a single window system. The Uttarakhand government is working with the Department of Telecom in this regard.
---
eGovernance and mGovernance
We have already implemented a few eGovernance and mGovernance initiatives. We wanted to have vertical integration of services that we offer to the citizens where they can apply for birth, death and any kind of certificates. We want to boost DMC's revenue collection for which a three-phase strategy has been chalked-out. On a mobile platform, one can apply for many key certificates. We also wish to offer them city-based information like nearest doctors, schools, government institutions and tourist places, etc. We already have a telephone helpline on which people can lodge their grievances and can check the status. We believe that increasing transparency would help us to serve the citizens in a better manner. We have commercial activity monitoring system too. We want to make DMC's assets online through which people can schedule their activity accordingly.
---
Smart Governance
Smart Cities do have different forms across the world like knowledge based city, broadband city, mobile ambience city and digital city. The proposed Smart Cities need to have different infrastructures to be in place for daily needs like healthcare, hygiene, trade and commerce of the people. The most accepted definition of a Smart City would be that these cities are dynamic ecosystem of citizens, authorities and companies that cooperate to develop products and services to foster innovation to develop a sustainable city. It should have presence of liveability, smart forces, smart economy, smart governance and smart people. The Government should also use unconventional source of energy for that they will also get the credit and zero waste concept for civic bodies.
Session 4 – Energising Uttarakhand: Effective Disaster Management and Connectivity, Role of PSUs
Railway Network
PSUs play a very economic role in our country. They have created the industrial base in India as well as generated a lot of employment for the people. There are around 280 central PSUs and 24 PSUs in Uttarakhand.
As it is sufficient for railways to run the goods and passenger trains together on the existing lines so DFCCIL was built to have a different dedicated corridor for connecting the mines and port areas.
This dedicated corridor was made to make new corridors for both goods and passenger trains in order to get smooth movement for connectivity to different places. Uttarakhand can be connected with Saharanpur or with Tapri and Jagadhari. It all depends on the survey done by Railways. Rishikesh would be connected by rail network by 2017, as the project was laid down in 2012.
---
IT-Enabled Intranet
Post 2013 disaster in Uttarakhand, various IT-enabled services have been implemented in Rudraprayag district for strengthening our disaster management authorities and communication network for the safety of tourists. These IT-enabled services are operated on local intranet network, which helps in video conferencing from Kedarnath to headquarters directly.
All digital display boards for all information related to alerts and other information have already been put in the district. Mobile app related to all information of resources just like helipads, schools, health centres, etc. have already been introduced by us.
---
NOFN Services to Reach Inaccessible Areas
In BSNL, we have been working on enhancing connectivity across Uttarakhand. Connecting the inaccessible areas, we have been working under the National Optical Fibre Network project. We are connecting the entire Gram Panchayat of the State with 100 mbps connectivity. We are proud that 120 Gram Panchayats under NOFN project includes five from Uttarakhand.
We have to keep all the aspects in mind for better and available resources in the State in order to improve the connectivity.
---
Going Paperless
Initially before 2001, we have introduced various IT-enabled systems in various departments of ONGC for better communication and accurate work. In 2001, the entire infrastructure was revamped and SAP was implemented in ONGC. We monitor 7000 servers, 1000 routers and more than 1,00,000 lakh devices online in ONGC. In addition to that, we have built different system for video conferencing for in-house people so that they can communicate with the different teams easily. We have also started paperless working and it will be successfully implemented by October 2017.
---
Using Mobile for Disaster Management
Most of the communication in India is done through mobile and it's usage is very high as compared to other countries in the world, which is a major risk to communication during disaster management. Often, we get so much caught up with the outcomes of disaster that we do not focus on how we prevent ourselves from these disasters. We were not able to fuel our towers during disaster management, which resulted into failures. So, we should have a strategy to provide the resource to the towers during disaster and we have an ability to do that. We are joining hands with the government for that.
Session 5 – Technology for Healthcare Services, Tourism and ESDM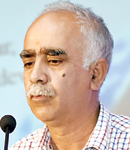 e-Initiatives for Tourism
One of the initiatives, e-initiative, for sustainable tourism in Himalayas was started by young entrepreneurs and this project has now strength of 700 people. People like taxi owner, guest house owners and various people related to tourism are benefitted with this initiative. This helped in growing the tourism on a very larger scale in Himachal Pradesh.
---
Good Health for All
Aarogyasri is the flagship scheme of all health initiatives of the Government of Telangana, with a mission to provide quality healthcare to the poor. The aim of the Government is to achieve 'Health for All'. In order to facilitate the effective implementation of the scheme, the State Government has set up the Aarogyasri Health Care Trust. The scheme provides financial protection of up to Rs. two lakh in a year for the treatment of serious ailments requiring hospitalisation and surgery to families living below poverty line.
The objective of the scheme is to improve access of BPL families to quality medical care for treatment of identified diseases involving hospitalisation, surgeries and therapies through an identified network of healthcare providers. We have build up online system for all employees in the trust. The aim is to maintain all the information about the employees. We have also implemented the mobile application for patients so that we can identify their information and what has been the treatment.
---
Generating Employment
We have done extremely well in the software development, so now we have decided to enter in manufacturing the electronic goods. Either we start importing goods from other countries or we can manufacture it here, which will lead to employment generation for our country. The demand of electronic goods will grow at a very larger rate in the coming years. Keeping all factors in mind, the Government of India has announced a policy, which includes infrastructure, incentivise the entrepreneurs and innovation.
Session 6 – ICT in Education & Aadhaar-based Services
Businesses for Customers
We are trying to see how business can serve the consumers and how government helps in doing that. Today, if we need something it should be available online. The basic objective of the digital economy is to have all the services and products online. The kinds of businesses, which are growing and which will grow are professional services. Ease of doing business has been a big priority for the government, as business helps in growth of economy as well as for employment generation. Niti Aayog will be launching a scheme for start-ups. We are inviting proposals from all states to get as much benefit from this scheme.
---
Video Tutorials for Students
Recently, we received an award from Google for implementing the best Massive online Open Courses and spoken tutorial and important aspect of MOOC. Video Tutorial helps in better connectivity with the students with interactive ideas and students enjoy studying through these video tutorials.
In Uttarakhand, last year we have done many things. Our major highlight was the remote education programme. Under this programme, a small team from our campus joins any campus across India to keep us connected with the students. We have completed 2500 training session across India because of grassroots partners. A group of 25 to 27 managers are the part of team and we remain connected with more and more campuses.
---
Education to Overcome Challenges
Uttarakhand is consists of different geographies and there are many challenges on account of this. Network issues, access to IT-initiatives, and connectivity problem are some common challenges. Education happens to be the biggest reconstructor for these challenges. It provides people with ideas about how can they stay back facing these challenges and how can they overcome these. Virtual class and video streaming are some innovations implemented by us under ICT tools. We regularly organise training programmes for students to remain updated in the technology domain. Mobile integrated with GIS would also prove to be a emergent tool for new technology for the education world. We have mapped 32,000 schools of the State through an application and check the status of admission and students. We can also video stream with any of the institution.
---
Access Your Account Anywhere
Banking always has been the heart of economy. It represents the economy and ICT has become the heart of banking in some period of time. After implementation of ICT tools, not only banks are benefitted but also the consumers. Banks have now been able to reach the remotest locations and it has only been possible after technological development happened in the States. Customer can access his account from anywhere across the world. Internet Banking and mobile banking helps consumers do anything without going to a bank. A consumer can do everything sitting at his office or home. Trading and Transactions have also beco
---
Use Aadhaar for Security
Unique Identification project was initially started by the Planning Commission as an initiative that would provide identification for each resident across the country and would be used primarily as the basis for efficient delivery of welfare services. Since 2006, when administration gave approval for the project, the vision behind UIDAI was to empower residents of India with a unique identity and a digital platform to authenticate anytime, anywhere and so far we have allotted Aadhaar Cards to around 87 crore people. We register around 12 lakh Aadhaar application per day. This is the largest biometric system in the world and would help in authentication of the service provider and the residence. One can use Aadhaar Card for security purpose in banks and digital website as unique identity. We need to connect with different departments and institutions, if they want to link Aadhaar for the security purpose.
---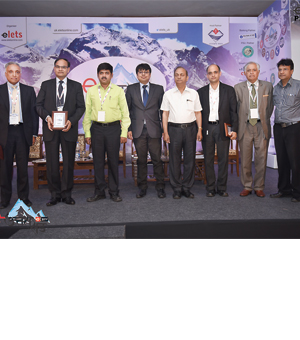 Follow and connect with us on Facebook, Twitter, LinkedIn, Elets video