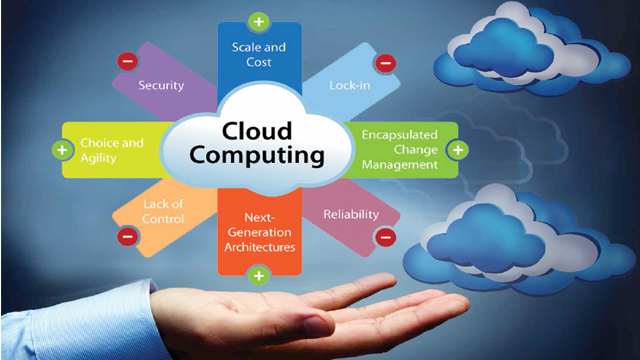 Organizations of all shades – no matter public or private – are fast getting drenched in the incessant shower of cost-effective, convenient computing solutions from the Cloud technology, analyses Sunil Kumar of Elets News Network (ENN).
The new-age wave of Cloud Computing technology seems to have left one and all awestruck. The wave is fast turning into a rage today. Today, it holds tremendous promises of unlimited, on-demand, elastic computing and data storage resources, unlike the large upfront investments required while deploying traditional data centres. From a business perspective, the Cloud offers three key advantages:
• Removes computing/storage infrastructure as a limiting factor in meeting unanticipated demands;
• Eliminates the need to build IT infrastructures that can handle spikes in activity only to sit idle most of the time; and
• Reduces the risk of upfront investment and improves cash flow through pay-as-yougo model, charging only for the utilized resources.
Real-time e-Governance

Puneet Gupta
Director, Public Sector, Cisco India & SAARC
By adopting a Cloud-based IT strategy, governments can fundamentally change the way IT services are delivered and consumed while at the same time realize tangible operational and financial benefits like reduced costs, improved organizational agility and transformation in service delivery. Cloud Computing can be used to facilitate 'real-time e-governance' across the length and breadth of the country. For cities or towns lacking technological infrastructure, this technology can be a major boon because it enables quick project execution. Also, because of its ability to handle large number of transactions, citizens can look forward to better response times for service delivery.
No losers here: As Cloud Computing continues to mature, a growing number of enterprises are building efficient and agile Cloud environments, and Cloud providers continue to expand service offerings. On the other hand, organizations are increasingly looking at Cloud Computing as the structure to support their big data projects; more so, because big data environments require clusters of servers to support the tools that process the large volumes, high-velocity, and varied formats of big data. In fact, Clouds are deployed on pools of servers, storage and networking resources, and can scale up or down as needed. Cloud computing offers a cost-effective way to support big data technologies and the advanced analytics applications that can drive business value.
This technology is one of the most hyped topics in the last few years — not surprising though after seeing its benefits and business acceleration. This means we can certainly expect to see the Cloud services increase massively in the coming years, given the wide-reaching benefits they can provide to businesses of all shapes and sizes. The technology becomes all the more inviting given its feature of improving the elasticity of IT applications and their usage.
(In)security issue: For the government, it is preferable to go for the private Cloud option, since it will allow the government ownership and control of the infrastructure. However, the Cloud adoption in the government is still at the proof-of concept level to a large extent. The concerns that have come up relating to the security and reliability issues with the Cloud are partly due to a lack of awareness and proper understanding. A safe approach would be to put non-mission critical applications first on the Cloud.
More for less

Mathew ThomasVice President, SAP IndiaCloud
Strategic Industries, SAP IndiaCloud is the key to expedite governance transformation. It has the potential to address some of the critical challenges like simplification of the systems landscape, capacity building, in-house IT skills availability, sustainability and quality of service. It enables government agencies address data sovereignty requirements and offers the ability to take a standard process out of the box, thereby reducing the pressure on skilled workforce. Budget pressures and service level demands are attracting the public sector to move to the Cloud. Many PSUs are opting for 'Hybrid Cloud' model where part will be in Public Cloud and a significant portion in Private Cloud, to address data security requirements better and also take advantage of Cloud benefits.
Money in Cloud: The public Cloud services market in India is on pace to grow 32.2 percent in 2014 to $556.8 million, an increase from 2013 revenue of $421 million, according to Gartner Inc. It projects Software as a Service (SaaS) – the largest overall cloud market segment – to see the maximum growth to hit $220 million in 2014, growing 33.2 percent from the last year. Next comes Infrastructure as a Service (IaaS), totaling $78 million, and Business Process as a Service (BPaaS) coming third with its projected $75million market share. "Growth of Cloud services in India reflects the demand for new sourcing models," said Ed Anderson, Research VP at Gartner. "We expect high growth rates across all Cloud services market segments in India." The total Cloud market in India in 2013, according to the research firm, stood at $421 million, and the total market for public Cloud services in India is expected to reach $1.7 billion in 2018.
According to other industry forecasts, the market size of the domestic Cloud Computing is expected to grow up to $4.5 billion by 2015 at a CAGR of 40 percent. It will push the Indian ICT market (software, services and hardware) and businesses to generously spend on various IT and Cloud technologies. On similar lines, another research firm IDC projects the overall IT spending in India will reach $44.8 billion in 2014. This growth is on the sidelines of the worldwide IT spending projected at $3.8 trillion in 2014. The estimated worldwide IT spending is said to register an increase of 3.1 percent from 2013 figures ($3.7 trillion).
Focussed to future

Yolynd Lobo Director, BSA India
India should look beyond mere consumption of Cloud services to improve e-governance delivery and access, so as to create a future-focussed policy framework that will help her derive long-term developmental impact and economic benefits from the technology of the day. To ensure this, the new government needs to specify policy actions on enabling cross-border data transfers, preventing regulatory obstacles for the Cloud providers and protecting the intellectual property rights to prevent misappropriation and infringement of the technological developments that underlie the Cloud.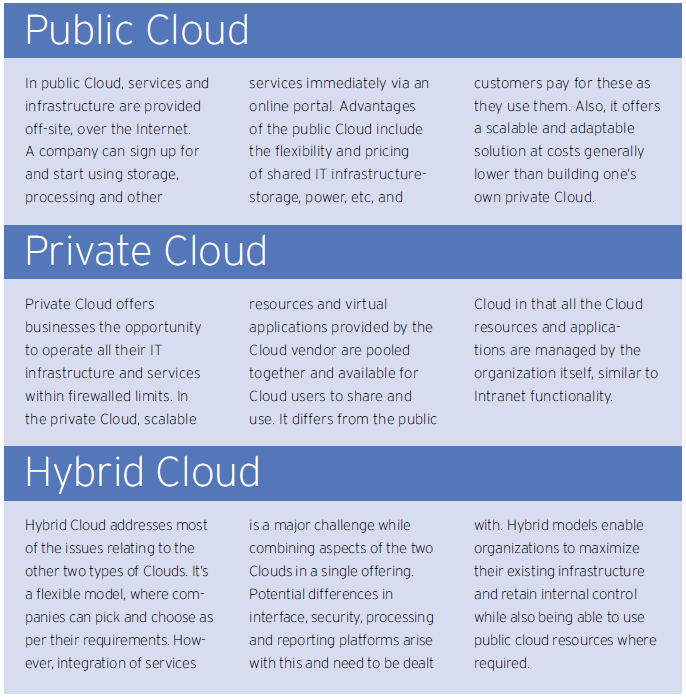 Cloud formation: The Cloud technology has been around for some time now. However, it seems that its true potential is yet to be harnessed. Over the years, it has changed the ownership model, providing flexibility to manage, host and execute. Several industries have adopted the technology to leverage the benefits of Cloud. In short, be it cost reduction, hassle-free maintenance, unlimited storage capacity (literally), automatic software integration, flexibility, quick deployment, etc. or the fact that the entire world is embracing it, the Cloud technology is unquestionably the way forward. So, it is no wonder that over 60 percent of the CIOs today trust Cloud, up from 33 percent barely couple of years ago.
Chinks in the chik: However, while Cloud technologies offer significant benefits, they also pose challenges of customization, data security and integrity. In fact, as data storage, retrieval, processing and analysis are all moving to the Cloud, data security and privacy are going to be the key concerns for providers to address on the Cloud in the days ahead. According to Gartner, "Cloud services in India will be strong across all Cloud services market segments through 2017."
Enterprises today have realized the potential of Cloud computing and started to take advantage of its mobility and storage capabilities. However, a major hurdle for an absolute Cloud infrastructure is the real and perceived lack of security. There is a raging debate over how to make Cloud safe for enterprise data, and it is time for organizations to understand that there is no such thing as absolute security, and probably, never will be. Hence, one of the key areas Cloud Computing should be moving towards is not how to make it safer, but how to make it difficult to crack — the dynamics change when the perspective towards a problem changes.
While the motive of security continues to gather momentum in 2014, there will always be a 'balance point' from an enterprise perspective, which will be the 'best' mix of local computing and storage, on-site data centers and networking and Cloud. This balance point will also continue to evolve in the near future as companies would keep on trying to experiment between different proportions of the business processes that exist in the 'Cloud' and on the 'Ground'. These will be relative to cost optimization, processing power, storage capabilities and data communication changes that take place ahead.
Agility with flexibility

Prashant Chaudhary Director, Sales – Government, CA Technologies.
It's an era of 'virtualization', 'any time anywhere services' and 'delivery on demand network'. As a new paradigm of service delivery, Cloud Computing model can enable dynamically scalable and virtualized information delivery on-demand over the network through pay-per-use model. While we all agree that enterprises are already on way to reaping financial advantages and operational benefits of agility and flexibility of the technology, the road map for Cloud adoption by our government is also showing positive signs and gaining momentum. Cloud Computing is undergoing a seismic shift and is fundamentally changing the economics of IT, of businesses and of delivery of governance in India.
Future perfect: The industry has the largest range of possible outcomes, depending on the aggressive embrace by enterprises and the suite of services on offer by vendors. Like the previous year, the next generation of Cloud infrastructure and services will have a major impact on the industry beyond its forecast. On the vendor side, companies will have to keep pace with enterprise evolution, keeping up with the pace to meet the ever-growing capacity and operational management needs, while trying to tackle possible roadblocks in terms of system integration, diverse web of users, multiple applications, platform and overall infrastructure harmony.
Hence, it will be essential for vendors to work out their solutions from the ground-up to be better in tune with forthcoming market dynamics. The future for Cloud Computing, therefore, looks predominant. It is likely to be at a stronger position if factors like security and the overall stability of cloud infrastructure are addressed successfully.