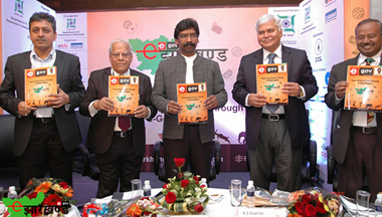 e-Jharkhand 2014, which was held jointly by Department of Information Technology, Government of Jharkhand and Elets Technomedia Pvt Ltd on the 22nd of February at Ranchi, brought together various stakeholders who are working together to develop the state by means of e-Governance…A report
Inaugural Session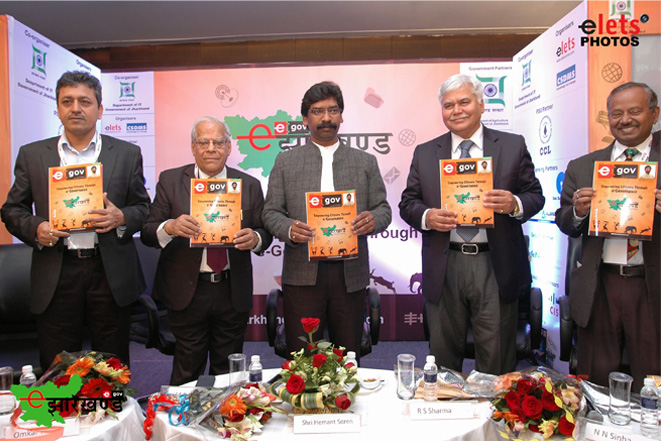 Hemant Soren, Chief Minister, Government of Jharkhand: When it comes to e-Governance, we are doing quite well in the state of Jharkhand. At the same time we are continuously trying to look for new and better ideas by which we can use Information Technology for bringing improvement in the quality of life of the citizens. Every section of the society should be equally capable of reaping the fruits of Information Technology.
We have taken many significant steps for promoting usage of Information Technology in various sectors. The potential for usage of Information Technology in health sector, food distribution or any other sector is immense. Connectivity is essential for any major deployment of IT; hence we are now working on improving connectivity in rural and the urban areas. I am hopeful that the deliberations made in eJharkhand will help us in developing Information Technology in the state.

N N Sinha, Principal Secretary, Department of Information Technology, Government of Jharkhand: The eJharkhand event has been envisaged to not only celebrate the success that the State of Jharkhand has achieved in the field of Information Technology; it is also a medium for discussing the future roadmap of Information Technology in the state. This event will serve as a unique platform for discussing various aspects of e-Governance in Jharkhand. We will have sessions on Aadhaar, managing land records with the help ICT, best practices in e-Governance in Jharkhand, use of ICT in security and mining industry. The deliberations made in this event will definitely help Jharkhand to move forward in the area of Information Technology.
It is a matter of pride and satisfaction for me to tell you that Jharkhand has been one of the pioneering states in the country when it comes to implementation of various IT initiatives. In 2004, we developed our IT policy. Also, Jharkhand is the first state to implement CSC and SWAN. We implemented the Electronic Delivery of Services act in 2011. Most recent development is that we have been able to enroll most of the population of the state under Aadhaar and now we are successfully providing services to the citizens on the basis of Aadhaar enrollment.
Now we want to take many more initiatives for the development of e-Governance and IT industry in the state, and we are hopeful that the e-Jharkhand event will help us develop new ideas and strategies for brining better Information Technology systems in the state.

R S Sharma, Chief Secretary, Government of Jharkhand: I feel we have been doing well in leveraging technology for improving governance in Jharkhand. My view is that we should drop `e' from the term 'e-Governance' as nowadays we cannot have any form of governance reforms without technology. So when we talk of good governance, it should be understood that the 'e' element, or the technology, is being used to a large extent. We are already using technology in a big way to make the functioning of the government efficient and transparent, and there is scope for using technology to provide even better services.
"Technology can be used to ensure that the entitlements and subsidies reach the beneficiaries on time and in a transparent manner"
We need to keep in mind that making law is one thing whereas ensuring that there is compliance of that law is another thing. Without technology one cannot ensure that laws are being enforced effectively. Technology can be used to ensure that the entitlements and subsidies reach the beneficiaries on time and in a transparent manner. Today we can ensure that the benefits do not get siphoned away by unscrupulous elements and reach the target population.

Gopal Singh, Chairman-cum- Managing Director (CMD), Central Coalfields Limited (CCL):
Jharkhand is not just a mineral rich state; it is also rich in terms of environment and forestation. Almost thirty percent of the state is covered with forests, which are a rich treasure trove of all kinds of flora and fauna. The state is also doing well in the area of industrialization; many important industries are located here. With a little bit of effort we can definitely make Jharkhand into national hub of Information Technology. There is no dearth of manpower and the climate is also very conducive.

Dr Omkar Rai, Director General, Software Technology Parks of India (STPI):
We are opening up a new STPI Centre in Deoghar in Jharkhand. For this an MOU has already been signed with the Government of Jharkhand. There are a few states in the country from where most of the software exports happen, but now the scenario has started to change, as the tier 1 cities are becoming very costly. So the software companies are now shifting focus to the tier 2 cities. In my opinion, time is now ripe for Jharkhand to start positioning itself as a viable IT destination.

R K Bahuguna, Chairman-cum-Managing Director, RailTel Corporation of India Limited:
RailTel Corporation a "Mini Ratna" PSU is one of the largest neutral telecom infrastructure providers in the country owning a Pan-India optic fiber network on exclusive Right of Way (ROW) along Railway track. The OFC network covers all important towns & cities of the country and several rural areas covering 70% of India's population. RailTel is aggressively entering into Enterprise services market with launch of its various services like Data Center, Railwire, Telepresence,etc. RailTel is keen to connect 260 blocks in Jharkhand on OFC based broadband to run e-Governance, e-district, e-agriculture, e-learning, e-health and e-court services.
Session 1: Pillars of success of e-Governance in Jharkhand – Success story of Aadhaar in Jharkhand

L Khiangte, Principal Secretary, Department of Welfare and Department of Panchayati Raj, Government of Jharkhand:
I am focusing on 'e-kalyan' programme initiated by the Welfare Department and I feel it has brought lot of convenience to all the stakeholders in the state. Through 'e-kalyan' project we are providing e-delivery of the post-metric scholarship. We have made provision for online application which was followed by the submission of hard copy of the certificates for verifications. From this year we have done away with the process of submissions of hard copy also and scanned documents can now be uploaded.

Dr Ashwini Kumar Sharma, Managing Director, National Institute of Electronics and Information Technology (NIELIT):
We must take note of the fact that 'e' has a small role to play in governance. Essentially, e-Governance is all about smart governance. Governance has to be good and Information Technology component can be of great help. We have to be digitally literate, even though all of us may not be literate. For instance, there is the issue of mobile penetration in the country; it is more than the penetration of computers. It means that even when a person is not literate, still he can use mobile for communication. So now the time has come for replacing e-Governance with m-Governance.

N N Sinha, Principal Secretary, Department of Information Technology, Government of Jharkhand:
As far as Aadhaar goes, Jharkhand has attained major successes. We have already covered more than 91 per cent population in the state under Aadhaar. Now we are on the verge of coming up with several solutions that will enable the citizens to reap benefits of the Aadhaar system, which is unique, and makes it easy to provide online authentication. I must also mention that we have come up with unique Aadhaar enabled biometric attendance system in the government secretariat for government employees. This works not only with fingerprint authentication, but also with Iris authentication and it helps us in monitoring the attendance.
"Now we are coming up with several solutions that will enable the citizens to reap benefits of the Aadhaar system"

Arbind Prasad, Assistant Director General, Unique Identification Authority of India (UIDAI):
UIDAI started functioning in 2009. The government had given us mandate to generate 60 crores of Aadhaar numbers by 2014. As of now we have generated 58 crores Aadhaar, and now UIDAI is in position to generate Aadhaar 15-20 lakhs per day. I would like to mention that Aadhaar is helping us in refining of the database and in the authentication process. Aadhaar is also very useful in efficient conduction of KYC for opening a bank account. Anyone can open up a bank account without any document and by just visiting a branch, providing his or her UIDAI number.

Shahid Ahmad, State Informatics Officer, National Informatics Centre (NIC), Jharkhand
Today with the use of IT we have been able to make a vast improvement in the PDS system. Initially we did face some challenges in this area, one of the major challenges had to do with data digitization, but now all these challenges have been overcome. Now Aadhaar is being used to detect the bogus ration cards, bring more efficiency and transparency to the PDS system in the state.
Session 2: e-Governance Implementations – Opportunities and Challenges

Anubhav Tyagi, Senior Solution Specialist, Safenet:
Let us delve into the key benefits of moving from traditional governance to e-Governance? Now everyone realizes that many important benefits in the areas of efficiency and transparency can be had from e-Governance. Even in e-Governance we can make vast improvements if we start making proper usage of Cloud Technology, which not only provides flexibility, it is also cost effective.

Major General B D Sharma, Additional Surveyor General, Jharkhand Geospatial Date Centre, Survey of India:
Survey of India, The National Survey and Mapping Organization of the country under the Department of Science & Technology, is the oldest scientific department of the Government of India. Survey Of India Takes a leadership role In providing customer focused, cost effective, timely Geospatial Data, information and intelligence for meeting the needs of security, sustainable national development and new information markets.

Dr Manish Ranjan, Mission Director, National Health Mission, Jharkhand:
We are trying to script new dimensions in the health sector in Jharkhand. Our endeavour is to move from e-Governance to m-Governance. Some of the key e-Governance undertaken by us in this state are – Health Management Information System (HMIS), Mother and Child Tracking System, Direct Bank Transfer, Case Based Web BasedICT application for TB (Niskhay), National Anti Malaria Management Information System (NAMMIS), Integrated Disease Surveillance Program, web portal, MamtaVahan MIS, National Cold Chain Management Information System, Vehicle tracking system, Chikitsya Salah: 104, etc.

Nitin Deo, Solution Architect, Cisco Systems:
We have to keep in mind that huge amount of video data is in action for city surveillance system. If we talk about typical structure of safe city project, we can see that cameras are installed at the important junctions of a city and we can have all this data at one point and that can help law enforcement agencies to work upon.

Dr Praveen Jha, Special Secretary, Department of Information Technology, Government of Jharkhand:
My focus is on the initiatives being undertaken by the Department of Information Technology in the state of Jharkhand. Our vision is to build citizen-centric, inclusive & development oriented Information Society and to provide services to the common man in a cost-effective, transparent, rapid, efficient & easily accessible manner. IT infrastructures, IT services, Training of government employees and promotion of the IT industry in the state-these have been our focus area. Let me elaborate on our roadmap for the promotion of IT industry in Jharkhand. We are setting up IIIT in the state and steering committee of the Ministry of Human Resource Development, Govt. of India has sanctioned it and we are on the process of starting in PPP mode soon. We are also setting STPI units in four places of the state. Our government is gearing up to set an IT park in Jharkhand. Here, MNCs will be provided infrastructure to set up IT companies.
Satendra Singh, Secretary-cum-IG, Department of Registration, Government of Jharkhand:
The registration of documents has been made online since 2008 in Jharkhand. Main function of the Department of Registration was to manage paperwork, starting from printing of the stamp papers till presenting it to registry office. Now after the introduction of e-stamping, whole process has been simplified. We are also successfully implementing online search initiative. Anybody can search any data by only sitting at home and there is no need for him to go to registration office. Apart from these, we have made marriage registration online and we are in the process of making society registration online also.
Session 3: Best Practices in competency in government departments and PSUs

Vismita Tej, Chief Vigilance Officer, Central Coalfields Limited (CCL):
e-Governance brings transparency. As a Chief Vigilance Officer of CCL, I am highly concerned about transparency in the system. We have been using many new technologies to bring more transparency in the operations of CCL. In order to stop pilferage of coal while it is being transported in trucks, we are trying to implement GPRS based vehicle tracking system, we are also having CCTV coverage in the entire CCL command area.
S N Pradhan, Additional Director General, CID, Jharkhand Police:
Jharkhand police has done lot of work for bringing Information Technology into the policing system. But we still have a long way to go and many more technologies will have to be brought it. There are few key areas in ICT that the experts are focusing on. These are Cloud computing, Mobile devices, Social media, Cameras, Sensors and Big Data systems.

Golok Kumar Simli, Principal Consultant, Head- Technology, Ministry of External Affairs, Government of India:
Our experience in the Ministry of External Affairs shows that the best way of initiating e-Governance projects is through the PPP model. We have implemented Passport Seva Kendra Programme in record time through a well organized PPP model.

Debabrata Nayak, National Informatics Centre (NIC), Jharkhand:
Our focus is on building G cloud and how we can provide effective, shared, collaborative and secured governance system. We started some projects in Jharkhand Police in 2009, and by 2010, we decided to implement virtualization in surface. This has helped us in making production environment more effective and also helped us in bringing more efficiency in disaster recovery.

Smita Shukla, Sales Leader, Smarter Safety & Security, IBM:
Each one of us has to play a role in making our cities more secure and safe. In this context, I would like to throw some light on how IBM is working with the various state governments on development of security surveillance solutions. The main challenges before the law enforcement agencies is that there is limited intelligence response, disconnected management system, cross department collaboration challenge, etc.

Manas Ranjan Panda, Executive Director, Steel Authority of India (SAIL):
We have to have a deeper implementation of Information Technology and we should adopt best practices in order to attain excellence. The best practices are those that will give us better results as compared to what our competitors are achieving.
"We have to have a deeper implementation of Information Technology and we should adopt best practices in order to attain excellence".
Session 4: ICT in Rural Development and Financial Inclusion

Mridula Sinha, Principal Secretary, Department of Institutional Finance & Program Implementation, Government of Jharkhand:
Financial Inclusion is very important for the development of the country.It is only through financial inclusion that we can enable people from all sections of the society to reap the benefits of the modern banking system.

Saurav Sinha, Officer-in-Charge, Reserve Bank of India, Jharkhand:
Financial Inclusion is all about broadening and deepening the entire range of financial services. It is also about customer protection. ICT plays an important role in this. We cannot have brick and mortar model everywhere in the state, and so we must make innovative use of technology to ensure that people who live in remote rural areas have some sort of access to financial services.

Jain Bhushan ,General Manager, State Level Bankers Committee and Bank of India,Jharkhand:
As the lead bank of Jharkhand, the Bank of India has been contributing its mite in facilitating the implementation the financial inclusion plans of the Government of Jharkhand. In the area of Financial Inclusion lot of work has been done in the state, but lot more needs to be done, as almost 50 percent of the population is yet to be brought under the banking net.

K C Pandey, GM, Bharat Sanchar Nigam Limited (BSNL), Jharkhand:
BSNL is playing the role of a facilitator between financial service providers and the citizens for financial inclusion. BSNL has provided close to 1000 VSAT terminals to the banks in the state. There are a few challenges. But we are hopeful that these hurdles can be passed and the project for financial inclusion will be successful in the state.

Jata Shankar Choudhury, Director, SAMETI, Department of Agriculture, Government of Jharkhand:
ICT initiatives being undertaken by the Department of Agriculture in Jharkhand can be divided into three parts: initiatives under National e-Governance Plan in Agriculture (NeGP-A), initiatives of SAMETI, Jharkhand and initiatives of Birsa Agricultural University. Under the NeGP plan, 33000 farmers from the State were linked to Kisan SMS Facility and 3.50 lakh agro-advisory SMS have been sent in Hindi till date.

Manojit Bose, Head-SeMT, Jharkhand:
When we talk about e-Governance, we actually talk more about governance and less about technology per say. It is more about efficient governance. In the 'e-district' pilot project we have been able to develop good infrastructure for providing better services to the citizens.