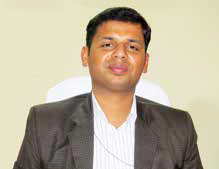 "We are preparing ourselves to protect critical governmental infrastructures, if cyber-war-like situation arises," says Vineet Kumar. In conversation with Souvik Goswami
Give us an overview of the Cyber Defense Research Centre (CDRC) of the Jharkhand Police.
Cyber Defense Research Centre (CDRC) is the first state government-led research centre which is focused on cyber security and probably 9th in the world according to some media reports. Here, we work on various cyber security issues. Like we have got a program called "e-Raksha" through which we are reaching out to the school and colleges and making kids aware about the dos and don'ts on the internet. We all know how cyber crime is increasing day by day, and that led to the formation of CDRC by the Jharkhand Police and it has been operational since January, 2012. We have also got an important program called "e- Kawach".

Please elaborate on "e-Kawach."
Critical Information Infrastructure Protection (CIIP) or e-Kawach is an important program through which we aim to protect the PSUs, Power Grid Corporation and Telecom companies and even the critical government departments, if a cyber-war situation is created, and through this we are trying to make sure that the critical departments are able to run even in a cyber-war-like situation. Here, also, we are the pioneering force in the country
Apart from this, we are also focusing on Indian Honey Net Project. Through this we are trying to locate and identify hackers and pass on information about them to the concerned governmental department. For the Indian Chapter we are the collection center, and we have set up honey pots in Jharkhand, Maharashtra, Karnataka, Andhra Pradesh and in Delhi also.
We will be setting up honey pots in various PSUs soon and discussions are on with the various power grid companies of the state also.
What made your department to form an NGO?
We have floated an NGO. It is called Cyber Peace Foundation and will take help of this to reach out to the other states in regard to cyber security and securing critical infrastructures. Already states like Kerala, Tamil Nadu and Odisha have contacted us for this. They are interested in setting up wings like CDRC. I think cyber crime is increasing day by day. We, on average get 5 to 6 cases daily on cyberrelated crimes. So, we need to have a mechanism to counter cyber crime. This is the reason we have started "e-Raksha" program, and we have also set up helpline for this program.
What is your vision for CDRC?
My vision had always been to make the state secure on cyber security and to make this state a model state for others, also, since we are the first one to have research centre of cyber defense. We are lucky that the state government of Jharkhand has realized this and made CRDC operational. I think that every state in the country needs this kind of organisation, and hope that we would see it happening soon.