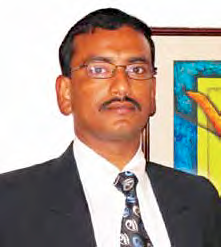 Debraj Dam
VP – Strategic Business and Partner Alliance, DIGISOL
---
"The greatest need today is for e-Governance decision makers to leverage the differentiated technological and business benefits offered by Indian brands," Says Debraj Dam, VP – Strategic Business and Partner Alliance, DIGISOL
---
Your company has been in the field of IT for many years. Tell us about your key achievements in the area of e-Governance?
In ours 20-years long history, we have pioneered networking technologies that have empowered citizens and supported the governments. Ever since we set up the very first network-equipment related SMT manufacturing plants in India in 1993, we have been actively shaping the networking markets locally as per the global standards. Our vision is to build "Made in India" IT networking brand and we have come a long way in our sustainability journey and are offering advanced energy-efficient and green technologies for governance programs in India. We combine the best of a direct-touch approach and that of a partner-driven support to deliver optimum service value to government customers. To achieve this, our product engineering team's work closely with solution architects to design highly scalable and innovative e-Governance solutions to meet today's dynamic needs of governments. This is further supplemented by our DIGICARE Technical Assistance Centre (DTAC), and post-sales and on-site supports. Our products and solutions have been deployed by different government agencies in core projects like SWAN, SSA, CCTNS, R-APDRP and other mission mode projects at central as well as state levels.
Tell us about some of the most exciting projects that are coming up in e-Governance that you are looking forward to?
We have a clear vision for providing maximum value to government enterprises on their network infrastructure investments. SDN-based core switches will help e-Governance leaders and their teams to reduce dependency on proprietary OS-based equipment and consequently architect their networks in a more central, flexible and dynamic manner. Projects at both, the center and in states government agencies, including the integrated central government driven MMP projects, under National e-Governance Plan (NeGP) like e-office in 29 ministries/departments, postal rural ICT – RSI & Hardware and e-districts, are really the exciting ones form India's future growth perspective. We bring a robust combination of our localized manufacturing support and our unique technological offerings on the table for these projects.
Dealing with government can at times prove to be a very challenging task for private companies. Tell us about the key challenges that you have faced in designing and implementation of the projects?
The greatest need today is for e-Governance decision makers to leverage the differentiated  technological and business benefits offered by Indian brands. Governments should put in directives and guidelines for different projects to support and benefit from domestic offerings, and empower single-window approvals in this regard. As a key step, policy makers and executing authorities could strategically outline that investments would be based on parameters such as citizen-centric benefits, quicker service response times, robustness of local manufacturing set-up, future-readiness of the solutions and the cost benefits. With India designing and building world-class technologies and processes and with the best-of-breed assembly lines being locally present, we feel that it's now time that India should exhibit its willingnes – and the mindset – to deploy solutions offered by domestic IT hardware brands by accepting self-declaration methodology as a globally accepted standard.
What kind of business prospects do you see in the area of e-Governance?
In March 2013, we completed 20 years of excellence in the IT networking market. That makes us well positioned to bid for government projects. It is a good thing that the Indian government is now creating level-playing for domestic IT manufacturers through Preferential Market Access policy (PMA) incentive policy.DIGISOL has taken the lead in launching unique solutions for government enterprise customers,such as smart managed switches to virtual chassis solutions that can stack up to 16 standalone switches to get chassis-class performance. We have SDN-ready cores and data center solutions, with a roadmap for many more new cuttingedge offerings. We are the first and only Indian networking brand to launch Software Define Network (SDN)-ready devices. Our robust ecosystem has helped us to contribute to different e-Governance projects in India through customer guidance, support infrastructure, technological innovations and R&D spends. We will continue to strengthen these best practices.
Follow and connect with us on Facebook, Twitter, LinkedIn, Elets video