It all began in 2005 as a mission to bridge the communication gap between the various stakeholders involved with ICT initiatives in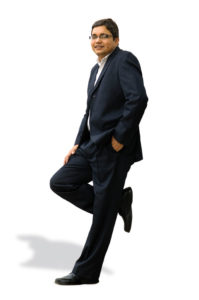 governance. These included the government, private sector, civil society and academia. Interestingly, it was also the time when India was largely being perceived by the international community as the land of 'pilots' for e-Governance projects. There was an undeniable need to create a platform where these 'pilots' could converge to discuss the challenges,scope and best practices with their counterparts and other stakeholders. And hence began the journey for the eGov magazine.
This issue of eGov magazine is the hundredth issue. When the magazine began its journey 99 months ago, e-Governance was in a nascent stage. Today e-Governance has turned into a major revolution. We, at eGov magazine, consider ourselves to be blessed because we got the chance to cover almost every aspect of the developments in e-Governance in our country. This issue of eGov is also a celebration of the 100th month of the magazine's existence. We have done an extensive coverage of the stakeholders who are engaged in developing new ideas for using ICT for bringing efficiency, accountability and transparency to various citizen and business related initiatives of the government.
We would also like to inform our readers that the 100th issue of eGov will be launched by the Chief Minister of Andhra Pradesh at the prestigious eINDIA 2013 Summit, being organised on 23-24 July, 2013, at the Hyderabad International convention Centre, Hyderabad, in the presence of many key officials from the Centre and States who are playing a stellar role in implementation of e-Governance initiatives in the Country. If you are there at the eINDIA 2013 summit, then you might already have received your copy of eGov. We look forward to seeing you at eINDIA 2013. After all, it is very essential that all sections of society participate in the discussions on the ways by which the scope of e-Governance can be further improved in the country. While we have scored lot of successes in this area, there exists room for lot of new initiatives to be launched. We look forward to having you in eINDIA 2013, where you can participate in the vibrant round of discussions with the stakeholders who are engaged in devising new ideas for development of the country.