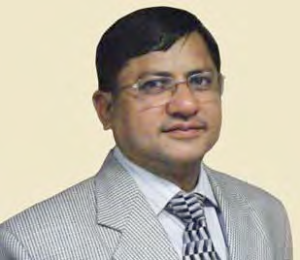 Vijay Gupta
Founder, Chairman, & CEO, SoftTech Engineers

---
"The major change I see today is that the government leadership team has realised that it is imperative to have e-Governance," says Vijay Gupta, Founder, Chairman, & CEO, SoftTechEngineers. Inconversation with Rachita Jha
---
Please tell us about the key focus areas for SoftTech?
Since its inception in 1996, we have maintained our focus, the sense of pride and the spirit of entrepreneurship throughout our journey. Hence, our prime focus area is always 'product development'. This year we have successfully launched three versions of our construction ERP – Opticon- Nano, Opticon360 and OpticonGalaxy. One of our upcoming developments is in direction of bridging the gap of creativity and law requirements for architectural drawing. We have been able to successfully introduce our construction products in different geographies of UAE and Africa. Meanwhile, we are looking at tie-up with various market partners and technology leaders to provide larger platform for our products. Recently, we have integrated our Product with one of the world's leading technology solution provide to develop a complete Smart City Solution. We have embarked on a very positive growth this year and focus to maintain it through the year. We are looking at a growth of more than 40 percent EBIDTA and till now have been quite successful.
What are the prospects of cloud technology in the government sector?
Cloud computing is seen by many as the next wave of information technology for individuals, companies and governments. The abundant supply of information technology capabilities at a low cost offers many enticing opportunities. We believe that cloud technology being low maintenance and easy-to-use can be a good fit for government sectors, provided it comes with right security measures. Most of our products can be easily migrated on cloud networks and have strong security features.
What is the scope of smart city and municipal governance projects in India?
We believe in innovation that drives sustainable infrastructural growth and better citizen services. Our solutions AutoDCR and PWIMS stand as strong witness to our support to urbanisation growth. Smart city is the wholesome answer to Indian modernisation. The smart city is a citizen oriented framework that incorporates different systems to deliver the infrastructure of sustainability, security, citizen well-being and economic development. It empowers the leaders with the tools to analyse data for better decisions, anticipate problems to resolve them proactively and coordinate resources to operate effectively. This calls for a right merger of core city objectives and city domains on the one hand and different applications and technologies that go to support the domains on the other. As is evident, no single technology can enable a smart infrastructure for cities. We have, along with various technology partners, embarked on the 'Smart City' path. One such implementation has already been in use at MIDC through our workflow management system PWIMS in collaboration with database management and business intelligence capabilities of our leading technology partner.Another exciting initiative where SoftTech participates in Smart City implementation is through our building plan approval system – AutoDCR. This would be a complete solution of visa system for monitoring, approvals and quick decision for various city-wide developments. We have partnered one of the largest technology giant whose intelligent operations solution has already set benchmarks in Smart city initiatives worldwide. This solution would help our cities with geographical information systems, integrating inter-departmental workflows, performance driven evaluations, real time decision-making in addition to others benefits.
Tell us about some of the more interesting technology ideas for the future?
With the advent of ICT, governments world over had a cost effective channel to enable good governance. The major change I see today is that the government leadership team has realised that it is imperative to have e-Governance. This perhaps is the only way to bring transparent and efficient service delivery mechanism to the satisfaction of citizen. So, every technology that exhibits cost effective ways to bring in quick community reforms would be looked upon as an immediate area of investment.
Follow and connect with us on Facebook, Twitter, LinkedIn, Elets video