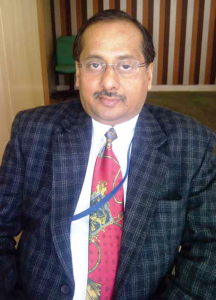 Venkat Patnaik
Head – Government Business, NIIT Technologies Ltd
"Once the CCTNS project becomes fully functional, it will make it much easier for law enforcement agencies for enhancing the efficiency and effectiveness of policing," says Venkat Patnaik. In Conversation with Ankush Kumar
Please provide us with an overview of the work that NIIT Technologies is doing for the government sector. What kind of growth is your government business seeing in India?
There has been substantial improvement in the business that we are doing for the Government. The first major, large ticket complex project that we executed was for Border Security Force (BSF). We came to the conclusion that Governance in India has a good business potential and we should increase our focus on it. After that the Government Business Unit started focusing more on Government projects. In terms of both, revenues and orders, we are seeing good growth. The thing is that the Government SI projects are generally quite large, full of challenges, complex in nature, strewn with pitfalls and surrounded by several myths. Most of the time one finds that the key stake-holders keep changing, and at times there are other issues that can lead to delays in the execution. We feel people associated with e-Governance projects should be allowed to continue at least for the duration of the project implementation. But overall, we are positive about the e-Governance work that we are doing in the country.
Can you tell us about some specific projects that you are doing for the government? And what are the projects that you
are expecting in the future?
You see, in the government there is a system by which the projects are conceived, approved and awarded. This process has a long gestation cycle. If a PAN India network project has to come up, it needs to follow the long process ending probably with a cabinet approval and fund allocation. Thereafter, the industry starts reacting.. Similarly e-District projects, Common Service Centres (CSCs), State Data Centre (SDC) can only come up once there is high level clearance from the concerned government ministries. Currently we are executing CCTNS projects in five states – Tamil Nadu, Odhisa, Jharkhand, Uttar Pradesh and Utrakhand. In Jharkhand and Tamil Nadu we are almost on the verge of completion. One thing that is really effecting the completion of the project is the timely development of central application. Once this core application is in place, thereafter a state specific customised version will be developed by respective state SIs and a full-fledged online CCTNS system will become a reality. It is worth mentioning here that some of the states are not depended on the core application that have the advantage of finishing the project must faster. The whole idea behind CCTNS is that the law enforcement agencies in the centre and the states will have access to the nation's entire repository of data related to crime and criminals in real time. Once the CCTNS project becomes fully functional, it will make it much easier for law enforcement agencies to do their work. The three fold aim of the project is to enable the police to undertake speedier and more accurate investigation of crime and detection of criminals, cut down on time spent on record keeping; allow real-time access to information for the stake-holders. Secondly, the CCTNS project will also facilitate collection, storage, retrieval, analysis, transfer and sharing of data and information among police stations, districts, state headquarters and other organizations directly or in-directly. Finally, the CCTNS project is expected to ensure that we have an ecosystem where more transparency and accountability makes way in the police force.
We have selected and put a few e-Governance projects on the priority list. This is primarily to enable us to chew what we can. NIIT Technologies USP has always been to deliver projects in time with quality.
NIIT Technologies is a leading IT solutions organisation, servicing customers in North America,
Europe, Asia and Australia. It offers services in Application Development and Maintenance,
Enterprise Solutions including Managed Services and Business Process Outsourcing to enterprise
in the Financial Services, Travel & Transportation, Manufacturing/Distribution, and Government
sectors. The company's domain strengths, new approaches to customer experience management
robust outsourcing capabilities, and dual-shore delivery model, have made it a preferred IT partner
to over 220 clients across 16 countries in these select verticals. With a talent pool of about 8000
professionals, NIIT Technologies follows global standards of software development processes.
Now CCTNS is a national project,but it seems that there is lack of coordination between the centre and the states in matters of its implementation. Do you think there is a need to revamp the whole system?
I would not say that there is lack of coordination.The CCTNS is a very efficiently designed project. The thing is that the CCTNS project
policy has been made at the centre level as this project needs to have the access of database from all states in the country. However, the
ultimate execution of the project and the ownership of the project is with the states/UTs, as it is they who are required to put the system in place (connect the police stations and upload their crime and criminals related data in real time). I do agree that there is a need to have a system in place through which the central agencies and the states can cooperate in a more efficient manner, so that the projects get executed quickly and efficiently. But on a broader scale this is already happening. 
---
"We at NIIT Technologies feel ourselves to be privileged for having the chance of serving a force like BSF"
---
Tell us about your BSF project, to which level has it reached now?
First of all I would like to tell you that we at NIIT Technologies feel ourselves to be privileged for having the chance of serving a force like BSF. Thank you for asking this question as I am excited to speak about this project. Theproject named "Intranet Prahari" project essentially is an Enterprise Resource Planning (ERP) solution for BSF where-in all major processes such as finance, inventory management, operations and personnel information have been automated and integrated to act as a robust and quick decisions support system and for consolidated view of data by higher echelons and for various analyses.
We set up three flavors of data centres. This includes the main data centre in Delhi, a disaster recovery data centre in Bangalore (in a different seismic zone), and various mini data centre's at frontier headquarters like Jalandhar, Srinagar, Jammu, Gandhinagar, Jodhpur, Kolkata, Siliguri, Agartala, Tripura, Shilong, Silchar etc for data storage. Further, we provided installation and commissioning of hardware/software at 237 locations (over 4000 laptops/desktops and 2500 printer/ scanners). We also ensured that sufficient cyber security measures have been incorporated to ensure network security and to prevent data loss.
An ecosystem of conducive partnerships was required to execute a project of such large scale spread over across the nation. For "Intranet Prahari" project, we partnered with several OEM's. who played a crucial role in successful implementation.
Besides partnerships, we had to ensure user satisfaction and acceptance as part of successful implementation. Thus, for effective usage of the project, we executed an extensive training programme for officers and subordinate officers at various levels. Also, around 20,000 personnel were given training on how to use the ERP package for day to day working and internal efficiency and productivity.
This once again proves that executing large scale government project is a clear strength of NIIT Technologies. And the government business of NIIT Technologies has set many milestone with the launch of "Intranet Prahari" after SELO project of CRPF.
Follow and connect with us on Facebook, Twitter, LinkedIn, Elets video