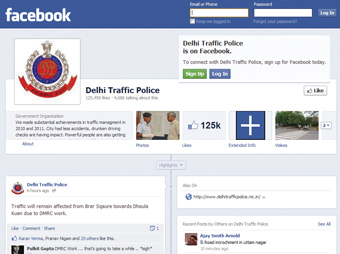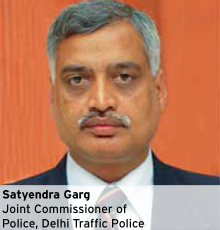 Satyendra Garg, Joint Commissioner, Delhi Traffic Police, talks about the department's initiative for making use of the popular

social networking site, Facebook, for reaching out to the people in the cityIf there is one thing that has made huge difference in the way Delhi Traffic Police functions, it is the Facebook page which was created in April, 2010, and entire credit for that goes to Shri Ajay Chadha who was then Special CP Traffic. The Facebook page had been conceived as an efficient tool for facilitating two way communications between the police department and the road users. As road conditions change frequently in the course of the day due to all sorts of reasons, it was felt that there was the need of constantly updating the road users. The traffic can become stuck due to breakdown of vehicles, which is something that is very frequent in the city, and also due to snap  demonstrations that suddenly sprout up to disrupt the flow of traffic. The idea was to provide people with a system for reporting back on problems like nonfunctioning of traffic lights, traffic congestion, conditions of roads and other things which tend to influence or hinder the movement of vehicles in the city. An online system can also enable the traffic police to send out messages on planned arrangements like political rallies, and all kinds of events which are likely to have a bearing on traffic situation. Recently we had the  Commonwealth Games. Such sporting events keep happening from time to time and at times they lead to traffic bottlenecks. Commitment to transparency The Facebook has quickly developed into an efficient system of two-way  communications that also helps to check the performance of traffic police and its officials. The Facebook page has started serving the role of a watchdog that  tells the Delhi Traffic Police about the myriad issues that plague its style of functioning. It also provides inputs on the shortcomings in the traffic police personnel. The Facebook initiative of the Delhi Traffic Department is a huge success because certain key prerequisites have been kept in mind while launching the project. The prerequisites are: total commitment to transparent working, willingness to change, capacity to take criticism despite best efforts and keeping public interest uppermost in mind. Of course, it has to be ensured that senior officers are able to exert enough influence on the management of  the social network. The management cannot be left wholly into the hands of lower level functionaries, who might not have enough experience. A government department should avoid having presence on popular social network like Facebook, until the department has managed to address all the logistical and transparency related issues.
Tremendous feedback from public
There was a huge response to our Facebook page both amongst the road users and media. There were appreciative write-ups by national media and there was huge response from common citizens. The normal issues that citizens face started getting highlighted and even resolved in this online system. Even international media like New York Times took not of this page in a rather longish article, published in June 2010. Apart from the purpose for which the page was started that is two way communications this page soon empowered the general road user in traffic rule enforcement. We got tremendous feedback on issues like traffic congestion, non-functioning of traffic lights, road conditions, presence or otherwise of traffic police staff, breakdown of vehicles, water-logging on roads, engineering faults in roads. We also had inputs from road users on lots of other issues related to departments like transport,  municipal corporations, NDMC, DDA and PWD. In some cases, the work of these departments was having an impact on the traffic movement. The biggest advantage of this page was that it made the common man feel empowered. He started recording violations by other road users. This included issues like defective number plates, triple riding, not wearing of helmets, refusal and overcharging by TSRs, unauthorised plying of tractors, violations by Gramin Sewa Vehicles, violations by policemen, including traffic policemen, violations by powerful people like bureaucrats, politicians, judges, rich people and other senior functionaries which had become a norm. Ordinarily these violations would go unchecked as a lower level traffic functionary would not interfere in wrongdoings of powerful as there was always a change of being accused of misbehaviour and other wrongdoings. The Facebook page had been conceived as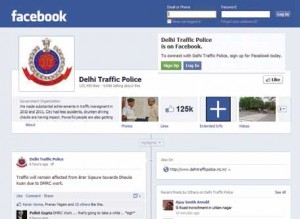 an efficient tool for facilitating two way communications between the police department and the road users Prosecuting the powerful We started taking action against the most powerful for their violations. We also informed the people of the action being taken. The details of the defaulters and the prosecution details including  fines and court challans were made public. This was hugely appreciated by people who had been under the impression that there was no way to check the wrong doings of powerful people. I am happy to say that Facebook has became a medium of prosecuting the powerful denizens of the city. Any number of sitting ministers, elected representatives including members of Parliament, members of Legislative assemblies both from Delhi and outside, senior bureaucrats, police officers, judicial officers have been prosecuted on basis of evidence posted on Facebook page. There was also a case when police officials, including Delhi Traffic officials were taken to task for their wrong actions. The action taken was communicated to people on Facebook page and got reported in media, both print and visual. This made a huge difference as powerful in Delhi started fearing that the common man could post evidence of their traffic violation on Facebook, and have them prosecuted. Till now we have issued more than 25,000 challans based on photographs and videos uploaded on our Facebook page. Apart from prosecutions, the Facebook page has also built the credibility of Delhi Traffic Police as an agency that can implement rules in an impartial way against any and everybody. Our Facebook page has become a catalyst in many ways. Virtually every city traffic police has started a social networking page for traffic matters. The list of these cities include Mumbai, Kolkata, Chennai, Hyderabad, Bangalore and even smaller cities like Chandigarh, Faridabad and Gurgaon. Other government departments have also hopped aboard the social networking bandwagon with varying degrees of success. Success of this initiative has depended on the basic factors like transparency, willingness to change, ability to take criticism and desire to improve things. We have connected to more than 1, 20,000 people through this medium and have got many ideas for improvement of traffic management. Of course, we have had our share of criticism, many a times the criticism seems quite unjustified. But overall it has been a wonderful instrument for change and improvement in day to day running of traffic administration in the city.
Mission of Delhi Traffic Police
• Prevent and reduce accidents.
• Effective enforcement of traffic regulations.
• Inculcate a sense of discipline amongst road users and educate the public including school children on road safety.
• Ensure smooth and secure traffic movement for special occasions and VIP duties with minimum inconvenience to public.
• Develop a sense of responsiveness and sensitivity to the needs of the public.
• Render assistance to public in various stressful conditions such as prompt first aid to accident victims.
• Develop the human resources of traffic police.
• Assist and advice various agencies in coordinated development of infrastructure for smooth and safe flow of traffic.
• Ensure protection of the environment and take appropriate steps for prevention of noise and air pollution.
• Encourage participation and involvement of public in traffic management.