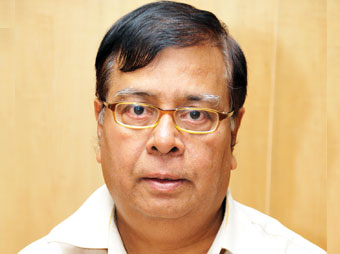 The Public Health Department of Government of Maharashtra is using Information and Communication Technologies in multiple ways, and expanding the scope, reach and quality of its services through e-Governance
Jayant Kumar Banthia, Additional Chief Secretary, Public Health Department, Government of Maharashtra
he Public Health Department is one of the largest the government of Maharashtra, having more than 1,00,000 workers of various categories and spread over all villages of Maharashtra. Ever since the National Rural Health Mission (NRHM) began in 2006-07, there has been further expansion in the Department and we have added around 60,000 ASHA (Accredited Social Health Activist) workers and another 17,000-18,000 contractual workers. Managing such a huge Department without the assistance of e-Governance and Information and Communication Technologies (ICT) is virtually impossible.
In addition to this, we are trying to do away with the idea of the monthly progress report. Technology allows us to do real time data, so we are no longer looking to wait for the month-end to review performance and progress. Within a reasonable time of a service being provided, the data regarding it is available to decision makers. The same applies even for the financial expenditure. The moment expenditure has been made or funds released, it should be known immediately. Under NRHM we are keenly trying to follow how funds have been released, where are they lying, how are they lying, why are they lying if they are supposed to be continuously released to the beneficiaries and so on.
ICT for managing ASHA workers
The Department is in any case heavily dependent upon various service data and service statistics since it is a service department. We have used IT C in several manifestations, some of which would be common to large organizations and basically deal with the Human Resource Development part. For example, the profile of every person working in the Department is now available in the electronic format. Our first major success was in terms of creating a master data for medical officers. This is a database of close to 8,000 medical officers. We are possibly the only state in the country with a database of 60,000 ASHA workers. These workers have been employed under the NRHM and they have to be imparted training, they have to be recruited and when they perform they have to be given honorarium. All these things were not possible without the use of IT and it is a matter of great pride that in the Public Health Department have been able to create the full database of ASHA workers, their background characteristics, the training they have been imparted and monthly performance – both physical and financial. This is important as ASHA workers come from the rural background and should be aware of their entitlements in terms of finances and if there is a delay in getting the honorarium, then she should know and we should know at the top, as to the reasons behind a delay when funds are available, why is it that a person who has delivered has not been given the due financial package.
Health Advisory Call Centres
The other use of ICT which we have made successfully is in terms of Health Advisory Call Centres. In Pune, in our district hospital, we have set up such a centre which is open 24X7 centre and all ASHA workers, ANMs, MPWs, and medical officers can call and get assistance on problems related to various types of services provided by them. Let us assume a case of an ASHA worker or ANM giving a particular service to a lady in a village and during delivering this service if the ANM wants this assistance, she has nowhere to go right now. Theoretically, she is supposed to contact the medical officer but that is not always possible. A dedicated phone number 104 has now been made available 24X7. The ANM can now call this number, and if her phone number is registered (we are actively encouraging all stakeholders to register), she can get advice because the paramedical staff on the helpline have been trained for this. An algorithm has been devised for describing various symptoms and to arrive as to what is the possible line of treatment or action that is required. In addition to paramedical staff, a team of physicians, paediatricians, gynaecologists and surgeons is also available 24X7. This has been started from January 2012 and the response has been very good. Around 20,000 calls are being made from various paramedical and medical staff.
---
"We are possibly the only state in the country with a database of 60,000 ASHA workers"
---
GIS Applications  
Another major use of ICT which we have already introduced is with Geographical Information Systems (GIS). With the help of UNICEF and a private firm, we have taught people extensively on how to do GIS mapping. The exercise was conducted across the state with and personnel from PHC level upwards with taluka-level officers, medical superintendents at rural and sub-district hospitals, District Health Office, Civil Surgeon Office, etc., were trained on using GIS for medical statistics, biomedical statistics and for financial statistics also. The advantage in using GIS is that it allows a good spatial interpretation of the data and it can be used for very quick interventions and various efforts have been made to ensure its extensive use. It is hoped that during the year, most of the programme officers across the state would be using this simple tool.
Inventory Management and Procurement of Medicines
All the PHCs in the state have been provided with Internet wherever it is available. More than 90 percent of the state's rural and sub-district hospitals and taluka hospitals are already connected in any case.  Further, we have gone ahead and implemented an inventory control system for medicines. This means, sitting in Mumbai, one can find out what is the availability of medicines in a particular PHC, which hitherto was not possible. This implementation took approximately an year to roll out and the second module – the procurement module – is under implementation and should be rolled out in a couple of months.
This will facilitate not only the proper procurement and timely indenting of medicines, but medicines which are nearing their expiry data or those that need to be transferred from one health institute to can now be identified and proper action taken. The system will also introduce a fair amount of transparency. The use of ICT would improve transparency across the board, in the entire system.
Grievance Redressal System
Another unique initiative introduced by the Department relates to timely redressal of employee grievances. It is a web-based, online system available 24X7 to any employee, but right now it is directed towards retired employees who have to run around for their pension benefits and paperwork related to other service matters. They no longer need to physically visit the concerned office and they can put all their requests or complaints with documents under the system. The concerned members of the staff have been given intensive training on the system and usage is picking up. Once fully adopted, the system would significantly reduce the harassment employees have to face. This will again improve transparency and also make supervisory officers become more accountable as it is in their office that the requests lie pending for months altogether.
e-Files in the NRHM and other Initiatives
Under the NRHM, we have also introduced the system of e-files now, and that is again a unique system. The entire NRHM office is working on e-files now and is a paperless office. Proposals initiated at lower level offices are processed much faster, we save a lot of paper and have improved transparency and speed of decision making. It has also helped us in ensuring several levels of officers know the decision taken, which was not otherwise possible in the manual file systems.
There are other  programmes, for example, the mobile health phone which si going to be introduced for the IEC and also for transmitting the data on service delivery. Great improvements have been made under some of the programmes of the Government  of India like the MCTS (Mother and Child Tracking System) and much improvement in services to pregnant mother, lactating mothers, young children etc.
Telemedicine, which was introduced a few years ago, continues to improve and is being extended in scope and coverage with the help of new gadgets. This is going to revolutionise health services in rural areas. For example, an ECG which cannot be interpreted in a PHC can be transmitted to an urban area where physicians are available and the interpretation could then go back to the PHC, saving the time and money needed to travel to the urban area.
Overall, the Public Health Department is looking towards ICT support and the long term objective is to ensure that the system of e-Governance gets embedded in the entire Department at all levels. This is not an easy task given the size and spread of the Department – village to sub-centre, PHC, rural hospital, sub dist hospital, District Director Hospital, and so on.