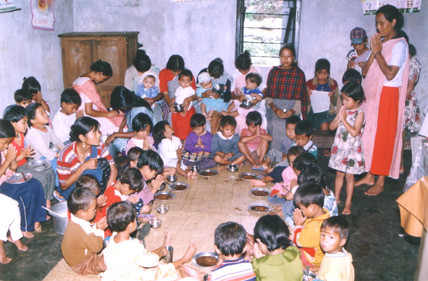 In order to stop continuous irregularities in the Integrated Child Development Scheme (ICDS), the West Bengal has decided to rope in the National Informatics Centre (NIC) for development of a computerised mechanism for keep tab on delivery system of the programme.
There are over 1.17 lakh anganwadi centres functioning across the State with an annual expenditure of Rs 4,000 crore. Of the total fund, 90 per cent  amount comes directly from the Centre as grant.
Rampant corruption centering round procurement and distribution of supplementary nutritious food and diets to all eligible pregnant and lactating mothers and kids through anganwadi outlets has continued unabated despite change of guards at Writers Buildings.
Seeking a remedy, the fund-starved government has now decided to switch over to the new system for curbing the menace, a top official of the Child Welfare Department said.
State Child Welfare Department officials said they had requested the NIC to develop a specific   computerised system through which they could centrally maintenance and monitor of movement of stocks and supplies at all anganwadi centres with a click of mouse.
The aim is to develop a connect key departmental outposts with all 1,17,000 centres across the state by 2020, but the initial plan to fully computerise 5,000 project centres by 2015 would be pushed hard, the official claimed.
Not only Project Directors (one each for 25 centres) have been forced to bend rules of 'mandatory inspection' of all centres, relevant records have repeatedly been fudged to misappropriate procurement funds wantonly, the official said.
Anganwadi centres are required to provide cooked food along with eggs (thrice a week) for at least 25 days every month, but all the materials have to be procured centrally through the government-run, 'Essential Commodity Supplies Corporation' (ECSC) and dispatched to different districts in advance.
Follow and connect with us on Facebook, Twitter, LinkedIn, Elets video