GPNIC: Rural Connectivity for Panchayats
Implementing Agency: NIC Rajasthan
     raj.nic.in
GPNIC– an e-Service delivery solution, has been designed, developed and  implemented in 10 gram panchayats of Srinagar block in Ajmer district as a 

proof of concept. BSNL has provided optical fiber based connectivity to all the  10 panchayat offices. NIC took the lead to select and provide software for  e-governance applications which are beneficial to the citizens of the Gram  Panchayat. Infrastructural support was extended by Panchayati Raj  Department, Government of Rajasthan. NIC developed a portal to facilitate all  the services and also provided an email account to all 10 panchayats. Computer system with operator hired under MGNREGA scheme is being used for this  project at all 10 Gram Panchayats.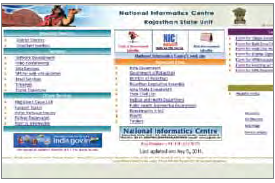 Facilities like telephone, desktop, video  conferencing, IP TV have been enabled from Panchayat.
The project has been  developed to facilitate Panchayat office by providing various online services  like the availability of various records like land records copy, BPL list, birth and  death certifi- cate; availability of various medical records like ANC  schedule, immunization schedule and ensuring their due delivery; maintaining vaccine stock, medicine stock etc. to medical staff posted at Panchayat level.  Various information like job card status, caste wise registration, demand for  work, families completed 100 days employment, work status etc. are now been  monitored at panchayat level by accessing national NREGA database.
Panchayat personal have been trained in using facilities like admission/counseling information of educational institutions, employment  forms, Mandi rates of agriculture produces, court cases status from panchayat
office.
Goa broadband Network (GBBN)
Implementing Agency: United Telecom Ltd.
GBBN is a high-capacity, end-to-end fiber, next generation network, has been  implemented by Goa Broad Band Network in association with Government of 

Goa to make Broadband services available to entire rural population in all 189  Village Panchayats and 414 villages and towns. Goa has thereby got the  distinction of being the only state extending broadband connectivity to 100 per  cent Panchayats. It has empowered the panchayats to provide all essential Government to Citizen (G2C) services, applications and portals which can be  accessed through various panchayats and CSCs. The government is in the  process of extending broadband connectivity to 2119 schools, 24 colleges, 32 government hospitals and 123 private hospitals which are in a phased manner.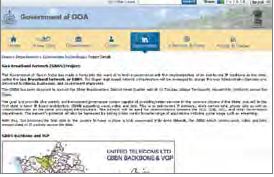 GBBN is the only network where the same network is utilised for government,  businesses and citizens. It provides AVVID Structure (Architecture of Voice,  Video and Integrated Data) for the Government, all businesses and citizens. It  has the capability to provide innovative services on the established  infrastructure such as IPTV, Telemedicine and e-Learning.
Goa has become the  first State to have IP Based, 10Gb fiber backbone high-bandwidth broadband  network which reaches all parts of the State. Laying Fiber of 1400 Kms in the  most difficult terrains (laterite soil) across the state was a real challenge which  was duly accomplished by the UTL Operation Team within the stringent timelines.