PowerIT
Implementing Agency: Tata Consultancy Services
www.tcs.com
The average power consumption across 84 TCS offices is 0.5 million units per  center per month. Given the growth pattern and increasing cost of electricity,

it  was estimated that the energy cost would double over a period of 2 to 3  years.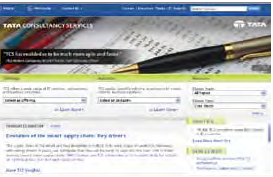 The overall goals of the Power IT project were to Increase the awareness of energy conservation amongst Tata Consultancy Services Ltd (TCS) associates  pread across a huge geography and to identify the most apt   echnology solutions for increased energy efficiency in each specific location.
As  the development centers/offices of TCS are located across various states in  India, the PowerIT team launched an internal website to enable sharing of best  practices and ideas, and also deployed a web based tool to capture and report daily energy consumption across various centers. The data is compared across  all the centers through different metrics. This helped identify the energy  consumption patterns of different offices of TCS and also the best practices  followed in the 'energy efficient' centers. The project also advises technology solutions like Installation of Variable Frequency Drives for Air Handling Unit's,  Installation of Energy Savers for lighting and recommends appropriate energy  audits.
PowerIT produced the major benefit of bringing awareness on energy  conservation to TCS associates through different activities. The savings in  energy consumption was recorded around 9% in a controlled environment by  bringing only awareness without any major financial investment. The project has recorded an energy savings of around 16 per cent.
Web based Information System for Managing Manpower Utilisation
Implementing Agency: National Metallurgical Laboratory, Jamshedpur
www.nmlindia.org
The project is a Government to Employee (G2E) initiative for managing R&D  manpower utilization in projects and facilitating efficient resource (manpower) 

planning. It provides quantitative (per month) involvement/ availability tracking of every human resource for short term & long term R&D planning and  allocation of new assignments.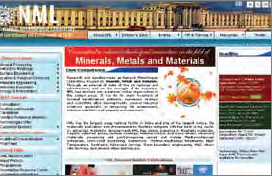 The system provides an Involvement Matrix  (per project- per month) elucidating individuals per month involvement/ availability tracking in various projects. Tracking can be done for a selected  duration. New Project manpower needs can be planned accordingly. Long term  R&D planning can take help from the system by tracking availability of intended  manpower in the planned period. The system thereby helps in  improved manpower mapping to the project activities. i.e. Manpower planning  on the basis of technical capability and availability of a person and not just by  choice. The system provides transparent, single window information of  involvement of manpower. It has become a Decision Support System for  triggering capacity building exercises for the organization.
The activity- manpower mapping information was missing in the project proposal forms.  Collecting the mapping information for every ongoing project was a major challenge. In order to overcome the same it was made mandatorily by top  management to provide this mapping information in every new proposal.