Orissa e-Municipality Services
Implementing Agency: Orissa e-Governance Services Limited
     http://ulborissa.gov.
This Orissa e-Municipality Services is a centralised integrated application which  provides "Single Window" services to citizens on anytime, anywhere 

basis. The various key modules under this application are: Civic Services  Management System; Solid Waste Management; Welfare Schemes Management;  Grievance Redressal Management; Revenue Management System; Trade  License; Water Connection; Property Tax; Building Permission; Financial  Management System; Accounts & Audit; Municipal Management Information  System(MMIS).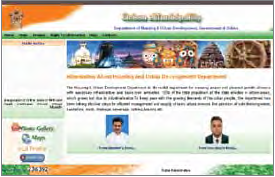 Asset Management for ULBs; Works Section Management; GIS  and GPS based Solid Waste; Vehicle Tracking for the City and GIS integration for  Property Tax remain the futuristic objective of the application.
More than  10000 users have been using the application throughout the length and  breadth of the state of Orissa. Over 36,900 Birth Registrations, 7339 Death  Registrations, 9898 Birth Certificates, 3075 Death Certificates, 2088 Trade Licenses have been issued using this application.
Through the dependable  database, a useful revenue model has been explored for ULBs. The digitisation  of all data helped in better management of time and resources. SMS alert reduces communication gap between goverment and citizen.
Requirement  Gathering turned out to be a major challenge as there was a huge gap between  the system oriented architecture and the current practice. Data Migration,  Training of the MIS, Change Management from the offline system to the online  version and inter-departmental dependencies were some of the challenges  faced by the system.
Tulana Karnataka Service Level Benchmarking
Implementing Agency: Municipal Reforms Cell, Directorate of Municipal Administration, Bangalore
www.karbenchmarking.gov.in
Tulana is a web based online tool which enables performance measurement,  assists in analysing trends, reflect trends; and also provide quantitative and 

qualitative information about 49 performance indicators in 7 sectors of  municipal governance viz. Water Supply System; Waste Water Management (sewerage and sanitation); Solid Waste Management; Roads, Road side Drains  and Street lights; Disease Control; Developments of Parks and Gardens; Finance
It's a tool for determining the efficacy, cost-effectiveness, timeliness of services  and suggests corrective actions to improve performance.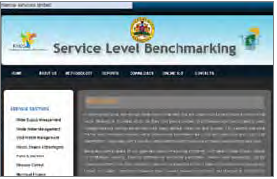 Tulana provides the  mechanisms by which the ULB knows if it is achieving its objectives as the  online application transforms data into information useful in support of  decision making The outputs that can be duly measured. It provides a  monitoring mechanism that produces information on the output that is  accurate, timely, relevant & complete. The comparison mechanism compares  the performance against a set of targets.
Tulana attempts to integrate the decision maker, the data base, and the  quantitative implementation models being used for service delivery at ULB .  It's a web based application which has the facility to capture the data online  from all 213 ULBs. For the 1st time ULBs are ranked based on their  performance. Automated ranking generation based on indicator results is yet  another application. Every sector and indicator within has been assigned with  fixed weightages based on the priorities and importance.