Freedom in the World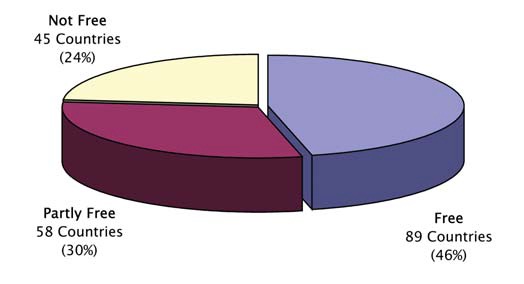 A major global survey by Freedom House, "Freedom in the World", announced that the number   of countries rated as Not Free has declined from 49 in 2004 to 45 for the year 2005, the lowest number of Not Free societies identified by the survey in over a decade.
The people of the Arab Middle East experienced a modest but potentially significant increase  in political rights and civil liberties in 2005. On the whole, the state of freedom showed  substantial improvement worldwide, with 27 countries and one territory registering gains  and only 9 countries showing setbacks. The number of electoral democracies increased by  three, from 119 to 122. This represents 64 percent of the world's countries-the highest number in the survey's 33-year history.
Of the four countries that registered an outright decline in status, the most significant was the  Philippines. The decision to downgrade this country from Free to Partly Free was based on credible allegations of massive electoral fraud, corruption, and the government's intimidation  of elements in the political opposition. Nepal declined from Partly Free to Not  Free due to a palace coup in which the king dissolved parliament and declared a state of  emergency. Thailand declined from Free to Partly Free because of a progressive weakening of opposition political parties and a lack of political competitiveness. Guyana declined from Free  to Partly Free because of the growing influence of the illegal narcotics trade on the political system.
Freedom and World Population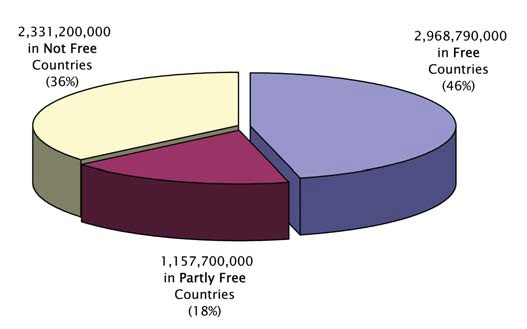 There are 45 states that are rated as Not Free, in which a broad range of freedoms are  systematically denied. Among the Not Free countries, 8 states have been given the survey's  lowest rating of 7 for political rights and 7 for civil liberties. Cuba and North Korea are  one-party Marxist-Leninist regimes.
Turkmenistan and Uzbekistan are Central Asian countries ruled by dictators with roots in the  Soviet period. Libya and Syria are Arab countries under the sway of secular dictatorships,  while Sudan is under a leadership that has elements both of radical Islamism and of the  traditional military junta. The remaining worst rated state is Burma, a tightly controlled  military dictatorship.
Freedom by Region
Follow and connect with us on Facebook, Twitter, LinkedIn, Elets video