Online Scholarship Management System (OSMS)
Implementing Agency: Andhra Pradesh State Minorities Finance Corporation Ltd.
www.apsmfc.com
The Online Scholarship Management System (OSMS) for Minority students was  taken up to enable students to apply for the Fee reimbursement and  

Scholarship scheme of Government of Andhra Pradesh.
The students apply  online on the website and after filling the application, they take the printouts  and along with required 2-3 documents, submit the application form to the  College. The College Authorities in turn give the bonafide certificate and write  their bank account number for the reimbursement of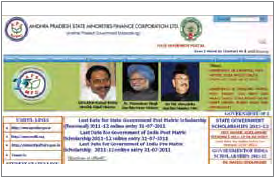 tuition fee. These forms  then come to the office of the Executive Director of Andhra Pradesh State  Minorities Finance Corporation (APSMFC), whereby the documents are  validated online with respect to the printouts and online sanction is given. An  online advice is sent to the bankers to transfer the fees amount directly into the  bank account of the college and the scholarship amount to the bank account of  the student.
Students can track their applications by typing the Unique Token  number issued to them. Colleges can download the sanction proceedings and  can know as to how many students have been sanctioned scholarship and  tuition fee and to how many students the tuition fee and scholarship is pending  due to want of which certificate.
The Online Scholarship System is being used by  more than five lakh students every year. Due to this the drop-out rate  among the minority students has been reduced to a large extent and the  number of minority students taking admission in the professional courses and  specialised courses has increased considerably.
ePASS
Implementing Agency: Center for Good Governance, Andhra Pradesh
  epasswebsite.cgg.gov.in
The Government of Andhra Pradesh is providing financial assistance to the

  Scheduled Caste, Scheduled Tribe, Backward Class, Disabled, and Economically  Backward Class students studying post matriculation courses on saturation approach to enable them to complete their education. To transfer the  scholarships online to college and student accounts the ePASS was  implemented. The eligible Post Matric Students register online, their  documents are verified online verification and the scholarships is released to
college and student bank accounts. Over 27 lakh students are getting the benefit  from this system. The bills are submitted online to the Treasury. The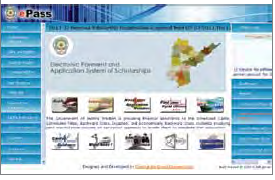 treasury uses CINB (Corporate Internet Banking) to transfer money to student  and college accounts. SBI eZ cards (virtual accounts) are used for the students. All the document images are kept online for verification and release. Money is  transferred to bank accounts within 24 hours using the SFTP server of Treasury  and SBI. The reverse information from banks is completed the same day.
The  key challenges faced by the project included the building up of the total master  database for 10+2 education in Andhra  pradesh; distribution of SBI eZ cards to students; entry of fee structure for 1,40,000 categories; the reverse  information from banks; deduplication of students having no SSC database .
The  usage of digital signatures; development of a fully automated helpdesk;  integration with University database for monitoring academic performance;  Biometric Attendance Monitoring System and extending it to Pre Matric  Students scheme and similar schemes are some of the futuristic goals of the  project.