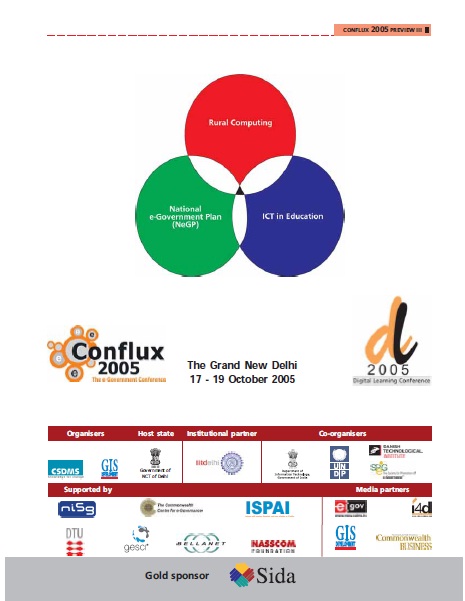 Rural Computing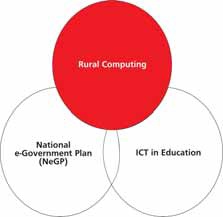 Information Communication and Technology (ICT) can greatly improve the quality of life of rural population. Introduction of cheap and robust computer devices and deployment of rural IT infrastructure are the key requirements to give computing a fillip in those regions. The session on Rural Computing during Conflux 2005 will look into understanding the needs of  people in rural areas and bring out the innovations of governments, corporates and civil  society organisations in addressing these issues. Topics to be covered under this session are :
Common Service Centres (CSCs)
Governments can make best use of Information and Communication Technologies (ICTs) to serve citizens, especially in rural areas, by creating access points called common service centres – as one-stop shop for a host of Government services for citizens.
e-Panchayat
The success of Rural IT implementation largely depends on capacity building and enhancement of absorptive ability of personnel working at the Panchayat level. In order to  discuss the strategies and know about the current developments in this sector, Conflux 2005  will have a dedicated session on the subject in association with the Ministry of Panchayati Raj,Government of India.
ICT in Agriculture
Most developing nations of the world, including India, thrive on an agrarian economy. ICT  has a tremendous potential of delivering crucial information to farmers and help them learn new agricultural practices. Conflux 2005 will have a session on ICT in Agriculture that will bring government officials, scientists, IT experts and grass root practioners to share ideas, expertise and knowledge in applying ICT for agriculture.
e-Health
The session on e-Health in Conflux 2005 will be organised in collaboration with leading  government and non-government organisations in this sector.
NeGP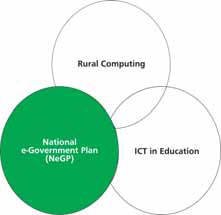 The Government of India has recently launched the National e-Governanment Plan (NeGP),  which is perhaps the biggest initiative launched in the country towards usage of ICT in governance. Conflux 2005 will discuss in detail about the roadmap of NeGP, the  implementation plan, possible impact and ways to take the message of NeGP agenda to a  much wider and deeper level within the Government system.The conference would encourage  State governments to discuss their NeGP action plans, time-lines and potential  areas of collaboration with industry, civil society and within the Government.

Key topics to be discussed
Introduction to NeGP
• Overview of NeGP
• Components of NeGP (SWANs, Data Centres, CSCs)
• Standards
• Gateway India Portal
Implementing NeGP
• Capacity Building
• Core Scoping of Mission Mode Projects
Central Mission Mode Projects
• National ID
• Central Excise
• Income Tax
• DCA 21
• Passports/Visa and Immigration
• Pensions

Implementation and Policies Strategy for NeGP
• Citizen services
• Land records
• Income tax/Commercial tax
• Passport department
• Municipal e-Government
• Postal department
• Police departments
• Registration services
• Transport
• Treasuries automation
ICT in Education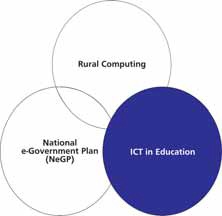 There is abundant evidence that the use of ICT can lead to positive academic outputs, higher  literacy rate, better attitude towards schools and better understanding of the abstract concepts. The audience that gains most from use of modern technologies in education are low  income households, people with disabilities, marginalised communities if the right approach is taken.
In order to focus on using ICTs for improved learning, Conflux 2005 will have a parallel conference – Digital Learning 2005 from 18-19 October 2005.
Digital Learning 2005 aims to take stock and learn from practices from a variety of  perspectives. Digital Learning 2005 will showcase ICT in Education initiatives which will add  value to education and drive and build digital competence in the knowledge society. The  opportunities, challenges and the critical issues of concern that the convergence of new information and communication technologies with education has created, will be addressed in  the conference. Digital Learning 2005 focusing on the theme 'ICT and Education:  Challenges and Practices' will be of interest for policy implementers in government; persons  associated with advocacy; managers and administrators; e-Learning content developers; ICT experts and the learning community.
The following sessions have been proposed for the conference:
Session I: Tools for Learning through ICT: Availability and Scope
Session II: e-Learning: Best Practices and Challenges
Session III: Technology in Education
Session IV: Policy and Advocacy: Critical Issues
Session V: Government initiatives in ICT and Education
Session VI: Civil society and NGO initiatives in ICT and Education
Session VII: Private sector initiatives in ICT and Education
Overview of first Advisory Board
Meeting of Conflux 2005 19 August 2005, India International Centre (IIC), New Delhi
Conflux 2005 organised its first Advisory Board Meeting on August 19, 2005 at India  International Centre, New Delhi. The meeting was aimed at bringing the honoured members  of the advisory board on a common platform to discuss the vision and strategies of Conflux  2005 and review the progress made so far. The meeting witnessed an active interaction  among the delegates to brainstorm the present needs and priorities of e- Government, which  need to be addressed through the conference.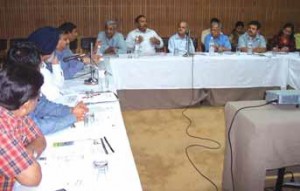 Participants
The meeting was attended by key stakeholders of e-Government representing the Central Government, Delhi State Government and the IT industry.

Key inputs by members
• There should be mix of doers/ practitioners (from Central and State level), e-Champions and key decision makers who can learn from the conference and go back and implement them
• There should less focus on technology discussions. It should be a Practitioner's conference. Most of the participants should be the people who are into the business of governance and want to use technology to help them do their job better.
• District level e-Government initiatives should be addressed
• More case studies should be presented. Even failure stories should get highlighted. Or stories where 'failures have turned into success'
• More time should be dedicated to discussions
• Speakers should be given proper presentation guidelines prior to the conference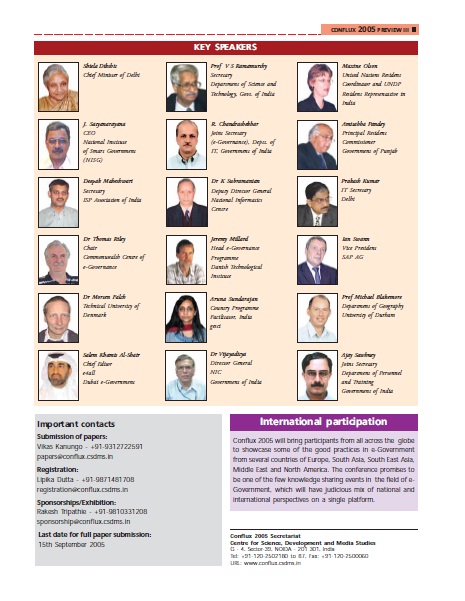 Follow and connect with us on Facebook, Twitter, LinkedIn, Elets video