iON: Integrated IT-as-a-Service for SMBs
Implementing Agency: Tata Consultancy Services, Mumbai
www.tcsion.com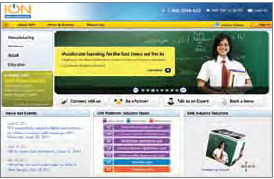 TCS pioneered iON has been developed to deliver IT in the third generation  service model to SMBs. In this model, using scalable cloud computing  technology, iON removes the need for SMBs to invest in IT assets and retain  scarce IT talent. Through a pay-per-use business model, iON helps SMBs leverage technology at an affordable cost. More than 200 SMBs across India are  leveraging the iON solution and have reduced their total cost of technology  ownership by 35-40 per cent. iON is expected to yield $1 billion in revenues  over next 5 years for TCS. The main objective of the project was to address the unique IT needs of the Small and Medium Business (SMBs) segment and design a  distinct approach to meet them profitably. iON employs cloud as a channel to  deliver technology to SMBs. With over 10 million broadband connections in  India, applications hosted in the cloud can reach every SMB, can be upgraded  continuously, and can provide a much higher level of data security. iON offers a  pre-integrated suite of hardware, network, software and services from TCS.  Integrated applications provide a comprehensive view of business enabling better decisions. The project has been built with inputs from a number of small  businesses. SMBs can start small and plug-in additional applications as they  grow. Another unique feature is that TCS takes complete accountability for  solution adoption. Customers are charged only when they go live with iON and  the solutions are kept constantly cutting edge. Also, iON platform capacity  grows with increasing computing needs of SMBs. The platform is resilient to  failures. The service switches over to an alternate data center in case of a  disaster.
Creation of Cloud Infrastructure to be used by the DIOS at remote districts, Assam
Implementing Agency: NIC Assam
    intranet.assam.nic.in

The NICNE Intranet project has created a low cost test bed for testing various  applications developed by various district level officials and to help them  create their own platform remotely. It's also used as a knowledge sharing  platform within the community. Launched in 2010, it was initially started to  provide PAAS (Platform as a Service) to all the DIOS in the districts in Assam.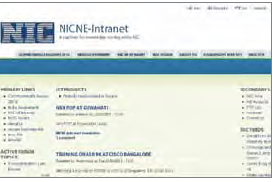 A OSS-based CMS namely Drupal was installed on top of one instance over the  cloud. The target group for such a platform were internal officers of NIC across  the state so that they can share all the knowledge and success stories from all  over the state and others can benefit from it. It was one of the very first projects  in the country of its kind. It is basically a platform for knowledge  sharing within NIC to enable interaction and learning amongst themselves. The  main objective was to have a collaborative test bed at a much lower cost of  ownership. The main challeneges faced during this project were having no prior  knowledge of such a platform and he amount of inventiveness required.  Also there were security of information concerns to deal with in terms of  classifying which information to be put on portal and which one to be abstained  from it.