Without financial inclusion, banks cannot reach the un-banked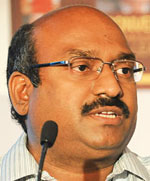 By AVV Prasad,
Additional Commissioner, Department of Rural Development, Andhra Pradesh
'A small loan, a savings account or an insurance policy can make a great difference to a low-income family. They enable people to invest in better nutrition, housing, health and education for their children. They ease the strain of coping with difficult times caused by crop failures, illness or death. They help people plan for the future.'
Kofi Annan, Secretary General of the United Nations
Financial Inclusion is delivery of banking services at an affordable cost. This is banking for the disadvantaged and low income groups. When an individual opens a bank account, he becomes a part of the growth process. The interest earned thereon is a saving and having an account would help when the person is in need of financial support. Without financial inclusion, banks cannot reach the un-banked. Only 30000 rural branches of banks are supposed to serve over 8 lakhs villages.
Technology and financial inclusion are the popular coinage in banking parlance in the country.  Several banks and technology solution providers have ventured to provide information and communication based solutions for financial inclusion.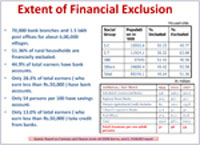 Smart Card Project
In the smart card, data is encrypted and card is prepared. Once the KYC norm is fulfilled and bank account opened. The smart card is personalised and issued to each beneficiary. It is state driven intervention. This is an establishment of last mile banking – banking outpost at each Gram Panchayat. Disbursement of Social Security pensions and MGNREGS wage payments is done in this project. Chip based smartcard is backed by bank a/c as identity card for disbursement. Disbursement is done through business correspondent. Bank lays the entire infrastructure. The Government pays 2 percent as commission on the total amount paid. The approach is to create branchless banking infrastructure by establishing a network of business correspondents in each village.
Banks and Government work together to open accounts and issue smartcards to the poor. To begin with, certain Government benefits like social security pensions and NREGS wage payments are delivered through this network. The endeavour is to establish a banking outpost in each village to include the unbanked poor.
Challenges
There are various challenges. Banks need to create a separate vertical for financial inclusion-Capacity building and Venture Project mode.  Service Area Approach has become dysfunctional for most of the villages. Denial of service to millions of poor is in fact a disservice. Poor are starved of credit, forced to pay usurious rate of interest. Urban Poor also left out. Service Area Approach is not appropriate model for financial inclusion.
If technology permits, rural areas should be served on same terms as the urban areas. The poor shall not have to pay usurious interest rates. In fact, they shall not be charged more than the rich. Service Area banks always fall short of people's expectations as well as needs. It should not be extended to financial inclusion.