India is making the direct triumphatic jump from a DOCUMENT to a CLOUD based ID authentication system. Once populated the Aadhar database would be the largest of its kind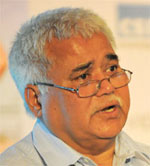 By R S Sharma,
Director General, UIDAI
What is UID?
UIDAI has been given the mandate to provide Unique ID Number to all Residents through a one time enrollment process which establishes uniqueness and to provide an online, cost-effective, ubiquitous authentication service across the country which is transactional in nature, establishes identity and which can be done at the time of availing a benefit. UID is just an instrument and guarantees only a unique identity. It doesn't guarantee any kind of rights or entitlements.
Information Captured
The Unique ID number maps to 4 demographics and 3 biometrics of every resident. The demographics comprise of the standard Know Your Resident dataset
Information Captured
The Unique ID number maps to 4 demographics and 3 biometrics of every resident. The demographics comprise of the standard Know Your Resident  dataset – Name, Address, Gender, Date of Birth while the Biometric dataset  comprise of the photograph, finger prints of all the 10 fingers and the IRIS scan  of both the eyes. Each IRIS has a unique pattern which is encoded in a 1024  digit number. Over 30 minutiae are extracted from each fingerprint.
The UID Ecosystem

A comprehensive ecosystem has been developed to handle a project of such a  Magnitude and complexity. Several partners have been identified for carrying out enrollments in a distributed manner. Standard processes have been laid down for device empanelment, manpower training, client software usage and verification. The processing and allocation of the UID has been centralised as it entails a huge computational processing of 1:N de-duplication. The entire  technological stack has been based on standards and has been largely built on open source platforms. The authentication systems are scalable in nature.  Multiple ABIS (Automated Biometric Identification Sub-systems) have been  installed which are allocated on the basis of performance. The quality of data captured is ensured through certification of devices and operators.
UID Enrollment Kit
The UID Enrollment Kit comprises of a Laptop with enrollment client, a   monitor   for live data verification by the resident, a camera for photo-capture,  an iris scanner, a fingerprint slap scanner and an enrollment kit box.
Enrollment Update
Launched on 29th September, 2010 around 30 million  aadhars would have been generated by the time this issue would reach in your  hands.The real time tracker of the exact number of Aadhars generated is hosted  on UIDAI's official portal. Around 4,00,000 enrollments are received  on a daily basis which is expected to touch 1 million per day starting October. Over 8000 units have been deployed with over 20,000 trained operators.
Service Delivery Potential of Aadhar
The uniqueness and existence ensures that  no fake or duplicate can occur. The uniqueness ensures the breaking of  database silos. It also acts as a sufficient KYC for multiple services like Bank accounts, Financial Inclusion schemes, Mobile connections etc. Aadhar  becomes the identity platform for various domains as all transactions start with  a proof of identity. Aadhar online authentication provides a common  platform which can be used across all applications. The non-transferability of  various entitlements can be ensured by authentication at the point of service delivery. The proof of presence can be duly provided by aadhar for various  domains.
Challenges
The scale of the project, the technological complexities, privacy and security  issues compounded with adoption, enrollment and associated political  challenges would define the sustainability of the project in the longer run.