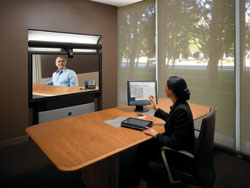 UC enables officials to cut time-to-action by leveraging multiple communication windows running in the backend
With ambitious plans for citizen services delivery and common service centres chalked up, the priority for government departments is to streamline communications and enable collaboration. Embracing new technology will be the way forward to overcome the challenges that plague government departments today.
Status quo at government offices

Video and voice communication channels are disparate in most government departments. Even within the voice channel, a department secretary for example has different phones for interacting with different sets of people—an internal phone for interacting with ministerial colleagues, a hotline to stay in  touch with the minister and a separate phone for communicating with the external agencies. One has to use different devices for video conferencing.  Consequently, there is a lot of confusion and decreased productivity of senior bureaucrats, as they have to  move around to attend voice orvideo calls.  his in turn results in delayed or sub optimal delivery of citizen services.
There  are other fallouts as well. While delays can cause extra pressure on the state machinery and dissatisfaction among citizens, they can also lead to cost   scalation. Slow dissemination of information always leads to slower  implementation of a project, which in turn invariably results in substantial  costs for the various departments and agencies.
During emergen- Cies, Departments need to coordinate through multiple Channels like voice and video, which Causes Delays
UC breaks the silo structures and converges all Communication on a single device at the touch of a button
During an emergency, government departments need to coordinate and collaborate with multiple  departments. Both voice calls as well as video calls are needed for faster dissemination of information and speedier response. Callshave to be routed to   he right decision maker for advice and suggestions and once adecision is taken,  t also needs to be conveyed to the relevant authorities for implementation. A  reverse loop is essential for feedback and corrective action.
Seamlessness in  communication and collaboration will enable governments to enhance quality  of citizen service delivery all through the year and respond quicker during an  emergency.

Connect, communicate and collaborate
India being a large  country, the state as well as central government departments have offices in   eographically spread out locations and there is a need for better coordination  among departments. The government departments also need to collaborate with multiple agencies.
These factors justify the need for collaborative tools such as unified communication (UC) that help in reducing    communication costs, increasing
employee productivity in government departments and driving operational  efficiencies across departments.
These new communication solutions can also help in meeting service level agreements (SLAs) with citizens, inter and intra department coordination, and inter office coordination.
Benefits of unified communications
With UC, government departments can use one solution instead of multiple  devices to cater to their entire communication requirements. UC also offers the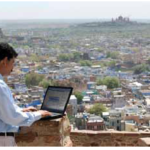 choice on how software applications can be deployed—onsite hosted or
on-demand.
Application deployment is based on needs at hand, and often results in the  adoption of hybrid deployment models that draw on the speed, ubiquity, and flexibility of cloud computing.
Investing in unified communications also helps  and  consolidating and creating centralised IT infrastructure and resources.
Besides  hese, the technology  also enables the government departments to  create environmentally sustainable workspaces by allowing officials to  collaborate online, thereby reducing travel expenses and carbon footprint.
Opportunities galore
For streamlining processes, reducing complexity and enabling better collaboration, state governments have opted for IP telephony solutions with  state wide area networks (SWAN) wherein one IP phone is installed in each  office. However, there is a need for increasing its penetration within offices for better coordination.
Also, all departments in the state government have their own enquiry numbers and call center set ups. With government-to-citizen  (G2C) applications being accessed through citizen service centres (CSC), state  governments can now look forward to centralise their enquiry toll-free  numbers through virtual contact center solutions. This single-window interaction point between thegovernment and citizens will lead to citizens'  delight.

The route to success
In order to make deployments of unified communications successful, the  authorities need to do detailed planning, taking into account all likely scenarios within their departments, laying out the procedures and communicating to all  government  agencies.
A structured directory listing of all relevant authorities is mandatory and it  needs to be updated regularly.
The room of innovation incommunications is   large, andgovernment departments will benefit the most from innovation.  Increase in productivity and response time will be beneficial, both in day-to-day affairs and in emergency responses.
Follow and connect with us on Facebook, Twitter, LinkedIn, Elets video