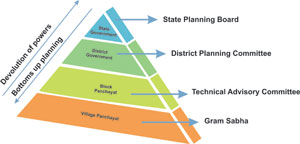 Globally, the trend towards democratic decentralisation is gathering momentum. Governments are recognising the need for local participation in planning, implementation and monitoring. Local self-government is gaining recognition as one of the key strategies for achieving good governance. India has a rich history of local self-government. In recent times, there is an increasing move towards decentralised planning and development. Panchayats ('council of five persons') are the functional institutions that enable such grassroots governance and the system of decentralised planning and development through such institutions is termed as 'Panchayati Raj'.
The pyramid illustrates the structure of India's Panchayati Raj system, the devolution of powers and key mechanisms established at each level to facilitate decentralised planning and development.
The main features of Panchayati Raj in India are as follows:
There is progressive devolution of powers of the State Governments in various areas to strengthen decentralised planning and implementation.

Administratively three tiers of democratically elected bodies, viz., the Gram Panchayat (GP), the Block Panchayat (BP) and the District Panchayat (DP) form what are called the Panchayati Raj Institutions (PRIs).

Facilitating bottom-up planning, each higher tier of Panchayat performs necessary coordination to ensure alignment with the larger developmental objectives.

Gram Sabhas (village assembly) form the mechanism for consultation with citizens for identification of developmental needs and implementation of local level development plans.

Governance mechanisms such as the Finance Commission, Local Fund Audit, Social Audit and the Election Commission address governance issues such as strengthening of finance and accounting systems, ensuring accountability to citizens and democratic election of PRIs respectively.
To strengthen decentralised planning and development, India is pursuing a large scale e-Governance transformation of the PRIs. This transformation programme will cover 234,030 Village Panchayats, 6,053 Block Panchayats and 535 District Panchayats of India. Nearly 3.1 million elected representatives across these PRIs will be associated with this initiative.
Objectives of the Study
The objectives of the study are as follows:
Create a framework of Information Needs of PRIs to enable design of an integrated e-Governance solution to support decentralised planning and development and

Develop suitable Information Technology (IT) strategies to for roll out these information systems on the scale represented by India.
Approach and Methodology Adopted
In designing the e-Governance solution and implementation strategy, a five step approach was followed. Having identified the challenges of decentralised planning, through extensive citizen consultation a framework of information needs was created which was then integrated across the three tiers of PRIs. An e-Governance solution was formulated based on these information needs and strategies for its implementation were created by identifying enabler and constraints and evaluating various alternative solutions.
The study involved consultation with a cross-section of PRI officials. A variety of methods were used to involve them in the study which included brainstorming workshops, one-to-one interviews and joint analysis of data gathered. This helped in gathering insights about the evolution of PR in India and to understand enablers and constraints in the Indian context. A large cross-section of citizenry was also consulted as part of the study. This information was analysed in workshops involving PRI officials and citizen representatives and solutions to address the study objectives were derived.
Key Challenges

When over 2,40,000 Panchayats engage more than a billion citizens in creation and implementation of development plans, a plethora of challenges emerge. The following table summarises some of these challenges.
When seen in the light of India's population and geography, the magnitude of the above challenges becomes evident. In addition, Panchayati Raj is an evolving system. There are various challenges associated with the transition from a centralised to de-centralised mode of planning which also need to be addressed through e-Governance solutions. Some of these are:
a. Improving data access to a larger community of stakeholders: The transition to decentralisation implies that a large amount of data which was hitherto maintained in a central location now needs to flow down to a very large community of local level planners.

b. Improving citizen's awareness about their role in planning: Since decentralised planning is a new concept for citizens, only through meaningful dialogues spread over a period of time that Panchayats can gain the confidence of citizens to engage them in planning and implementation activities.

c. Developing capacity within Panchayats: Since Government was always a distant entity, accountability levels have been traditionally low. However, with democratic decentralisation, Panchayat members have to be better prepared to answer citizen queries. There is also a severe shortage of talent and skills to carry out planning in specialised areas such as agriculture, education, social welfare, health etc.
THE PRI Solution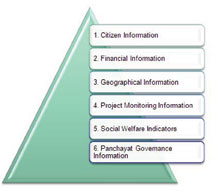 In light of the above challenges, a Gram Panchayat centric approach was adopted for solution design. As the smallest building block of the Panchayati Raj System, a Gram Panchayat interacts with a wide variety of stakeholders as illustrated in the diagram below. From information needs perspective the GP acts as the source of vital information on citizen needs and the progress of implementation of development
plans to address those needs.
Hence in our view, decentralised planning and implementation will be effective only if a Gram Panchayat is made self-sufficient in its information needs. Hence the starting point for solution of various challenges lies in establishing a framework of information needs for PRIs to be addressed by
e-Governance solutions.
The Framework of Information Needs of Gram Panchayats
The adjacent diagram illustrates framework of Information Needs
for Gram Panchayats.
Citizen Information

Availability of correct and up-to-date citizen information in a country of India's size has been one of the important bottlenecks for centralised planning. Even in a decentralised planning environment, though information gathering may have become easier, citizen information continues to be one of the vital information needs for effective planning. The key citizen related information needs for decentralised planning are:
Citizen Identity: Having correct citizen identity is one of the key objectives of India's Unique ID (UID) initiative and it is expected to play a vital role in design of e-Governance solutions for PRIs.

Citizen Contact Information: The ability to keep the citizen updated is one of the key transparency and service delivery requirement of a GP. Citizen contact management will thus form a key feature of any e-Governance solution proposed for PRIs.

Family Relationships and Status: Family oriented social benefits administration in India is significantly dependent upon the income status of a family. Numerous disputes have occurred within villages with the administration on the issue of wrong income category classification or wrong definition of the family's constitution. This situation is further complicated by marriages and also disputes within families. It is in this context that it becomes vital for a GP to maintain information on family constitution.

Status of Benefits under Various Schemes: Continuing in the context of equitable distribution of social benefits, the details of benefits obtained under various welfare schemes by an individual or a family becomes an important information need of a GP.
Financial Information

With the concept of fiscal federalism gaining momentum in India and with administrative decentralisation, financial management is one of the focus areas for improving Panchayati Raj governance. In addition, integration with Government Treasury and banking systems are vital for effective functioning of GP. The key categories of financial information required by Panchayats.
Budgetary Information:  Preparation of a Panchayat budget sees various data points gathered together and an extensive process of consultation with citizens during Gram Sabhas to arrive at a consensual budget for the Village. The finalised budget forms an input for further aggregation at the Block, District, State and National levels and is monitored against actual progress.
Information on Revenues: This pertains to details of the sources of funds made available to a GP at the beginning of every financial year from various tiers of Government and the own revenues generated by the GP through various taxes and levies within its village jurisdiction. As the village development plans evolve with each year, the budgetary requirements for financial resources are also increasing. It has become increasingly necessary for GPs to generate greater revenues especially through strengthening of its taxation systems.
Expenditure Information: Tracking expenditure against the budget and reporting utilisation of own resources are key governance requirements of a Gram Panchayat. In a typical GP, there are various drawing and disbursing officers and therefore, it is all the more important to keep track of which officer has authorised what spend and on what purpose.
Geographical Information

Geography adds a significant dimension to planning and development.  Geographical information is vital to answer various planning related questions such as:
What are the natural resources available with a Gram Panchayat?

How can we plan watershed development better?

Which parts of the village have adequate infrastructure in terms of roads, water supply and power lines and what is the development need?

What is the fiscal cadastral of the village?

What is the demographic profile of our village vis-
"Exciting news! Elets eGov is now on WhatsApp Channels 🚀 Subscribe today by clicking the link and stay updated with the latest insights!"
Click here!