The Internet Society organised a special workshop on the Internet and Public Policy issues during eINDIA 2009. The workshop dealt with a range of Internet-related issues, with a particular focus on the Indian perspective. The workshop focused on issues which make up the Internet Society's Enabling Access Initiative. This initiative focuses on enabling access to the Internet by  addressing the fundamental impediments to Internet growth and usability.
Presentations
Deepak Maheshwari, Director Corporate Affairs, Microsoft India, co-founder of National Internet Exchange of India (NIXI) and former Secretary of the Internet Service Providers Association of India (ISPAI) provided an overview of the evolution of the Internet in India, and some perspectives on the way forward. Tulika Pandey, Additional Director, Department of Information Technology, Government of India, provided some perspectives on the issue of Multilingualism and its role on the Internet.
The Internet Society's Frederic Donck and Sally Wentworth covered some global, but locally relevant, issues related to Internet Governance and IPv6.
Slides of the presentations are available online at http://www.isoc.org/isoc/conferences/other/eindia-2009.shtml
Panel Discussion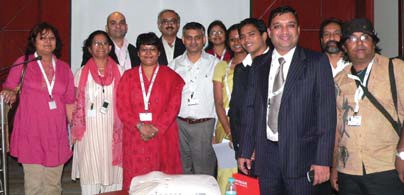 Panelists along with the participants
The workshop culminated in a panel discussion on Internet public policy issues in India. Panellists included Rajen Varada (UN Solution Exchange), Niel Hirjee (Calport Technologies), Jayalakshmi Chittoor (ICT4D Consultant) and Tulika Pandey (Government of India). The panel was moderated by Nikhil Agarwal, Director of the Europe-Asia Business School, and co-chair of the Internet Society's Advisory Council.
Deliberations during the workshop touched on some key issues facing Internet development today. These included:
Need to ensure capacity building initiatives are all-encompassing, serving all levels of society

Need for standardisation efforts related to multilingualism, with a particular focus on keyboard layouts and input methods

Need to consider "appropriate technology" when delivering access solutions

Need for a bottom-up centred consultative and development process

Need to implement technology-neutral forward-looking ICT policy with an appropriate licensing and regulatory framework
The challenges of improving Internet growth are multifaceted and interrelated, particularly in developing countries. They include, for example, access to technical skills and knowledge, the regulatory and policy environment for information and telecommunications services, and broader economic and market factors, linguistic diversity, and the diffusion and reliability of basic infrastructures and services.
For the Internet to grow and be sustainable, network operators need the technical capacity necessary to build, maintain, and protect networks, as well as make informed choices about new infrastructure implementation and methodologies. With Internet technology changing rapidly, capacity building needs to be an ongoing process and local information-sharing mechanisms must be in place to sustain knowledge transfer beyond classroom training. Regulatory impediments to internetworking, onerous licensing requirements and other regulatory and policy factors can slow or prevent Internet growth. Policymakers must be encouraged, at both national and international level, to adopt ICT policies and positions that promote the expansion and reach of Internet infrastructure on a national and global basis. There is also a need to eliminate (or revise) national Internet and telecommunications regulations that impede Internet growth. A key factor in achieving these is the need for policymakers to be aware of contemporary Internet issues and broader economic/social factors that impact Internet development.
Under-served communities– including people that use non-Latin language scripts, people with  disabilities, and geographically remote and dispersed communities – face additional  challenges in accessing the Internet. The Internet Society encourages and promotes work  towards enabling access to the Internet by under-served communities. Key to this is the  development and distribution of technologies that support the use non-Latin language scripts  on the Internet (in a manner that upholds the overall end-to-end connectivity of the  network), and the development of technologies that facilitate the use of the Internet by people  with disabilities. Industry and Policymakers both have a key role to play in facilitating access  to the Internet to under-served communities.