Innovative Grassroots Telecentre of the Year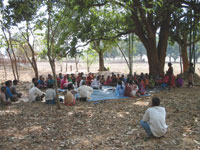 The Award for the Innovative Grassroots Telecentre of the Year aims to recognize those telecentres that have done exemplary work in the use of digital technologies to support community, economic, educational, and social development. The award was open for all Non-Government Organisations (NGOs), Self Help Groups (SHGs) and community based groups who use Information, Communications and Technologies (ICTs) in providing various services, including education, e-Governance, health, education, public service delivery, social security services and other services through a telecentre programme.
Civil Society/Development Agency Initiative of the Year
The Award for Civil Society/Development Agency Initiative of the Year aims to honour civil society organisations, non-governmental organisations, bi-lateral, multi-lateral developmental organisations from throughout the world that demonstrated extraordinary effort, innovation, leadership, and excellence in the use of digital technologies to support community, economic, educational, and social development.
---
Vision Centre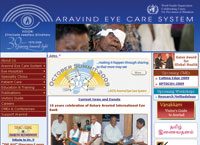 Vision Centres are aimed at providing comprehensive primary eye care services to the rural and remote population and thus create access to quality eye care. Each Vision Centre covers a population of 50,000 to 60,000. These centres are equipped with ophthalmic equipment such as slit lamp, streak retinoscope, direct ophthalmoscope, trial sets, schiotz tonometer, basic sterilizers, BP apparatus, 90D lens, digital camera, and a computer with a webcam and high bandwidth (4 mbps) point to point wireless (802.11b – license free spectrum) or BSNL broadband connectivity. These centres are run by well trained ophthalmic assistants who perform slit lamp examination, refraction, treating minor ailments and a counselor to counsel the patients and manage the vision centre operations. All investigation results are directly entered into computer using electronic medical record software and medical images taken are attached to the medical records that are accessed by the ophthalmologist at the base hospital while providing consultation.
Achievements
Vision centres are providing eye care at the door steps of the rural areas.

It has  reached and served nearly 80% of those in need of eye care within a period of two years which highlight the changes in the health seeking behavior.

The conventional camps could screen the cataract cases and could not help other eye diseases like diabetic retinopathy, glaucoma and others, but these centres are permanent and could provide comprehensive  eye care to the community.

Availability and supply of medicines and spectacles at the centre ensure the compliance rate of treatments advised.

Only 7 to 10% of the people gets referred to base hospital for further treatment otherwise nearly 90% of the people could gets treatment at these tele-centres.
Implementor: The Aravind Eye Care System
Website: www.aravind.org
"Low cost vision centre is an  approach to reach out to the rural population by providing comprehensive primary eye care services, similar to the concept of primary health care."
---
ICT and Entrepreneurship Training for Community Communication Development Program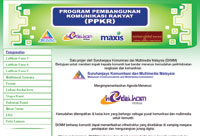 Community Communication Development Program, CCDP is a project by the Malaysian Communications and Multimedia Commission (MCMC). The project aims to make a socio-economic impact on communities in under-served areas with communications and network services and facilities. The facility, which is housed in tuck shops, sundry shops and the like, is aimed to be the focal point for communications and multimedia access in the community. The program was launched in 2003 by the establishment of 55 Kedai.Kom in selected locations in the state of Perak and Kedah, Malaysia. Maxis Communication Berhad, a telecommunication company was awarded the contract to supply, install, commence and maintain all ICT hardware and VSAT in 45 Kedai.Kom in seven districts of Perak state. Maxis is also responsible for the ICT training for the Kedai.Kom operators and the community in the vicinity and has awarded the job to Warisan Global (WG). WG has been engaged since 2006 to deliver ICT and entrepreneurship program to the community and operators of Kedai.Kom.
Achievements
Increase in ICT awareness among the community members It has been reported by most operators that demand for ICT classes have increased in recent years.

More sessions were held to accommodate demands for ICT and entrepreneurship classes.

Development of community projects and local content.

Created decent income to some operators.

Business at some kedai.kom have expanded beyond training and internet surfing.

Value add services like wedding cards printing, company's profile write up, business proposal, etc have given some operators good income.

Created a cadre of community trainers.
Implementor: Malaysian Communications and Multimedia Commission
Website: www.warisanglobal.com/ccdp
"The model of having telecentres in business entities such as tuckshops, stationery shops, etc, and operated by entrepreneurs is a unique model in Malaysia."
---
Siyafunda CTC