Integrated Financial Management System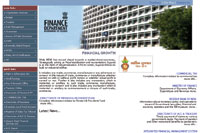 Finance department forms the lifeline to the functioning of the entire state government. It is very essential for the finance department to effectively manage the budget, expenditure and revenue and to provide required support to the other departments of the state government. Finance department is dependent on manual operations and this causes a lot of delay in getting right information at the right time. The data is maintained in multiple application systems and there was no decision support system for finance department. Government of Gujarat therefore decided to implement Integrated Financial Management System (IFMS). IFMS offers an integrated solution that provides real time details of state government's financial position by automating the major functions carried out by finance department, directorate of accounts and treasury, directorate of pension and provident fund, treasury and sub treasury offices spread across the state.
Achievements
Integrated Financial Management System (IFMS) is an integrated solution which provides consolidated and consistent information about the state government expenditures and receipts across the state.

IFMS integrates the major functions carried out by finance department, directorate of accounts and treasury, directorate of pension and provident fund, treasury and sub treasury offices spread across the state.

Real time availability of the state financial position.

Comparison of expenditure against budget estimates and grant distributed with graphical representation workflow based solution to ease the tracking of the documents.

Cross module validation and verification.
Implementor: Finance Department, Government of Gujarat
Website: www.financedepartment.gujarat.gov.in
"Expenditure data posting IFMS has gone live at Ahmedabad Treasury since April 2008 and has recently gone live in Mehsana Treasury. Directorate of Pension & Provident Fund office has also gone live since July 2008."
---
DISe Randomization Software for election department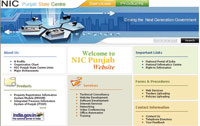 DISE is a software developed by NIC Punjab for automating the deployment of polling personnel, micro-observers, EVMs and counting staff. It helps the administration in formation of polling parties for Parliamentary/Assembly Elections as per guidelines issued by the Election Commission of India (ECI) for selection of the staff. The software follows three stages of randomization concept of ECI and works in accordance with all the guidelines issued by ECI. The software has been implemented successfully in Assembly Elections held in Punjab, Himachal Pradesh, Karnataka, Delhi and Mizoram. DISE was also used in Punjab, Chandigarh UT, Delhi, Himachal Pradesh, Karnataka and Mizoram during recently held Parliamentary Elections. Prior to the implementation of software, deployment of the staff was done manually by preparing slips bearing names of all the employees and by mixing them in a drum. The process was tedious and prone to mistakes.
Achievements
Each staff member is being issued an Identity card generated by the software while there was no such measure in place in case of manual system.

DISE has enhanced efficiency of the government and brought in transparency in the whole system of election.

Facilitates adherence to ECI guidelines and quick adoption to last minute changes guided by ground realities.

Ranked as the best software by ECI after comparison of similar softwares from other states.

Transferred to 5 other states and successfully implemented during recent Parliamentary Elections.

A versatile software that has been adopted and implemented in different types of elections such as Assembly, Municipal Corporation, Municipal Council, Zila Parishad, Block Samiti and Gram Panchayat.
Implementor: National Informatics Centre, Punjab
Website: www.pbsc.nic.in
"The software has passed the security audit and is not vulnerable to threats like SQL injection, cross site scripting etc."
---
Central Plan Scheme Monitoring System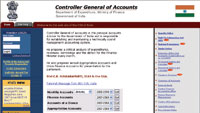 The Project envisages tracking of expenditure for more than 1000 central plan schemes of the Government of India having an outlay of approximately Rs 200,000 Crores. The sanction identification process that has been established enables tracking of fund flow under these schemes for various implementing agencies. Accordingly around 70,000 sanctions were captured during the financial year 2008-09. Expenditure under different components of schemes was captured through expenditure filing on a pilot basis from the lowest level of implementation i.e. village for Sarva Shiksha Abhiyaan and National Child Labour Project in the states of Karnataka (Bangalore-Rural) and Punjab (Ludhiana).
Information on all sanctions issued under the plan schemes for release of funds to various organisations/implementing agencies is available on the system.
Achievements
At present the central plan scheme monitoring system is under implementation in all the departments of the Government of India, which are implementing the central plan schemes with some exceptions.

The system has stabilised and demonstrates the capabilities to track the funds on the parameters which cannot be captured through existing accounting system. Thus the same model can be replicated in the state governments for tracking of similar plan scheme releases to various organisations.

Tracking of financial sanctions issued by various programme divisions in the ministries and its payment status. Thus it also works as the bill tracking system.

It has provided MIS to top level management for expenditure management.
Implementor: Controller General of Accounts, Delhi
Website: cga.nic.in
"The centralised database management system requires certain level of discipline from the various users. This was achieved through the continuous training and sensitization of the users."
---
Automation of Government Accounting Units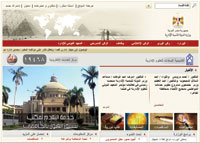 This project is part of the Government Enterprise Resource Planning Program in the Ministry of State for Administrative Development in Egypt. The project was initiated to standardize the functions and methods of the accounting units at the various government departments and entities. Deploying workflows in such approach would ensure control and continuous audit leading to better planning of resources in a timely and accurate manner. This will qualify Egypt's financial framework to integrate with international systems on a global level for future information dissemination or even for benchmarking purposes in Egypt, there are more than 2400 accounting units all over the country. Having this huge number of accounting units, it makes it hard to perform the following tasks in the manual system. It's a web-enabled application that is installed on centralized or de-centralized servers and is used by the accounting unit employees with their PCs connected to the application server.
Achievements
The automated system has positively and dramatically affected the operation time. As an example, the daily activity of producing the end of day closure statement is now generated from the system in few seconds compared to two hours in the traditional manual system.

Budget department used to take around one day to list the expenditure by each budget line. Currently it is automatically generated from the system by a single mouse click.

Employees get their work done faster and more accurately leaving more time for analysis and evaluation.

Transparency is enhanced as well.

The system provides information about who did what and when. This helps the accounting units' top management in monitoring employees and assessing their work quantity and quality.
Implementor: Ministry of State for Administrative Development, Egypt
Website:  www.ad.gov.eg
"The introduction of the accounting units automation system to the governmental accounting units eliminates the need for external interfaces and multi-systems and applications previously deployed."
---
e-Lekha – A Stride towards a Core Accounting Solution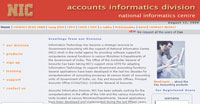 e-Lekha, a prudent financial management application provides an electronic payment and accounting information system for the Civil Accounts Organization of the Government of India with the objective of improving efficiency and accuracy of the accounting process. Built in and around the COMPACT application running at pay and accounts offices and other offline interfaces, it provides a system of core accounting with integration of daily, monthly and annual accounting processes for near real time value added reporting and financial monitoring and control. e-Lekha is being used by all Civil Ministries of the Government of India covering over 400 Pay and accounts offices and 47 ministries /departments. It is developed by the Accounts Informatics Division, National Informatics Centre for the Controller General of Accounts (CGA) to update and monitor daily reporting of expenditure and revenue of the Government of India, in sync with the budget allotted to a ministry and its sub units and schemes. This software is positioned at the lowest level of accounting and helps in optimum utilization of financial resources.
Achievements
eLekha is currently operational in all 52 ministries covering 462 pay and accounts offices of different ministries and Union Territories of the Government of India.

Centralised management and online availability of chart of accounts of GOI (over 1 Lakh heads of accounts, grants, object head, categories and their interrelationships, over 70 controller codes, over 500 PAO codes and over 6000 DDO codes ).

Full integration of payment and accounting functions.

Accuracy of Accounts