Civil Society/Development Agency Initiative of the Year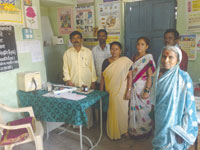 The Award for Civil Society/Development Agency Initiative of the Year aims to honour civil society organisations, non-governmental organisations, bi-lateral, multi-lateral developmental organisations from throughout the world that demonstrate extraordinary effort, innovation, leadership, and excellence in providing ICT services for Governance. The Award is an attempt to recognize the civil societies and development organizations whose exemplary service and success towards spreading the word of ICTs for governance, may have gone unnoticed and unappreciated on the international stage. The award was open for all civil society organizations, non-governmental organizations, bi-lateral, multi-lateral developmental organizations, Self Help Groups (SHGs) and community based groups who use/advocate Information, Communications and Technologies (ICTs) for governance.

ICT Solution for Society for Elimination of Rural Poverty (SERP)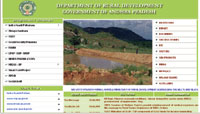 Society for Elimination of Rural Poverty (SERP) has formulated and implemented successfully new schemes in the areas of insurance and pensions, dairy, health and nutrition, gender, disability, Non-Pesticide Management (NPM), jobs and education for empowerment of rural women in particular and rural poor in general. Besides, it is also responsible for implementing co- contributory insurance and pension scheme called "Abhaya Hastham" announced by the government of Andhra Pradesh. SERP assigned the responsibility of developing and implementing IT solution to TCS for implementating an ICT solution to automate all the functionalities of SERP and capture all transactions of SHGs and their federations. The major objectives for implementing this project is to capture all Self Help Group (SHG) transactions at their origin, solution to make program monitoring easy for the government, performance monitoring of different SHGs  and fast and ready flow of correct and right data to all the stakeholders.
Achievements
ICT solution to SERP covered all the functional areas related to SHG and bank linkage program.

The functional areas covered in the ICT solution are for monitoring the whole SHG movement and successful implementation of microcredit scheme in Andhra Pradesh.

SHG and VO wise loans

SETTING UP COMMON SERVICES CENTRES

(CSCS) IN THE 15 BACKWARD DISTRICTS

OF MADHYA PRADESH (INDIA)

This project aims at establishing over 2900 CSCs in selected Panchayats of the 15 backward districts of Madhya Pradesh. Out of these, over 2300 CSCs have already been set up by AISECT. They are driv

en by a rural youth called Village Level Entrepreneur (VLE) capable of setting up an ICT enabled kiosk to deliver the bouquet of services including G2C, B2C and online services. The core services include G2C through MPOnline and Online Education through egyan and cvruonline portals. In addition, fi nancial inclusion products in banking and insurance are being delivered through appropriate tie-ups and telecom and entertainment services are also extended with various service providers. Training modules have been designed to deliver services. Over 100 Training Programmes have been conducted at various levels and IT Yatras have been organized in each district to spread awareness about ICT in rural areas. The project has already achieved over 80% target in one year's time, which is one of the highest in the country

"The project has already achieved over 80% target in one year's time, which is one of the highest in the country."

ACHIEVEMENTS


Number of Common Service Centres set up till date is 2300. Direct employment generated is about 4600 persons. Range of services offered are e-governance, online education, banking, insurance, telecom and infotainment. Monthly newsletter "CSC Khabar" is published for all VLEs and the various stakeholders of the project. Learning from the fi eld experience AISECT educational network has expanded its core educational services to a bouquet of rural centric ICT enabled services. The network has consolidated itself with a Data Centre based at AISECT head offi ce for delivery of services through the ICT enabled structure for prompt delivery in rural areas. The data centre is equipped with integrated portals, access to online services and trained staff. Thus, capacity has been enhanced within the organisation.

COMMON SERVICES CENTER PROJECT

The Common Services Center is a project initiated by Government
of India for providing better citizen services in rural areas under
NeGP initiatives. It is basically a uniform and unifi ed large scale project of various such e-Governance Project like Gyandoot, Rajasthan School IT Project, Lok Mitra and many more. The key at this time in implementation is not the number of CSC but the focus of NICT is to provide such a business model which will become continual and sustainable process rather then a piloting model Its business model includes various B2C and G2C services. Its emphasis is to bench mark those services immediately, which are of daily need to immediately start cash fl ow at these kiosks in order to make them sustainable. It has started business facilitator services, apart from this electricity online bill collection service is one of thier best USP

ACHIEVEMENTS

Sustainable functioning of CSC kiosk because in past also there

were efforts to open such kiosk but due to lack of G2C and other
B2C services they could not succeed.

Utilizing the digital opportunity through CSC project launched by Government of India for rural development and poverty eradication.

Implemented automated Gram Panchayat Software individually at each Gram Panchayat and started providing Birth Certifi cate, Death Certifi cate, basic MIS of Gram Panchayat, documentation of Gram Panchayat and providing MIS in soft copy to Tehsil and Collectorate.

They have roped in Electricity Bill Payment and Insurance, Banking services in CSC's.