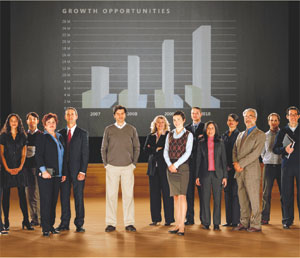 Businesses don't garner insights or make decisions. People do. Now more than ever people in the power and utilities businesses must make decisions to contend with a new contingent of disruptive forces from regulatory, environmental and workforce concerns. In this situation, businesses succeed when they empower their people with the right tools, information and opportunities. In a People-Ready Business, software plays a critical role, helping people turn data into insights that may be critical for survival – especially when an entire industry is undergoing structural change
Microsoft's Worldwide Utilities group believes that the keys to power and utilities companies' successful management of new energy supply and demand, environmental, regulatory and business process challenges will be their ability to leverage certain core IT infrastructure capabilities in their information management systems.
To enable agility and quick responses to dynamic business drivers, these information management systems will feature:
Integration that's based on open international standards like the Common Information Model (CIM)

Search functions within specific applications and across all business systems throughout the enterprise, as well as the Internet

Unified communications that fully integrate voice,  Instant Messaging (IM), email and the notion of "presence" to enterprise-wide efforts for collaboration and communication

Automated workflows, knowledge and advanced document management

Expansion of mobility platforms that enable new ways to interact with software applications and peers
In Microsoft's view, utilities should embrace advances in collaboration, relationship management, business intelligence and increasing use of the computing "Cloud" to bring about the Integrated Utility: an integration of IT and operational systems that readily presents information to users based upon their needs rather than application architecture.
In this evolution toward the Integrated Utility, information technology will focus on user roles and role-based user productivity that's most efficient when users have access to all the information they need, in synthesized form, that's available when and where they need it customized for their particular job function.
Follow and connect with us on Facebook, Twitter, LinkedIn, Elets video