The distance education initiative of the Indian Institute of Technology (IIT) Bombay has been in operation since 2002 and its core strength is live interactivity between teachers and students with the use of the best of what ICT has to offer.
The expertise of exceptional teachers at IIT Bombay is being tapped with the use of satellite and internet technologies. Thus addressing a gap that exists between the demand of expert faculty and need for quality education across regions. In other words, the interaction between teacher and student is being extended outside the classroom using technology.
Efforts are on to make the traditional classroom kind of interaction available live at the individual level. The number of classrooms from where the transmissions could happen could be increased substantially. Efforts are on to make all classrooms at the institute digitally interactive.
An exponentially expansion of this model is viable if other institutes start using newer technologies. This article will provide insights into the current technologies in use; discuss the challenges as faced while offering education in distance mode and possible next generation technologies which could be roped in to address these.
Current technologies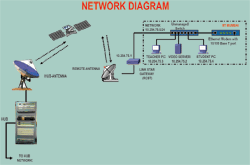 Two basic technologies used in distance education are satellite and internet. IIT Bombay has been using satellite based-technology for the last seven years for reaching remote areas not so well connected even today.
This is how it works: Signals are generated at a ground station and beamed to the satellite kept in geostationary orbit about 36000 km away above the surface of the earth. The satellite is always in the line of sight of the ground station and receives signals constantly.
The satellite in turn can transmit the signal received to far away places through the transponders on the satellite.
The EDUSAT launched by ISRO was made available to transmit courses from IIT Bombay on its extended 'C' Band channel. Initially, the bandwidth was shared with two other programmes on the same channel but with the growth in the activity from IIT Bombay offering as many as 13 semester long courses; the entire bandwidth of 1 MBPS was made available to IIT Bombay.
The working arrangement of the EDUSAT communication is shown
at Fig. 1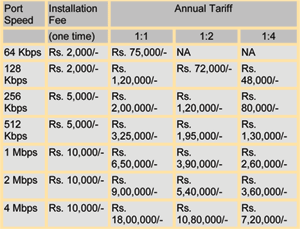 Following is the cost wise break-up: the receiving equipment set cost ranging from Rs. 10 to 20 lakh, reducing with time. The bandwidth charges ranged from Rs. 21 lakhs to Rs. 39 lakhs; again reducing with time.
Internet and web based transmission picked up in India after it became affordable and available. Typical MTNL internet lease line annual charges are shown in Table
Follow and connect with us on Facebook, Twitter, LinkedIn, Elets video