The topic of global warming & climate change is being debated intensely at present in the international scientific community as well as in the media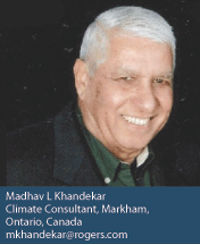 Dr Madhav L Khandekar is a former Research Scientist from Environment Canada and is presently on the editorial board of the international Journal Natural Hazards ( Kluwer Netherlands). Khandekar holds M.S. degree in Statistics from Pune University and M.S. and PH. D. degrees in Meteorology from the Florida State University, USA. Khandekar has been in the fields of weather and climate for over fifty years and has published over 125 papers, reports, scientific commentaries etc. While at Environment Canada, Khandekar wrote a book Operational Analysis and Prediction of Ocean Wind Waves which was published by Springer-Verlag in 1989. Khandekar is also an expert reviewer for the IPCC 2007 Climate Change Documents.
The most recent climate change documents of the IPCC (Intergovernmental Panel on Climate Change, a United Nations Body of scientists) project increasing frequency of extreme weather events like droughts/floods, heat waves, escalating sea level rise etc. as the earth's surface continues to warm due to increasing concentration of greenhouse gases (GHG) resulting from world-wide human activity.
This article summarises the present state of the global warming and climate change science and concludes that for India as a whole, climate change impacts in future would be minimal and can be sustained with suitable adaptation strategy. The article further suggests (as an adaptation strategy) more efforts to be directed towards development of operationally useful technique for seasonal prediction of monsoon rainfall which is the most important climate event for the country as a whole.
Introduction and brief overview

The topic of global warming and associated climate change is perhaps the most intensely debated issue in the history of weather and climate science. Hardly a day goes by when an article or an essay appears in news papers, popular magazines or in scientific literature. Among the various issues being debated are the adverse future climate change impact and the need to reduce future warming by enforcing world-wide GHG emission control. What is however not discussed is the present state of the science of global warming and climate change. There is a definite need to closely look at the present state of the science to determine what actions, if any, need be taken to adequately deal with future climate change and its impacts.
The present global warming debate may have begun with a landmark paper by Revelle and Suess (1957) in which the lead author late Roger Revelle (one of the most prominent geophysicists of USA) proposed that Humans are carrying out a large-scale geophysical experiment through world-wide industrial activity that could lead to build up of CO2 greater than the rate of CO2 production from volcanoes. Revelle was instrumental in establishing the first station for monitoring atmospheric carbon dioxide in 1956 at Mauna Loa in Hawaii. Another carbon dioxide monitoring station was soon established at the South Pole and later a global network of CO2 monitoring stations was created. It is now well established that the atmospheric carbon dioxide has increased its concentration from about 315 ppmv (parts per million, volume basis) in the 1950s to about 385 ppmv at present, an increase of 30 percent in the last 50 years or so. The mean temperature of the earth's surface (land-ocean combined) and its variation from 1860 till present is shown in Figure 1 which is used by the IPCC as the benchmark for the present debate on global warming and climate change.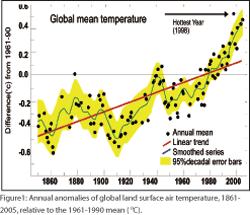 Figure 1 shows how the mean temperature of the earth has varied rather irregularly in the last 140 years. Figure 1 also shows two distinct warming episodes, first from 1910 through 1945 and the second from about 1977 till present. The recent warming (about 0.50C since 1980) and its apparent link to the increasing concentration of atmospheric CO2 has led to the suggestion of human-induced warming and associated climate change. Computer climate models developed at several international climate research centres have simulated the link between human-added CO2 and earth's mean temperature increase of recent years. Further these climate models project future warming of 30 C and more over the next 100 years leading to catastrophic impacts on the earth's climate and on world-wide human societies.
In the last ten years, a number of scientists have questioned one or more assumptions used in the IPCC science and there is now an intense debate regarding many issues like impact of urbanisation on mean temperature calculation, changes in atmospheric circulation patterns due to natural climate variability and the role of carbon dioxide versus that of solar variability on the earth's climate in historical as well as in geological times. For a discussion of some of the issues on the present debate, see Khandekar et al (2005). The present state of the climate change science is far from settled, as claimed by environmentalists and IPCC adherents.
Climate change over India: present and future


India as a whole is dominated by the monsoonal climate where the summer rainfall (called the southwest monsoon, June-September) is the most important climate event. Traditionally, India has been an agricultural country where timely arrival of summer rainfall  becomes critical for the monsoon crops (known as Kharif), most important of which is rice, grown primarily in the Peninsular India. The four summer months provide an average of about 85 cm ( ~40 inches) of rainfall over most of India. (this is one of largest amount of seasonal rainfall anywhere in the world over a large area like India). Outside of summer monsoon, India does experience winter rains via the northeast monsoon season (December-February) which provides rains (albeit much smaller amount) to the southeast Peninsular region of India and parts of Sri Lanka. In the northwest parts of India, some winter rains are produced (~5 cm) in the wake of western disturbances which are part of mid-latitude weather systems making their way into northwest India through the western Himalayan passes. The southwest monsoon season is the most important rainy season for India's agriculture and also for re-charging of water levels in a large number of reservoirs in and around big cities in the Peninsular India like Mumbai, Pune, Hyderabad and Bangalore. This is also the season for many rivers to be recharged and distribute their water to a large number of villages and towns.
The Indian Monsoon together with the south Asian monsoon is the largest seasonal abnormality in the global climate system and impacts about 60 percent of world humanity at present. In broader (simpler) terms, the Indian monsoon is often described as a large-scale sea-breeze circulation in response to 'hot' land surface and 'cool' oceans (Arabian Sea in the west and Bay of Bengal in the east) during the pre-monsoon months. In reality the Indian Monsoon is one of the most complex features of the earth's climate which cannot be adequately simulated by climate models at present (Shukla 2007). In the last 25 years, hundreds of studies have been published on Indian/Asian monsoon and it is now widely accepted that the Indian monsoon onset and intensity are controlled by large-scale features of the atmosphere like the ENSO (El Nino-Southern Oscillation) cycle in the equatorial Pacific, the Eurasian snow cover during the preceding winter and the equatorial stratospheric Quasi-Biennial wind Oscillation, known in scientific literature as the QBO.
The local and regional topography ( ex. The Himalayas, Deccan Plateau and the Western Ghats) play an important role in producing large variations in rainfall amounts, especially in and around the Western Ghats.
(ex. Pune receives just about 25 inches/62 cm of rains while the hill station Mahabaleshwar, only 100 km from Pune, receives about 200 inches/450 cm of rains during the four monsoon months). The IPCC science projects that the Indian/Asian monsoon will experience increased variability and intensity in a warmer world. In reality, the Indian monsoon has weakened in the last 25 to 30 years, while its variability is found to be governed more by decadal (~ 30 year) cycles than by year-to-year variations (Kriplani et al 2003). Kriplani et al find that the long-term behaviour of Indian monsoon, while showing no impact of recent global warming, reveals decadal variability with approximately 30-year cycles of above and below normal rainfall.
Will the Indian monsoon be adversely affected by climate change in future? Recent studies do not suggest any adverse impact at this point in time. The Indian monsoon has always exhibited significant departures from normal from time to time as can be seen in Figure 2 which shows seven major droughts and six major floods in the 150-year instrumental record.
These droughts and floods are part of natural climate variability and do not show any linkage to climate change, human-induced or otherwise. The IPCC 2007 climate change documents project a mean temperature increase of about 10C for India in the next thirty years, while projecting less than 5 percent increase in monsoon precipitation. Several recent studies have identified a number of uncertainties in these projections and the future warming of the earth's surface is now projected to be only about 10C to 1.50C  over the next 100 years. In any case, the revised projections suggest only marginal changes in India's climate over the next thirty years or more. The possibility of catastrophic future climate change impacts for India (ex. escalated sea-level rise on east or west coast) appears to be small at this time.
Concluding remarks

The present debate on the global warming and climate change science has brought out several uncertainties in future projection of climate change and its world-wide impact. For India as a whole, future climate change impacts appear to be minimal and pose no concern for alarm at this point in time. The Indian summer monsoon has been and will remain the most important climate event for India in the foreseeable future. Future climate change impacts can be adequately sustained using suitable adaptation strategy. A useful adaptation strategy would be to develop and improve the present skill in seasonal prediction of summer monsoon with a lead time of few weeks to a few months. Improved skill in seasonal prediction will enable appropriate measures to be implemented which could minimise impacts of future droughts and floods in the Indian monsoon.
Acknowledgements:
It is a pleasure to express my appreciation to the editorial committee members for inviting me to write this article for this magazine.I also like to express my gratitude to my wife Shalan for her help with the diagrams used in this article.
References:
(i)  Khandekar M L, T S Murty & P Chittibabu 2005: The global warming  debate: A review of the present state of science. Pure & Applied Geophysics 162 p. 1557-1586
(ii) Kriplanai R H, A Kulkarni, S Sabade & M Khandekar 2003: Indian Monsoon variability in a global warming scenario. Natural Hazards 29 p. 189-206
(iii) Revelle R & H E Suess 1957: Carbon dioxide exchange between atmosphere and ocean and the question of an increase of atmospheric CO2 during the past decades. Tellus 9 p.18-27
(iv) Shukla Jagadish 2007: Monsoon mysteries. Science 318 p. 204-205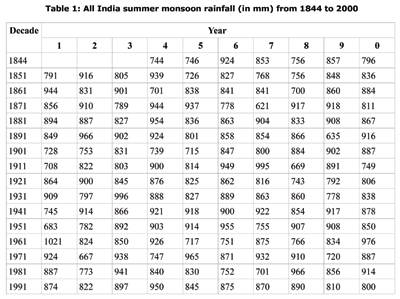 Source: N.A. Sontakke,  G.B. Pant, and Nityanand Singh, 1993, Construction of All-India Summer Monsoon Rainfall Series for the Period 1844
Follow and connect with us on Facebook, Twitter, LinkedIn, Elets video