Like documentary films, games can serve an educational function and impart information about real world events or processes
Alternative reality gaming

Alternative reality gaming have the ability to mix fact and fiction and can engage large number of interactive communicators who collaborate and interface to solve real-time puzzles and challenges. In this growing era of digital media, video and Internet games play a major role in integrating content, building interactive communication networks and disseminating contextual information. In fact, the mass popularity and appeal of games have led individuals and organisations formerly dedicated to the making and airing of documentary films to begin to consider how games can be used to meet similar ends. The author notes: "advocates for the use of 'games for change' argue that games can create new ways of looking at, and solving, the systemic environmental, economic and global problems we face in the world today."
'World Without Oil': The real online gaming experience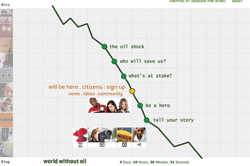 What would happen if the demand for oil exceeded production and the people of planet earth found themselves in the midst of a global oil crisis? On April 30, 2007, the Internet-based Alternative Reality Game (ARG) 'World Without Oil'  was launched to imagine just such a scenario. Illustrating the growing interest in games as a tool of education and social activism, the game was sponsored by American public television, an institution more used to broadcasting educational documentary films than hosting video games.
As a game, World Without Oil involved thirty-two days of online gameplay, with each real-world 24-hour period counting for one-week in the game's imagined oil crisis. Over its thirty-two game weeks, 1,900 players logged on to contribute content in the form of Internet blogs, videos, voicemails, images, and self authored news reports describing what was occurring is their region as the imagined oil crisis unfolded. The game's creative designer Ken Eklund commented: "We provided the narrative skeleton, the players fleshed out the story of this alternate reality game."
The players of the game, through their efforts, created a rich reality-based account of what could happen in a global oil crisis. By week ten of the game, the harsh tangible realities of an oil shortage were visible: millions were out of work; others reported being unable to travel to work from their suburban homes; while internationally, the military had been deployed to protect Canada's oil fields, Australia faced a constitutional crisis as the nation's western province threatened to secede because of a dispute over the allocation of energy resources, and oil tankers were being attacked as militants tried to deepen the crisis and ferment revolution.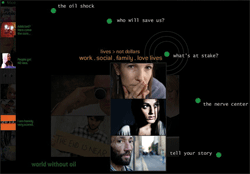 By week twenty, gasoline prices surpassed $7 per gallon, airlines were struggling to survive, and fuel riots were breaking out as oil companies reported massive profits for a second consecutive quarter. By the game's termination in its thirty-second game week, things looked up: gasoline prices  stabilised at $5.60 a gallon; people who lost their jobs found new work as businesses re-start; and cities began to clean up the mess caused by civil disorder. Over 60,000 visitors from around the world viewed the game as it progressed; and on its completion, the game was archived and packaged for educational use.
World Without Oil: Gaining advocacy and support

Behind the public presentation of World Without Oil were two funding partners: the Independent Television Service (ITVS), an organisation designed to foster plurality and diversity in American public television, and the television series Independent Lens. ITVS's stock and trade activity is providing funding for documentary films intended for conventional television airings, while the Independent Lens series is a respected broadcast showcase for documentary films addressing social themes. Support for World Without Oil by these two organisations seems to illustrate their recognition that games may have advantages over conventional non-fiction linear media when it comes to exploring certain kinds of political processes, and a tacit acknowledgment that games are now more popular-and for the corporate game industry more profitable
Follow and connect with us on Facebook, Twitter, LinkedIn, Elets video