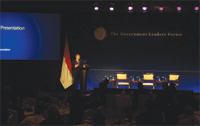 Education, Healthcare and Sustainable Development came under the spotlight during this year's Government Leaders Forum (GLF) at Jakarta, Indonesia. The forum focused on 'Serving the citizen: The transformative power of Information Technology in delivering government services'. This year's GLF provided an opportunity to bring together leaders to exchange experiences in these areas and discuss the specific challenges and opportunities in the Asia Pacific region. More than 100 delegates and guest speakers from Asian countries and around the world attended the two-day event scheduled between 8th and 9th May 2008.
Opening Session
In his opening address, Emilion Umeoka, President, Microsoft Asia Pacific mentioned that leveraging ICTs for sustainable development in the Asia Pacific region is one of the three objectives of this year's Government Leaders Forum – Asia. The other two objectives are to deliberate and discuss on the key issues in leveraging ICTs for education, health and achieving the sustainable development, and increase the public private partnership in these areas. Earlier in his address, he introduced the format and design of the forum.
Speaking at the forum Dr Surin Pitsuwan, Secretary General, Association of South East Asian Nations (ASEAN) said it is high time to transform the public service delivery. He said ASEAN covers 567 million people in 10 countries and contributes USD 1 trillion to the GDP and another 1.4 trillion towards foreign trade. This will be a lucrative market for the international business community. He also mentioned that ASEAN has been trying for a collective effort to manage positive impacts and cushion negative impacts of globalisation and technology. We need to think clear on how to integrate Microsoft to set up a system to manage well and improve further. He quoted Bill Gates by saying 'Creative Capitalism' as the new solution to the reach the unreached.
Dr Craig Mundie, Chief Research and Strategy Officer, Microsoft in his opening keynote address said ICT innovations are the building blocks of economic growth. For governments achieving economic development it is one of the key foci. IT innovations promote global trade and assist businesses to reach the global market. He briefed the role of IT in two essential elements for good governance namely, education and healthcare. He shared different Microsoft initiatives in the education and health sector. He requested the government leaders to join hands with Microsoft to take these initiatives forward on a large scale.
In his welcome address, Ir. Aburizal Bakrie, Coordinating Member of People's Welfare, Republic of Indonesia said Microsoft is not only a pioneer in software development, it is a driving force for technology driven development across the globe. He mentioned that the Republic of Indonesia is reaping the benefits of information technology. The country has exploited innovative ways to reach the rural masses. He said "with the help of Microsoft, Indonesia would have 1000 Bill Gates in the years to come."

Review of proceedings of the forum
Plenary forum on 'Education'
Background
It is axiomatic that a strong and inclusive educational system is the foundation of economic growth and innovation. It is also true that in both developed and developing markets' educational systems are uneven and inconsistent in preparing students for the challenges of today's increasingly digital environment – and of course many still have little or no access to formal education. Ironically, it is often in the learning context that computer technology – perhaps the world's greatest tool for learning and the delivery of information – is used least effectively and creatively. Despite the dramatic ways in which IT has transformed our lives, today's typical classroom and pedagogical style often closely resemble classrooms three decades ago – students sitting in rows of desks using a pen and paper to take notes, with the only major difference today being the use of computers to automate certain processes or mirror activities done initially by hand. The untapped potential of IT to fundamentally alter and enhance learning environments in ways that will foster social and economic opportunities for all – including underserved communities – is enormous. We will explore opportunities to dramatically change educational systems and increase access to education through the development and application of new technologies.
Proceedings: Anoop Gupta, Corporate Vice President, Unlimited Potential Group, Education Product Group, and Technology Policy & Strategy, Microsoft Corporation facilitated the session. Anoop introduced the theme of the plenary and invited the keynote speakers.
Professor Ir. Muhammad Nuh, DEA, Minister of Communications and Informatic, Republic of Indonesia and Prof. Bambang Sudibyo, Minister of National Education, Republic of Indonesia delivered the keynote address. In their presentations, the ministers focused on the key government initiatives to transform the public service delivery. They outlined the challenges they are facing in terms of financial allocation, demographics, infrastructure and upscaling.
After the keynote addresses, Anoop invited Sheldon Shaeffer, Director, UNESCO Asia Pacific; Dr Rom Hiranpruk, Director, Office of Knowledge and Development, Thailand and Prof. Jun Murai, Vice President, Keio University, Japan to share their views on the theme.
Key issues discussed
Increasing disparity between the haves and have nots

Including the out of school and children with disabilities

Reaching the children living in rural areas

Lack of understanding among the policy makers while scaling up

Shortage of knowledge workers

Issue of morality/ethics

Lack of management of education

Capacity building of teachers

Wired vs. Wireless to reach the last mile

Infrastructures vs. Applications approach to service delivery

Top-down vs. Bottom-up in policy making

Sustainability
Plenary forum on 'Sustainable Economic Growth'

Background

It has long been recognised that IT can play a powerful role in driving economic growth. The IT industry itself is a powerful vehicle of wealth creation, producing an increasing number of high skill jobs in developed and developing markets across the region. Further, numerous studies demonstrate how IT helps government and industry to increase their overall productivity and efficiency. However, the full impact of IT as a growth driver has to be felt. Even in highly developed markets, IT is in many cases still underutilised. And the challenges are even more acutely felt in countries at comparatively lower points on the productivity and economic growth curves. One particularly vexing problem, for example, is how to expand rural access to IT in a manner that will foster inclusive economic growth – a significant concern in Asia Pacific, a region with both fast-growing economies and vast segments of the population living in remote and areas with limited connectivity and IT infrastructure.
Proceedings:Michael Rawding, Vice President, Unlimited Potential Group, Microsoft Corporation introduced the theme and invited the keynote speaker and panel discussion speakers to share their views.
Dr Mari Pangestu, Minister of trade, Republic of Indonesia delivered the keynote address. In her address, she highlighted the use of IT as an enabling tool for good governance. She said e-Governance applications are easy to read in theory, but, are difficult to implement. Small and medium enterprises can play a key role in ensuring the sustainability.
Richard Fuchs, Regional Director, Southeast and East Asia, International Development Research Centre; Dr Tadatoshi Akiba, Major, City of Hiroshima, Japan; and Scot. A. Marciel, Ambassador for ASEAN Affairs, Department of State, U.S.A., shared their views and perspectives on the theme.
Key issues discussed
Where to go next? The 21st century goes to Asia

Increasing literacy

Digital divergence

Shared access computing

Train younger generation for doing global business on the Internet

IT can be leveraged for rural development – to provide information on education.

Success stories – ICTA's Nenasala telecentres, Philippine Community eCentre Programme
The GLF had also seen plenary forums on Healthcare, Technology Solutions and Public Policy.
Closing remarks by Bill Gates

In his keynote address Bill Gates, Microsoft Corporation Chairman announced several key programmes, partnerships and offerings that strengthen Microsoft's commitment to and investment in delivering accessible technology and transforming education for citizens across the Asia Pacific region and around the world.
The announcements included new education tools for people with special needs; the extension of an important skills development and certification programme available through Internet cafes (iCafes) in the Philippines;the further progress of Microsoft's flagship K-12 education programme Partners in Learning, which has now achieved a milestone number of 100 million students reached worldwide; and the expansion of Microsoft Innovation Centres in Indonesia with Pelita Harapan University.
"At the heart of our efforts is the belief that everyone should have access to technology and all the benefits it brings – quality education, fostering local innovation and enabling jobs and opportunities," Gates said. "We want to do everything we can to equip economies with access to the tools of the digital information revolution – PCs, the Internet, productivity, software, e-mail – so that they can be full participants in the global knowledge economy."
This event diary highlights sessions on Education and Sustainable Economic Growth at the Government Leaders Forum – Asia. The GLF had also seen plenary forums on Healthcare, Technology Solutions and Public Policy that are not included in this article.