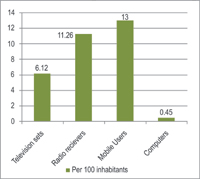 The World Summit on Information Society (WSIS) added a whole new dimension to the issues of Internet Governance in its Tunis Agenda. Development came into focus as a key agenda. The Internet governance discussions expanded from DNS (Domain Name System) Wars and root servers and critical infrastructure to a wider realm encompassing issues like access, content, multilingualism, security etc.
In this issue, we will discuss the issue of access or the lack of it, i.e. the phenomenon called 'digital divide'.
Digital divide cannot be seen as an independent phenomenon separate from the broad socio-economic inequalities such as access to drinking water, electricity, education, health care etc. These inequalities exist between the global North and South as well as within each nation.
Organisation for Economic Co-operation and Development (OECD) defines digital divide as the gap between individuals, households, businesses and geographic areas at different socio-economic levels in terms of both their opportunities to access Information and Communication Technologies (ICTs) and to their use the Internet for a wide variety of activities. The differences in access to information and ability to use the information are due to geography, race, gender, economic status and physical ability. We will explore some of the disparities in access within India.
In most nations, as with India, economic status often dictates the access to technology and therefore is a major factor perpetrating the divide in the digital era. More than 700 million Indians live in rural areas, much of which is untouched by modern communications. Around 30% of rural homes do not even have electricity.
In 2005, The International Telecommunications Union (ITU) estimated that there were around 60 million Internet users in India, about 5% of the population. Only a fraction of these have Internet access in their home.
The percentage of Internet users in India is slightly higher than the percentage PC availability in the country. This can be vastly attributed to public access points such as Internet cafes, various kiosks and telecentres operated by the private and public sector.
Compared to other modes of information dissemination, the availability of PCs is still scanty in India. Radio being the oldest mode of information dissemination amongst the four has a much higher penetration than television or computers. However, the mobile telecommunication industry has shown explosive growth in recent years in India and has overtaken all other modes of communication and information dissemination.
Within Asia, India has the third highest number of users in absolute figures, surpassed only by China and Japan. The Indian Subcontinent (India, Pakistan, Bangladesh, Sri Lanka, Nepal and Bhutan) comprises of about 16% of the Internet users in all of Asia. India herself makes up 13% of that. Even though that figure gives an impression of high penetration it is not a true reflection of reality. The actual penetration (% population) is only 5.3% in India, 0.3% in Bangladesh and 2.0% in Sri Lanka.