Present System – Healthcare

Telemedicine

Access to Doctors :
Trained Staff :
Time to Intervene :
Cost of treatment :
Distance Traveled :
Monitoring Mechanism : Haphazard
Statistical data : Minimal
Access to Doctors :
Trained Staff :
Time to Intervene :
Cost of treatment :
Distance Traveled :
Monitoring Mechanism : Centralized
Statistical data : Complete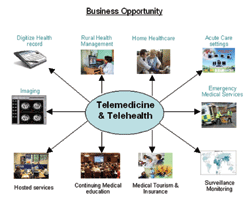 Definition
Telemedicine is defined as the use of electronic Information and Communication Technologies (ICTs) to provide and support health care when distance separates the participants.
The delivery of healthcare from a distance uses exchange of electronic patient information and medical data using computers, medical equipment, videoconferencing, the Internet, satellite, and wireless communications.
For telemedicine to be successful there must be an ability to clearly transmit a clinical situation, including clinical information of diagnostic quality, to a clinician located far from the point of need, and the ability for that clinician to effectively communicate concerns, additional requirements needed for diagnosis, or the provision of a diagnosis back to the point of need.
Aims
Improved and increased access to speciality medical care for geographically isolated patients

Move the information rather than the patient

Enhance the quality and continuity of medical care

Expanded utilisation of specialty expertise

Faster access to patient records and reduced intervention time

Reduced cost of patient care

Eliminate unnecessary travel

Continuing Medical Education for isolated health care providers
Objectives
Capture and upload patient information, waveforms & images from remote location to centralised server and get expert opinion / review instantly.

Real time transmitting of ECG and other vital sign data for expert opinion during cardiac and other emergencies.

Providing instantaneous expert advice within the network (intranet) as well as after hour Consultation, review and reporting outside (internet)

Share resources optimally and increase efficiency and throughput
Market Definition – Telemedicine
Consultation services between the consultant in the Department and resident at a distant location

Improvements in quality of care in rural and underserved communities

Faster delivery of required information and services
Easy access to their specialists from any locations

New business and marketing opportunity

Single referral hospital can handle multiple nodal centers simultaneously through telemedicine

Telemedicine services envisaged in the country should be available for the benefit of all people located in rural, remote and inaccessible places
Telemedicine in India
Telemedicine has been recognised as one of the potential application area of Information Communication Technology to address the issue of inadequate quality health service for the rural and remote population of India. A number of initiatives have been taken to set up pilots scheme to evaluate the impact and benefit of this application for patients in these remote areas.
Telemedicine in India provides insight into the growing telemedicine market in India. With a rural population nearing 700 million, India will benefit enormously from digital data transmission related to healthcare. Both public and private entities are aggressively pursuing the use of telemedicine to hasten diagnostics and treatment of a variety of diseases.
The Ministry of Communications and Information Technology, Government of India, has classified "Telemedicine" as one of the thrust areas for development in the country. In sync with the policy, the Government initiated a project called "Development of Telemedicine Technology".
Availability of necessary telecommunication infrastructure, crucial for success of telemedicine programme, is drawing special attention in India. Department of Space is mooting the idea of launching a satellite dedicated to Tele- health in the near future. Initiatives of both public and private sector telecommunication players to lay a huge backbone of fiber optical network covering large part of country in addition to the existing infrastructure like POTS, ISDN, etc. to provide further impetus to application of telemedicine in India in its vision to have a countrywide hierarchical telemedicine network.
Some facts:
In India, 80% of the population live in the rural areas whereas 80% of the medical experts live in the big cities. Thus, about 11% of the world's population, which reside in the rural areas of India, remain devoid of quality healthcare.

Exponential growth in Information and Communication Technology and plummeting telecom cost making India highly competitive

ISRO has been instrumental in providing telemedicine solution in over 200 locations using VSAT communication protocol to linkup Dist Hospital, Community centers and PHC's to Tertiary care hospitals.

The Ministry of Communications and Information Technology, Government of India, has classified telemedicine as one of the thrust areas for development in the country.

NRHM and various State Government has taken telemedicine initiative to linkup remote rural health centers with District and Medical college Hospitals.

Indian Railways who have one of the best communication platforms is planning to linkup all zonal, regional hospitals in all their zones.
About Prognosys

Prognosys Medical Systems, based in Bangalore, specialises in developing and integrating high quality solutions in Healthcare. Our combined experience and domain knowledge helps us to design solutions that use cutting edge information technology and telecommunication engineering in the areas of Telemedicine and Tele-health to connect people, processes, systems and technology in a modern medical enterprise.
Our ability to adopt technology, understand customer needs and a willingness to work with the medical fraternity to customise products and continuously improve solutions, makes us unique. It has helped us reach technological leadership in a very short period of time.
Prognosys' constant endeavor to deliver the finest and the latest solutions in Healthcare Technology has been the driving spirit behind innovative products like the Remote Patient Monitoring Systems (Real-time) for Ambulances and ICUs. In addition, Prognosys has further enhanced its solution offerings through strategic business partnerships. Prognosys has recently tied up with Canon, Japan
Follow and connect with us on Facebook, Twitter, LinkedIn, Elets video