WMO in rescue of African farmers

According to the projections of Intergovernmental Panel on Climate Change (IPCC), in some parts of West Africa, especially along the margins of arid and semi urban areas, the length of the growing season and crop yields can decrease substantially. Predictions say that by 2020, yield from rain-fed farming could be reduced by up to 50 per cent in some African countries. In consonance with the predictions and projections, World Meteorological Organization (WMO) of the United Nations has promised to offer help to some 10,000 farmers in five African countries, where crops are expected to be affected by climate change hazards. WMO will help these African farmers with low-cost rain gauge equipment and seminars by agricultural experts.
WMO, with the help from Spain, will distribute the rain gauges to volunteer farmers in Burkina Faso, Mali, Mauritania, Niger and Senegal, and train them in using rainfall data to plan sowing, fertiliser application and harvesting. The seminars (to be conducted by field experts ) will support these farmers with information on weather and climate risk management and will help build farmers' self-reliance.
UN pledges to fight CO2 emissions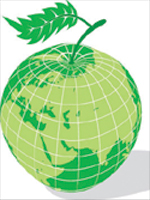 The United Nations urged the world to take steps to fight climate change and to reduce carbon footprint. Marking the theme of the World Environment Day as 'CO2 Kick the Habit' in Wellington, New Zealand, UN Secretary General, Ban Ki Moon said "our world is in the grip of a dangerous carbon habit and addiction is a terrible thing. It consumes and controls us, makes us deny important truths and blinds us to the consequences of our actions". Since its official inauguration in the year 1972, World  Environment Day, has continuously underscored the need to create and maintain a sustainable environment. The U.N. Environment Programme (UNEP) said the cost of greening the world's economy would be as little as a few tenths of global GDP annually spent over 30 years and would be a driving force for innovation, new businesses and employment. The UNEP urged greater energy efficiency in buildings and appliances and a switch towards cleaner and renewable forms of electricity generation and transport systems.
On the occasion, New Zealand pledged to become carbon-neutral. Speaking on the occasion, New Zealand Prime Minister Helen Clark siad, "We take pride in our clean, green identity as a nation and we are determined to take action to protect it. We appreciate that protecting the climate means behaviour change by each and every one of us".
Abrupt release of methane causes climate change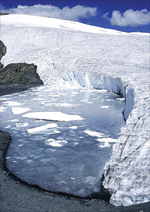 A research paper published in National Science Foundation's (NSF) journal 'Nature' reports that an abrupt release of methane, a powerful greenhouse gas emitting from ice sheets resulted in a dramatic shift in climate. The climatic shift could further triggered global warming and the subsequent meltdown of the ice-caps.
NSF researchers believe that methane is released gradually in the beginning and in later stage expelled quickly from clathrates