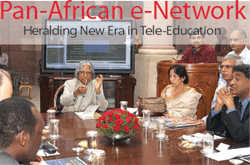 The former President of India Dr. A.P.J. Abdul Kalam, while addressing during one of the sessions of the Pan-African Parliament held at Johannesburg proposed a programme to connect all the 53 African nations by a Satellite and Fiber Optic Network that would provide effective communication and connectivity among the Nations, a network to primarily provide Tele-education, Tele-medicine, Internet, video-conferencing and VOIP services. Launched first in Ethiopia, the project is seen as Africa's biggest ICT project ever, with online education and telemedicine programmes expected to extend ICT infrastructure to rural areas and other underserved communities. During 2006, based on the expression of interest submitted, Indira Gandhi Open University (IGNOU) was identified as a nodal agency to evaluate a tele-education component of this project.
The network is designed to have 169 VSAT terminals, with 3 VSAT terminals in each country to provide Tele-education, Tele-medicine and Heads of State (VVIP) connectivity with a Satellite Hub earth station in Senegal. The Tele-education services are to be provided from 7 reputed Universities in India and 5 leading regional universities in Africa. The project is conceived as a turnkey solution to provide e-Education services and make it sustainable so that Pan-African countries will be able to carry on with their own services after 5 years duration.
As a precursor to the Pan-African e-Network project, Ethiopia Pilot project was initiated to provide Tele-education services from IGNOU at New Delhi. The project is commissioned in 2006. As part of this project, 40 students of Addis Ababa University and Haramaya University are taking MBA course from IGNOU through tele-education.
The interactive educational content from IGNOU is transmitted to Ethiopia on submarine cable based 2Mbps International Private Leased Circuit (IPLC) between India (landing station Mumbai) and Ethiopia (via Djibouti).
Tele-education Services:
An integrated Tele-education delivery system software has been provided to bring virtual remote classrooms in a multi-studio and multi-class environment with seamless two-way interaction between the teachers  and students through collaborative  tools. This system provides seamless, one-to-one, one-to-many connectivity through heterogeneous network platform in an IP-based multicasting mode
of delivery.
The infrastructure consists of one Application server, one Database server, one Control server, one Agent server and one workstation for the Tele-Education applications. These servers are capable of running on Windows and Linux Operating system. The Application server, Database server and workstation for live streaming purpose (Total of three servers) are connected to the Storage Area Network (SAN).
A dedicated website www.panafricanenetwork.com/.org/.net/.in has been hosted to facilitate dissemination of information to  various countries of African union and interested groups.
Tele