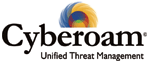 Cyberoam UTM Provides Comprehensive Network Security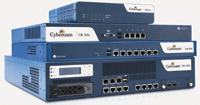 Cyberoam is the leading provider of identity-based Unified Threat Management (UTM) network security solutions for small, medium and large enterprises. Cyberoam UTM comes with a full range of features like Firewall, VPN, Gateway Anti-Virus, Anti-Spyware & Anti-Spam, Intrusion Detection and Prevention (IDP), Content & Application Filtering, Bandwidth Management and Multiple Link Management, all over a single platform.
Cyberoam with its unique identity-based security solution has identity controls weaved into its solution that identifies not just the IP address of the machine but the actual user as well. It thus puts a complete lid on the insider threat by pinpointing the actual threat source that fulfils the requirements in the enterprise.
Cyberoam delivers high throughput and price efficiencies, which are derived out of innovative use of multi-core processors.
Cyberoam has over 2500 satisfied customers across different verticals including Government and Educational verticals.
User Identity-based Cyberoam Solution

Government agencies with sensitive information need a security solution that is able to recognize the user and then provide selective access to the users according to their profile. Cyberoam does this as its firewall embeds user identity in firewall rule matching criteria, enabling enterprises to configure policies and identify users directly by the username rather than through IP addresses. Cyberoam is not only able to authenticate the valid users, but it can also apply customized policies on either individual users or a group of user.
Real-time Anti-Virus Anti-Spam Solution Cyberoam's CheckMark certified Gateway Anti-Virus and Anti-Spyware solution scans email and web traffic at the gateway to block malicious threats from entering the network. It offers real-time protection against all spyware/malware, including viruses, worms, spyware, backdoors, Trojans, keyloggers and more.
Proactive Protection to Central and Remote Government Offices
Government networks are often large, and access often must be granted to contractors, temporary staff and third parties, as well as off-site teleworkers. Cyberoam   IPSec VPN client allows establishing secure connections over the Internet between a remote user and the agencies to deliver secure, encrypted tunnels with high performance and low bandwidth requirements.
Real time Intrusion Detection and Prevention – IDP

Cyberoam's Intrusion Detection and Prevention (IDP) solution provides powerful protection by blocking intrusion attempts, protecting against malware, Trojans, DoS attacks, malicious code transmission, backdoor activity and blended threats. It offers the most comprehensive, zero-hour protection to organizations in combination with the Cyberoam Firewall, Gateway Anti-Virus and Anti-Spyware, Anti-Spam and Content Filtering services.
Minimising Loss through Content Filtering
Cyberoam Content Filtering controls Internet access by blocking unauthorised websites through its comprehensive database of millions of sites segregated into more than 68 categories. WebCat, Cyberoam's automated web categorization engine has one of the industry's best and most comprehensive URL database to protect enterprises against emerging threats.
Optimizing Public Sector Infrastructure with Cyberoam
Cyberoam's user identity-based bandwidth management allows optimum utilization of bandwidth by preventing bandwidth congestion. Organisations receive committed, burstable bandwidth, preventing non-critical applications from degrading network performance in addition to gaining control over investment in bandwidth.
Moreover, Cyberoam Multiple Link Manager enables enterprises to control traffic over multiple WAN links by delivering comprehensive traffic management capability and optimizing the links.
Making Security Efforts Visible with Cyberoam Intelligent Reporting

Cyberoam offers the most comprehensive enterprise-wide and individual user identity-based reporting on its CR appliances in the form of real-time analytical reports that are concise and ready-to-interpret. User identity-based reporting plays a critical role in meeting regulatory compliance and audit requirements. By taking the user identity beyond authentication into the network, Cyberoam offers a range of identity-based reports, including broad overview as well as drill down information related to user activity and threat incidence.
Follow and connect with us on Facebook, Twitter, LinkedIn, Elets video