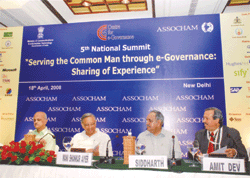 The 5th National Summit Serving the Common Man Through e-Governance: Sharing of Experience, the premiere annual event of the Associated Chambers of Commerce and Industry of India (ASSOCHAM)  on e-Governance in India was successfully organised by ASSOCHAM in alliance with the Ministry of Communications and Information Technology, Government of India and Centre for e-Governance on 18th April 2008 at New Delhi.
Welcoming the participants Amit Dev, Co-Chairman ASSOCHAM committee said that every citizen is the objective of ASSOCHAM and for realising the objective of being a Knowledge Society, technology should reach the common man. Delivering the Chief Guest address Mani Shankar Aiyar, Union Minister for Panchayati Raj and Development of North-Eastern Region called for a more integral relationship between the citizens and the administrators and percolation of responsibilities to all levels. He said, "responsiveness to ordinary people at all levels is possible through e-Governance."  He gave a call for simple solutions, use of local language in official and policy documents and cutting down of administrative expenses. He further said, that "e-Governance at Panchayat level will empower 800 million Indians to build their own lives and unequal society can be made equal." The Minister was  critical towards the Finance Ministry and the Planning Commission for delaying the sanction of INR 60000 million for e-Governance projects of his Ministry.
R. Chandrasekhar, Additional Secretary, Department of Information Tehnology (DIT), Government of India presenting the National e-Governance Plan (NeGP) perspective said that "by the end of the current financial year digital service platforms would be operational in most of the states and are already functioning in states like Haryana, Himachal Pradesh, Tamil Nadu etc. Siddharth, Principal Secretary DIT & Biotechnology, Government of West Bengal highlighted the advantages of e-Governance initiatives in education, health, panchayats and police. He said lack of personnel with appropriate aptitude is a concern in Capacity Building under NeGP. Presenting the Industry perspective Pranav Roach, President, Hughes Network Systems said e-Governance refers to new styles of leadership, new ways of decision making, new ways of interaction, organisation and delivering information to the common man.
Chairing the  first technical session: 'Strategies and Framework for e-Governance,' Aruna Sundarrajan, CEO (e-Gov), IL&FS said that comprehensive delivery of services to rural people need a concerted effort of all. Jaijit Bhattacharya, Country Director, Sun Microsystems speaking on Next Generation Government Data Centres said that data centres are the backbone of the service delivery structure. Speaking on 'Servicing the Common Man- strategies for G2C,' J. Satyanarayana, CEO, NISG raised strategic questions: what services to offer, how to ensure citizen-friendliness, with what resources and how to ensure sustainability. Niraj Prakash, GM, SAP was of the opinion that evolution of IT capabilities and Government processes should go hand in hand.
Chairing the second technical session: 'State Initiatives on e-Governance' Alok Bardhan Chaturvedi, Secretary, Bihar State Electronics Development Corporation Limited (BELTRON), said that Bihar is making rapid progress on e-Governance front. Amod Kumar, Special Secretary, IT in Uttar Pradesh presented the vision which intends the whole state Government to undergo transformation in the coming five to ten years. Large population, mindset of the Government employees, Illiteracy, infrastructure etc. are among the challenges being experienced in U.P. M.K.Yadav, M.D., Assam Electronics Development Corporation Limited (AMTRON), said geographical remoteness, vagaries of the nature and communication bottlenecks are impeding the progress under NeGP in Assam. Abhishek Singh, Secretary-IT, Nagaland stated that though, Nagaland is a slow starter NeGP will be implemented in the next two years inspite of the challenges.
Dr. Tarun Seem, Director, Ministry of Health and Family Welfare, Gopalakrishna Palakkil, VP, Wipro (Government & Defence vertical), Amit Dev, Director, Time Broadband Services Ltd., K. Tirupataiah, Special Commissioner, Rural Development, Andhra Pradesh presented their vision and shared their experience during the third technical session which focussed on 'Government of India's Policy Initiative' chaired by  Ajay Bhattacharya, Administrator, USOF.
Chairing the valedictory session Ajeer Vidya, V.P., Indepay, emphasised on the need for evaluation of the progress.