With the expansion of the knowledge web through the Internet, easy availability and exchange of information has grown up. There is an increase in knowledge awareness, piracy too has evolved with technology. If statistics are not wrong, an estimated USD 40 billion was lost in the year 2006 to software piracy globally. This figure went up to around USD 60 billion this year. The costs to the economy due to pirated software show why efforts to reduce pirated software must be greater than before.
The education and digital learning industry faces a similar problem. Intellectual property created by a learning company is at a great risk of being counterfeited. The intellectual and creative cost of developing content is extremely high. Content is the core of all training sessions. Content is their Intellectual Property Right (IPR) and their future. Content could be in the form of courseware or other data. Today, most of the training institutes have moved to the digital method of training or Computer Based Training (CBT). Content could be in the form of e-Books, e-Learning software, documents, spreadsheets, presentations etc.
The effort involved in creation of this digital content is immense. However, securing content once created, is a great challenge and under constant threat. These threats usually constitute the following causes:
Competitors could get hold of the digital content and upgrade their own content, improving their quality at an others cost.

Counterfeiters can edit/delete/or merely reproduce the content, thereby generating income for themselves at virtually no cost.

Students can copy and share content with other potential student clients resulting in loss of revenue.

Paid teachers can copy it and run their own private classes.
Trinity Future-In, a Bangalore- based company, has explored the patterns of delivery, storage and security of digital content. The outcome clearly indicates that existing systems that are in the form of CD, DVD's or the Internet are very vulnerable and counterfeiting is the greatest threat and cause of very substantial losses. Every creator of digital content is looking for a foolproof mechanism to protect and secure his IPR from being stolen.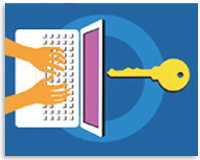 After four years of intensive research, Trinity has come up with a new technology suite of devices based on the USB delivery medium to protect digital content better than other security systems.  It is a new storage, delivery and distribution media, doing all three with security never seen before.  Opinions have been expressed about how the Trinity Suite of devices may change the way data distribution will occur in the future. Exhaustive testing has proven that the invention works to the highest level of expectation. Certification from the Standards Testing and Quality Control Laboratory confirms the results. Trinity Future-In has invented a unique USB device that will be used as the distribution media in a suite of applications. The Trinfin Suite offers its own data writer that is used to package software and data in a patent-applied-for format to be stored in the device.
How does the technology work?
There are several layers of security
Follow and connect with us on Facebook, Twitter, LinkedIn, Elets video