The Baramati-based Vidya Pratishthan's Institute of Information Technology (VIIT) and Intel jointly organised the Eighth Annual Baramati Conference on Information and Communication Technology (ICT) for Communities at VIIT campus, between 24th and 25th March 2008. This was the eighth in a series of conferences organised by VIIT. The conference focused on scale and economic benefits of ICT for Communities, exploring avenues through which governments, NGOs, development agencies and corporations can work, to successfully scale ICT initiatives to benefit the community. The event saw representation from over 135 delegates from across the globe.
Opening Presentations
Subhash Pani, Secretary, Planning Commission delivered the keynote speech. In his speech, he applauded the grassroots initiatives undertaken by VIIT and Intel in the health and education sector. He also highlighted the need to use appropriate technology to suit the local conditions in what he referred to as 'Technology Osmosis.' He cited availability of power and Internet connectivity as one of the major challenges ahead as we ahead on ICT for communities.

Speaking for Intel, John Davies, Vice President, Intel Corporation described their activities as, "Technology can expand what's possible to create opportunities for the people of India. Through the World Ahead Program, we remain focused on accelerating access to technology, improving education and increasing Internet connectivity." On the education front, Intel will help equip about 100 mobile computer labs in vans, five of which currently serve village schools in and around Baramati. Also, Intel Teach program helps local educators integrate technology to enhance classroom learning. It hopes to train 1 million teachers (having trained nearly 40,000 educators in Maharashtra) and help more than 30 million students across India by 2008.
Jainder Singh, Secretary, Department of Information Technology, Government of India was optimistic on the use of technology as an empowering tool for the communities for access and delivery of healthcare and education services. Wishing the conference a success, Jainder Singh ended the keynote address with a call to the delegates to share and learn from the successful initiative of Baramati.
R Shivakumar, Managing Director (Marketing and Sales), South Asia, Intel added, "Under the World Ahead Program, Intel is committed to work with governments and the industry across the globe to facilitate better health and education through technology. Conventions such as the Baramati Initiative on ICT not only create awareness on global technology trends but also foster an environment for interaction and collaboration between industry, government bodies, international experts, university circles and World Ahead alliance, to help enrich the quality of technological and intellectual human resource available for the rapidly proliferating technology economies."
Proceedings
The first session on 'Successful models of digital communities' highlighted the need for innovation; it showcased the successful initiatives undertaken by Reliance, Grameen Suvidha Kendra, Tata Consultancy Services (TCS), and Teleradiology. The session moderated by M Moni, Deputy Director General, National Informatics Centre. He introduced the theme and invited panelists to share key challenges, impediments and examples of communities that implemented innovative usage models across education, healthcare, citizen services and farming communities. The key challenges that emerged included lack of financial requirements to scale up, lack of trained human resources, acute shortage of electricity, certification for computer courses and local language content. The following sessions focused on healthcare delivery and role of telecentres. The second day focused on the technology in education initiatives. Anshul Sonak, Corporate Affairs for Education from Intel moderated the session.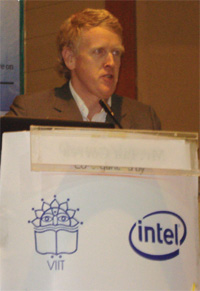 Dr Robert B Kozma, Educationist made a presentation on Aligning policies and programmes: Increasing the impact of educational ICT. He said that for increasing the impact of Educational ICT, we should look at when ICT is introduced into the educational system and whether it will influence the educational outcomes. What kind of educational change is desired and what are all the factors influence? Dr Kozma also made some very valid points in his presentation on improving on a system that is currently good, where the desired outcomes are increased access, resources, performance and efficiencies. He also stated that the role of ICT for achieving these desired outcomes was to extend the reach of the educational system, provide a large amount and wide range of current digital content, support student learning and reduce costs. He also emphasised for the transformation of educational system. He described how for a 'systematic change,' ICT can act as 'lever for change.' However ICT by itself will not bring change.
Vasudha Kamath, Director, CIET, spoke of how ICT in teacher training emerged and advocated that technology and education should come together. "ICT has the potential to bring people together to share ideas and become members of the learning community. This is not only at cognitive and teaching level. The use of chat rooms can be used as a mode of economic and low cost technology based on discussion groups. The teachers are also using video-conferencing. Its not just a technology tool but the teacher should also be prepared to use it in the classrooms.
ICT is also used for creating learning resources as educational technology; the teacher and faculty should be ready to incorporate them in their teaching. We are encouraging research to support open resources such as moodle in the Learning management systems (LMS). Evaluation and assessment is possible anytime and we do not have to wait for months for students results and outcomes. ICT is also used in research, as it is an important component of the educational development-such as constructivist approach for education as highlighted by NCERT in its guidelines. In the National Curriculum Framework, it is mentioned that students should exchange new ideas, building on their experiences, creating new knowledge. State should be proactive in delivering the NCF and ICT can play an important role in making the curriculum more interactive.
Latif Nathani, General Manager of Unlimited Potential Group, Microsoft India, showcased the successful initiative of Unlimited Potential initiative by Microsoft that aims at synchronising teacher training, curriculum development with technology infrastructure deployment to realise optimum benefits from ICT in education. He shared his views that for transforming education