Introduction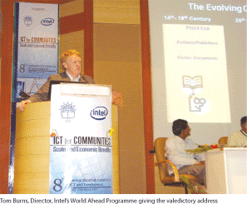 Between 23rd and 25th March 2008, Baramati, a small town, located 99 Kms from Pune, Maharashtra, India, played host to international guests from all over the world. More than 150 participants followed the Vidya Pratishthan's Institute of Information Technology (VIIT) and Intel's invitation to attend the Eighth Annual Conference on Information and Communication Technologies for Development. The conference focused on scale and the economic benefits of Information and Communication Technology (ICT) on communities, exploring avenues through which governments, NGOs, development agencies and corporations can work,Tom Burns, Director, Intel's World Ahead   to successfully scale ICT initiatives to benefit theProgramme giving the valedictory address poor and marginalised.

The Conference Debate

The delegates were challenged to consider the top issues facing ICT for development. Discussions were wide-ranging and included all the 'usual suspects' plus some more thought-provoking issues. Many delegates spoke on their personal experience of working in rural areas and the particular challenges, which they had faced. It was agreed that many of the issues identified also applied to different countries. Delegates discussed a list of issues to be 'parked' and considered further for discussions in the conference.
Opening Presentations
Key issues discussed:
Lack of financial requirements to scale up

Lack of trained human resources in the rural areas

Acute shortage of Electricity

Certification for computer courses

Local language content

Increased amount of recurring costs

High cost of bandwidth

Lack of awareness about ICT

Lack of will to re-engineer government processes
Subhash Pani, Secretary, Planning Commission delivered the keynote speech. In his speech, he applauded the grassroots initiatives undertaken by VIIT and Intel in the health and education sector. He also highlighted the need to use appropriate technology to suit the local conditions in what he referred to as 'Technology Osmosis.' He cited availability of power and Internet connectivity as one of the major challenges ahead as we ahead on ICT for communities.
Speaking for Intel, John Davies, Vice President, Intel Corporation described their activities as, "Technology can expand what's possible to create opportunities for the people of India. Through the World Ahead Program, we remain focused on accelerating access to technology, improving education and increasing Internet connectivity." On the education front, Intel will help equip about 100 mobile computer labs in vans, five of which currently serve village schools in and around Baramati. Also, Intel Teach program helps local educators integrate technology to enhance classroom learning. It hopes to train one million teachers (having trained nearly 40,000 educators in Maharashtra) and help more than 30 million students across India by 2008.
Jainder Singh, Secretary, Department of Information Technology, Government of India was optimistic on the use of technology as an empowering tool for the communities for access and delivery of healthcare and education services. Wishing the conference a success, Jainder Singh ended the keynote address with a call to the delegates to share and learn from the successful initiative of Baramati.
R Shivakumar, Managing Director (Marketing and Sales), South Asia, Intel added, "Under the World Ahead Program, Intel is committed to work with governments and the industry across the globe to facilitate better health and education through technology. Conventions such as the Baramati Initiative on ICT not only create awareness on global technology trends but also foster an environment for interaction and collaboration between industry, government bodies, international experts, university circles and World Ahead alliance, to help enrich the quality of technological and intellectual human resource available for the rapidly proliferating technology economies."
Successful models of digital communities (Pilot to Scale)

M Moni, Deputy Director General, National Informatics Centre moderated the session. He introduced the theme of the session and asked the panelists to share, key challenges, examples of communities that implemented innovative usage models across education, healthcare, citizen services and farming communities, and recommendations. He emphasised that farming and small and medium enterprises has to play a critical role in achieving objective of faster and more inclusive growth.
Hemantha  Kumar Pamarthy, CEO, Hand in Hand Micro Finance Limited, shared with the participants the successful model of Citizen Service Enterprises. Hand in Hand have organised Self Help Groups (SHGs) and given charge of administering these centres. Dr Arjun Kalyanpur of Teleradiology said that two Yale physicians founded his organisation in 2002. Teleradiology enables the transfer of diagnostic images to another location for interpretation. It can facilitate the early diagnosis for better health It works on a low cost self sustaining model. Teleradiology started a pilot project with Ramakrishna Mission Hospital in  Arunachal Pradesh.
Dr Kevin Smith, Northern Ontario School of Medicine, Canada shared his experience on Kenya Telemedicine Project. Dr Sumanth C Raman of  TATA Consultancy Services mentioned the various successful low-cost technology solutions namely, Disease Surveillance Systems, Telehealth Systems, Healthcare Management Systems, HIV/AIDS surveillance system for Tamil Nadu. He shared the key lessons learnt from these projects. He suggested linking the payment system with successful implementation of the project not for software development. Dr V. Shunmugam, Chief Economist from MCX shared the various ways of reaching out to rural customers. Prasad Dixit from Reliance raised the key challenges facing the scale-up namely: availability of power, connectivity, economic sustainability, and linguistic diversity. He said, "If the society cannot help the many who are poor, it cannot save the few who are rich".
Scaling ICT implementations