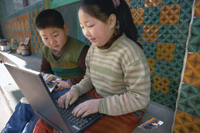 Microsoft was founded on the belief that technology can empower people and organisations to pursue their dreams and realise their full potential. Over the past three decades, we have seen that idea come to life for millions of people, as information and communications technology has become less expensive, more widely available, and a mainstay of personal and professional life in many parts of the world.
Everywhere, it seems, the power of Information and Communication Technology (ICT) is enabling enormous societal changes, increasing personal and business productivity, creating economic opportunities that were once out of reach, and redefining the way people work, communicate, and live their lives. But the good news is not universal. Despite the rapid growth and widespread adoption of information and communications technologies, the disparity between people who are able to benefit from ICT and those who are not is a problem that affects the vast majority of people worldwide.
For example, one key part of our lives remains largely as it was before the dawn of personal computing – the classroom. Education today isn't that different than 30 years ago. In most classes, rows of students still sit at their desks, listen to the teacher, read from printed text books, and hand in written assignments. Although technology has tremendous potential to transform the learning experience, it has yet to reach many of the people who need it most.
Certainly, this is a serious problem for millions of young people in developing nations, inner cities and remote rural areas who, because of poverty or location, lack access to ICT and skills training. It also affects people whose skills have not kept pace with technological advances, and it affects people with disabilities, age-related impairments, or other difficulties that may interfere with their ability to use technology. In communities around the world, opportunities are being lost and high-wage jobs are going unfilled because people lack either access to ICT or the skills to use it.
We know that technology alone cannot address the challenges of education and workforce development. Instead, it requires strong partnerships with educators, business, communities, NGOs, and governments to identify unmet needs and develop effective, scalable solutions that work in concert with other reforms and advances. To that end, Microsoft is building on a network of partnerships to ensure that relevant, accessible and affordable technology can make a substantial impact on education and skills development for underserved communities throughout the world. These efforts form part of Unlimited Potential, our commitment to bring the benefits of technology
Follow and connect with us on Facebook, Twitter, LinkedIn, Elets video