Project Gutenberg is the first comprehensive attempt to preserve old heritage books and rare manuscripts through electronic publication of the same
Project Gutenberg (PG), named after the German inventor Johannes Gutenberg, is the oldest digital library project in the world. Spearheaded by Micheal Hart, PG has been made operational in the year 1971 and stands to be a unique e-Project that integrates old texts with new technologies. The main intent of this wholesome project has not only been to digitise, store and manage old books and rare manuscripts, but also to ensure transparency, originality and operational effectiveness for many authors, editors and publishers. Apart from digitally maintaining conventional books, PG also maintains the digital version of some cookbooks, reference materials, music notation files, etc. PG makes the electronic publications open before the entire pool of Internet users and the e-Resource materials can be downloaded, accessed and sometimes modified for free. With PG, you do have the privilege of reading old and accomplished writers like Chaucer, Dante, Shakespeare, Charles Dickens, Charlotte Bronte, Agatha Christie and many more on the Internet.
Copyright rules

In accordance with the US copyright laws, PG's volunteer employees regularly verify the publication status of its e-Books. Most of the archived documents in PG are distributed as public domain1 resources though there are a few copyrighted texts that PG distributes with prior permission. PG fosters open access system and provides copyright free e-books for downloading. Resource materials are archived after copyright clearance. Each e-Book carries a licensing agreement that defines the users access and modification protocols. Organisations and publishing institutions that share a common ideology with PG have been permitted to use PG's trademark.
Project Gutenberg website
The PG site was developed, maintained and managed by an Italian volunteer Pietro Di Miceli in the year 1994. The website provided for a Project online catalogue and used an excellent search engine that aided the users to locate books, articles and other stored files. The Project web pages won quite a few accolades and public attention. Apart from its portal, PG has its own weekly newsletter that provides with updates on recent events, initiatives and facts. It also provides for the total number of books posted electronically and the details of those books where changes have been initiated. The newsletter details information on the number of proofreaders and volunteers. Most of the PG releases are in plain text with a US-ASCII character encoding.
Current statistics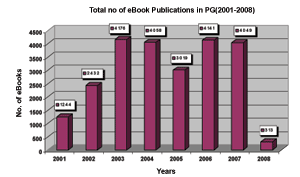 PG's founder-editor Micheal Hart was initially thinking of e-Publication of a maximum of 10,000 important and referred books by the end of the 20th century. By January 2008, the number of e-Books reached 26,500.PG Australia is also expanding its e-Repository with 1,591 e-Book publications till date. PG Europe, PG Canada and PG Philippines though are still in a stage of infancy in terms of e-Publications. PG takes recourse to Distributed Proofreaders (DP) for proofreading scanned texts. DP got affiliation from PG in the year 2002 and since then many new participants have proofread the scanned documents on the Internet. By the end of 2007, over 10,000 books have been proofread by the DPs. Apart from the DPs, volunteers from across the globe aid in the process of scanning and typing books.
Text encoding and formatting technologies
Till the early 90's, PG had to depend largely on conventional logistics and scores of data were electronically typed and later mined in the database. With the ushering of advanced and automated software systems and text reading technologies, more and more old books could be saved and relocated in the electronic form.Now-a-days, PG uses advanced scanners and Optical Character Recognition (OCR) technologies to read documents. To format the documents and to convert and encode text, PG uses TEI (Text Encoding Initiative) version 4 software. The final e-Book is stored in the form of files in a central database that provides a sequential list of data in a tree form. Queries generated through the search engine hit the central database to retrieve the requested information. In a recent initiative, PG is trying to convert e-Books to mp3 files with the aid of text-to-speech software.
Accessing PG e-Books
From an instrumental point of view, PG has created a common and unique open e-Learning platform for the authors, publishers and editors. The Project has opened new vistas for many publication companies and authors and many new digital library projects are being pursued in different parts of the world. In order to access and download PG books go to http://www.gutenberg.org/find. To search by title, author, language and subject go to http://www.gutenberg.org/dirs  or ftp://ibiblio.org/pub/docs/books/g
utenberg. More than 5,000 e-Books are available in Java (.jar) format. The same can be downloaded from the Mobile-Books website. You can also read and share e-Stories on your mobile phone. PG is also very resilient to criticisms and errors once identified are dynamically corrected and error-free documents reloaded in the database.
Footnote1: Those resources that are not owned and controlled by anyone and are open for public use.
Follow and connect with us on Facebook, Twitter, LinkedIn, Elets video