India has achieved multifaceted socio-economic progress since Independence. There is however, globally, a shift in the Government's approach in favour of universalisation and entitlements. This is where India has much to catch up.
The health indicators in India have shown a steady improvement over the years.

Health Sector reform in India
Health sector reform involves fundamental change in policy and institutional arrangements. All aspects of the sector from manpower to infrastructure to logistics to monitoring to participation of stakeholders are subject matter of this process. Health sector reforms have come centre stage since 1980s essentially from frustration of the citizens in receiving any semblance of health care from the public system. By 1990s the process had taken concrete shape. In India, the health sector reforms broadly cover the following areas :
Reorganisation and restructuring of existing government health care system

Involving Community in health service delivery and provision

Health Management Information System

Quality of care
Health sector reform is not new to the policy maker in India. Since middle of the Tenth Five year Plan (2004 -05 onwards) however, the process has taken on unprecedented urgency. Health sector reform is now one of the flag ship agendas of the Government of India.
National Rural Health Mission
Health care is now one of the thrust areas for the Government of India. The Government mandates an increase in expenditure in health sector, with main focus on Primary Health Care from current level of 0.9% of GDP to 2-3% of GDP over the next five years. The National Rural Health Mission (NRHM) which is the main vehicle for giving effect to the above mandate was launched in April 2005. NRHM is an overarching umbrella initiative which subsumes the existing programmes of Health and Family Welfare and seeks to be the omnibus vehicle for sector wide reform in India.
NRHM has the following vision:-
Implemented throughout the country with special focus on 18 states with weak public health indicators and / or weak infrastructure.
Improve availability of and access to quality health care especially in rural areas for poor and vulnerable sections of the population.

Build synergy between health and determinants of good health like nutrition, sanitation, hygiene and safe drinking water.

Mainstream Indian Systems of Medicine in public health system.

Increase the absorptive capacity of health delivery system to enable it to handle increased allocations.

Decentralise the planning process to the community.
The NRHM also revisits the Community Health Worker (CHW) strategy in India after 1982 when the support of VHG scheme was transferred to the states effectively bringing it to an abrupt end. The CHWs reappear in public health in India in the form of the Accredited Social Health Activists (ASHA).
Knowledge as Tool of Governance
Governments are by nature information intensive organisations. Rapid and sweeping technological advances over the last few years have radically redefined the abilities of Government to hold information. The empowerment of hitherto unsung stakeholders in the information transactions has created new framework for information management. Health sector has most to benefit from governance processes in which Information and Communication Technology plays a significant role.
e-Health in India
e-Health offers some ready products for accelerating the health sector reforms in India. The shortage of infrastructure, manpower and services in health sector in India is mainly attributable to the large gap in overall development between rural and urban areas. This gap levies substantial disincentive on health manpower for working in rural areas. e-Health offers a good option wherein a significant proportion of patients in  remote locations can be successfully managed  locally with advice/ guidance from specialists in cities, without having to travel far. This allows linking patients in remote areas to urban standard services without delinking urban service providers from their mileu.  The arrangement offers easier, cost effective  consultation, prescription mechanism and allows a referral chain. e-Enabling also improves depth, range and refresh rate for disease surveillance and response.
However, this change over to digital way of thinking in the health sector has rather high initial costs. The licensing terms and conditions, bilateral and interconnection agreements, non-existence of regulations, security and trade issues are serious bottlenecks which need to be addressed.
India is the ideal setting for telemedicine assisted health care. We already have a strong fiber backbone and indigenous satellite communication technology with large trained manpower in this sector. Various state governments, departments of the Government of India, private institutions and NGOs have been running a number of e-Health projects over recent past with successful outcome. In this scenario, a country level e-Health plan is long due to steer e-Health.
The enhanced allocations for e-Health over the XIth Plan can be used for the following major activities to accelerate and expand the reach of the architectural correction in the health system which is envisaged under the NRHM:
Training, Education  & Capacity Building
NRHM raises enormous demands on the training and capacity building infrastructure. e-Enabling the training infrastructure assists in optimal utilisation of the capacities. A tele training centre is accordingly envisaged at the National Institute of Health and Family Welfare (NIHFW). The Medical Colleges can be networked with the district hospitals and nursing institutions for CME and in service trainings.
Monitoring
The lack of a functional MIS at various levels has been a critical shortcoming in the health sector in India. Much of this problem can be conclusively solved using IT solutions. Under NRHM, monitoring and evaluation, using ICT tools is planned so as to create smart data corridors which are usable by both the planners and the implmentors.
GIS Resource Mapping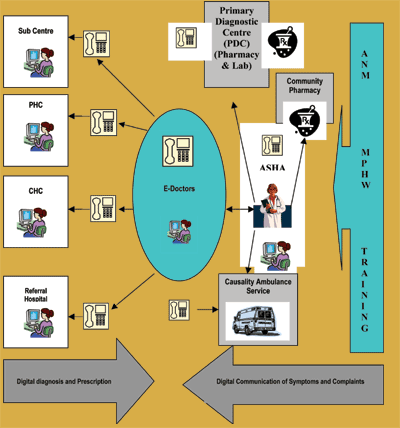 The preparation of District Health plans under NRHM presuppose the availability of updated information regarding the health sector resources. This includes the location of health facilities (both public and private sector), medical investigation centres and labs, training centres, trained manpower. The geo spatial mapping capacities in the country offer a major tool for addressing this critical issue. Many states including Gujarat, Rajasthan, Orissa etc. have made good
progress in this area. Under NRHM this activity is proposed to be undertaken for a country wide roll out.
Service Delivery
Several ICT enabled service delivery initiatives in the areas of cancer network, ophthalmology services, disease surveillance are already in operation in many states. These are proposed to be scaled up and supported by the Govt of India. A formal protocol for tele consultations and a regular  tele health helpline is also proposed.
The networking of all major hospitals with the district hospitals, CHCs and PHCs would substantially enhance the reach and range of services available to the citizens from the public system. The large number of mobile medical units can also be e-Enabled so as to expand the range of services which can be made available through them.
Other Activities
The large number of e-Health initiatives are already operating in the country (either under the state government patronage or in a private institution). These are proposed to be evaluated and examined for support under the Government of India e-Health efforts.
The scaled up shift over to digital method of thinking in the development sector would however need to be a cautious transition. There are several obvious pitfalls in digitalization of governance and public sector service delivery. The most important being, accentuation of the existing analogue divide with an additional digital divide. Furthermore, the acceptability of e-Health as a viable initiative would need to be developed amongst the service providers. A study of existing telemedicine initiatives has pointed out that e-Health sessions are most likely to be cancelled (primarily) due to non availability of the doctor at the  remote or the expert end for conducting the session.
It would therefore be necessary to create a strong sense of motivation among doctors and design e-Health programmes on basis of felt needs. There would also be need for regular monitoring, follow ups and independent evaluations of the initiatives. The contours of ownership of e-Health initiatives in respective division, state or institutions would need to be clarified. It would also be necessary to set up e-Literate management structures to support the day to day requirements of e-Health initiatives in public health setup.
IT enabling of health sector can take on a life, logic and legitimacy of its own. In this process, the real issues of health delivery and other health sector necessities would have to be prevented from becoming subordinate to the technology. The digitalisation of public health delivery system would therefore need to be patient centered rather than technology centered. Never the less, the public health system in India can no longer afford to delay a large scale shift to e-Health.
Clearly, the NRHM has created the right environment for this transition.
Follow and connect with us on Facebook, Twitter, LinkedIn, Elets video