The African Knowledge Exchange (AKE), a multi-country workshop, was organised by the Global e-Schools Communities Initiative (GeSCI) on 3rd – 4th December 2007, in Nairobi, Kenya.
Information and Communication Technologies (ICT)-supported education is currently a core component of the development plans of most African governments. ICTs are being integrated into many national educational systems in order to reach the Millennium Development Goal (MDG) of "Education for All" (EFA).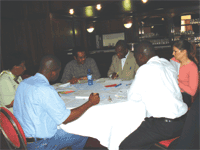 Towards this end, the Global e-Schools Communities Initiative (GeSCI), founded by UNICT Task Force and based out of Dublin, Ireland has introduced the Africa Knowledge Exchange (AKE) initiative to build dialogue and establish processes and mechanisms of knowledge exchange amongst participating countries and provide assistance in building competencies in adopting ICT in education policies, programmes and projects. Keeping in view of the recent and rapid developments of ICT in Africa, GeSCI aims to co-ordinate the ICT and e-Learning progress and activities for achieving educational goals.
The Organiser
GeSCI was established in 2004 with the mission to assist developing countries reduce poverty by improving education through the use of ICTs. To achieve this mission, GeSCI works directly with developing country governments in partner countries, and specifically their Ministries of Education and other stakeholders using a comprehensive, demand driven, contextualised, coordinated and multi-stakeholder approach. GeSCI's work is based on real needs and demands of stakeholders. Based on information collected through various methods, e.g. workshops, surveys, interviews and experiences in partner countries, 3 key gaps were identified in ICT in education initiatives and addressing these gaps have formed the core of GeSCI activities:
Designing and implementing ICT in Education policies and plans

Building capacities within Ministries of Education to effectively implement their ICT policies and plans;

Utilising ICTs cost-effectively to achieve educational objectives.
GeSCI conducted a multi-country workshop on Teacher Professional Development (TPD) in Namibia in September 2006. The countries represented at the workshop were Ghana, Kenya, Mozambique, Namibia, Senegal, South Africa, Tanzania and Uganda. Based on the recurring issues discussed during that workshop, the conclusion from the workshop was that GeSCI would include a work stream on ICTs in Teaching and Learning amongst its other work streams to respond to the needs of its partner countries while addressing the key gaps indicated above.
Workshop Objectives
The strategic objective of the African Knowledge Exchange workshop was to explore the domain e-Learning for increasing access to education in the Sub-Saharan region. It aimed to understand the requirements, cost-effectiveness and implementation of learning network systems as an integrated approach to the overall plans and initiatives of the invited countries.
The broad objectives were:
Share information with invited countries on lessons learned from GeSCI' work in Namibia

Share information, trends and developments in the field of e-Learning and e-Learning centres (Elc) and outline the process of integrating e-Learning into National learning systems

Facilitate peer-to-peer exchange on e-Learning programmes amongst countries

Explore the establishment of Sub-saharan African e-Learning working group

Introduce GeSCI' Africa Regional Office in Nairobi to the invited countries
Workshop Proceedings
DAY I
Opening Remarks: Astrid Dufborg, Executive Director, GeSCI
Astrid Dufbrorg gave the opening remarks with a brief introduction of GeSCI and its work areas across countries as a demand-driven organisation, GeSCI' presence in three continents that brings varied perspectives to the work. She introduced the strong alliances that have been formed with African countries in building institutional and knowledge capacity of the government and administrators in implementing ICT in education in their respective countries. The work in Ghana, Namibia, Rajasthan was highlighted with launching of the ICT in implementation plan in Namibia as a success story and development of tools integrating education for effective ICT in education policy. India (Rajasthan)' initiative was introduced to the invited countries while also sharing the ICT in Education policy building process with Ministry of Human Resource Development (MHRD) in India.
Some suggestions are made for an end to end concept of using ICT and e-Learning, identify appropriate technology, peer-to-peer learning, scalability of e-Learning, structures for knowledge building and sharing, develop multi-stakeholder partnerships, address thematic areas, and for pedagogy-focus.

Introduction to AKE Workshop: Khalid Bomba, Regional Director Africa, GeSCI
Khalid Bomba highlighted the aims and objectives of the workshop, introducing AKE as a platform for invited countries to participate and contribute their issues and concerns. He highlighted GeSCI-Africa Knowledge Exchange initiative as a sustainable forum for moving towards a continued dialogue and partnership for knowledge sharing and knowledge building amongst the African countries.
Keynote : Kennedy Khara, Directorate of e-Government, Govt of Kenya
Kenya has made strides in integrating ICT in the governance systems. The country was also host to the Africa e-Learning initiative last year. The increasing progress of IT infrastructure is creating spin-effects in education sector. Representing the Directorate of e-Government, Khara highlighted the success and achievements of his department in integrating technology applications in governance services. He oriented the invited countries on the structure of institutional capacity developed by Kenya; each Government department has an ICT unit, for conducting and co-ordinating activities in ICT. Integrating e-Learning in education and heath has already begun followed by announcement of e-Government strategy in March 2004. He voiced his concern over the delay in the implementation plan roll-outs, citing the dynamics of technology as a core challenge of the government to continuously update and revise plans. Aprt from highlighting capacity building as the major challenge for the country in implementing ICT initiatives, Khara promoted building communities of practice on e-Learning inviting all regional players to address issues of digital divide in the rural areas.
Buzz Groups for Introduction

Next, an interactive session where the participants explored ways to identify expectations and concerns, virtual collaborations and partnerships. Various ways were explored to take ICT and education forward, the need for a common framework and to address capacity building at regional levels, along with the need to arrive at an understanding on e-Learning and GeSCI.
After lunch, a presentation on
Creating the Environment for National e-Learning Development: Good Practice and Lessons Learned was made by Patty Swatts, GeSCI Education Specialist. The presentation focussed on orientation of the countries on the understanding of key concepts of e-Learning. She highlighted the need for the African nations to build a country-centric perspective while planning for an e-Learning programme or policy. The use of common terminologies such as scaling up, empowerment, people centred approaches, participatory, consensus-building, collaboration, equity,  capacity building and sustainability were discussed and contextual use and applications was suggested after critical examination by the nations.
The important issues highlighted by the participants were:
Development of e-Learning framework strategy

Development of an e-Learning readiness assessment model

Capacity building of users and implementors of e-Learning

Building of an institutional framework for e-Learning development and delivery

Increase of investments for e-Learning initiatives

Development of a learner-based content linked to curriculum

Creation of a common understanding of e-Learning amongst various Sub-Saharan countries

Development and promotion of digital libraries

Infrastructure for establishment and outreach of e-Learning activities

Awareness and development of e-Culture for acceptance and popularisation of e-Learning

Co-ordination of e-Learning programmes across the country and sharing of knowledge amongst various

departments planning and executing the e-Learning programmes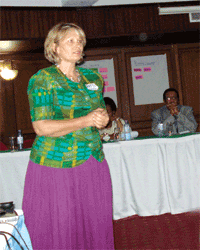 She also emphasised on the need for the nations to move ahead from small pilots to successful, innovative, scalable and replicable and sustainable country-centric application studies to obtain a critical analysis on the adoption and implementation of ICT and e-Learning. There is a need for a nationwide scale pilots to obtain a holistic view of the technology benefits.
Patty mentioned about the benefits of e-Learning programme, that should be assessed by the countries and respective agencies by using a total cost of ownership methodology before adoption of any technology at the National scale. These include infrastructure, connectivity, security to deliver e-Learning programme, etc. Total cost ownership tool developed by GeSCI can be adopted in this line, she suggested.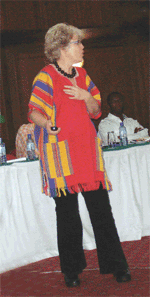 Don't reinvent the wheel- customise it. Most of the e- Learning initiatives built by various countries can build a common understanding of concepts on technology and adoption process can be customised defined by the country technology setting and needs. e-Learning modules and programmes should consider the curriculum and education focus of the country and plan accordingly.
– Patty Swarts
Followed by a presentation by Mary Hooker: GeSCI Education Specialist, titled e-Learning Initiatives and Trends: A Search for new meaning.
The presentation provided new insights and perspectives to approach of e-Learning. Hooker highlighted the new advances in e-Learning technology along with new literacy for teaching and learning in the context of distance and flexible learning. Contrary to the technology-centric approach usually followed, she pointed those present towards a social constructivist paradigm.
DAY II

ICT in Education: Challenges and Issues
Alex Twinomugisha: ICT Specialist, GeSCI
With his presentation, Alex introduced to and oriented the participants on the major challenges when planning for an ICT in education policy or programme. He highlighted the disconnect between the various departments assigned to execute the e-Learning activities and the lack of competencies within MoE in planning and executing ICT in education policy. Alex remaining involved in the building of the Total Cost of Ownership (TCO) tool with GeSCI, highlighted the hidden costs associated with deployment and maintenance of technology for educational objectives. He asserted assessment of life-cycle costs should be the planning approach before adoption of any technology, as usually hidden costs are not accounted for while deployment planning. The prime challenge the governments is to keep pace with the rapidly changing technology.
Requirements for Effective e-Learning Initiatives: Denise Clarke, GeSCI country programme co-ordinator, Ghana
Denise Clarke, GeSCI Country Programme Co-ordinator, Ghana, discussed the challenges of implementation of e-Learning initiatives in higher education in her presentation.

The major challenges highlighted were the low computer-faculty ratios in the university campus. The key strategy to be adopted by the countries would involve building the change management process as an capacity building approach of teachers and faculty to move towards e-culture. Issues of leadership and peer and network learning were identified as critical in making e-Learning acceptable to bring out the attitudinal change in students and learners for adoption of the new technology. Strategy for e-Learning should be planned by the concerned departments and an in-built component of research and innovation should be designed as a pace-setting exercise. The strategy plans should outline the userneeds and plan the implementation focused on achieving the outcomes. The education should come before the technology.
Informed choice of technology: Education departments don't have core competencies in ICT, hence the MoE should align and collaborate with other departments of IT/Telecom to work towards e-learning solutions in education institutions.
Gallery Walk: National e-Learning policies and initiatives of the participating countries
This was followed by a Gallery Walk through the national e-Learning policies and initiatives of the participating countries. The participants were asked to discuss and display their country policies, programmes by breaking out into different groups.
Namibia e-Learning Cenntre (eLC) Presentation: Theodore Whittaker, Executive Director CECS, Namibia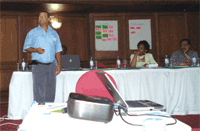 Theodore Whittaker, Executive Director, CECS, Namibia, made a presentation on the Namibian e-Learning Centre's (eLC) successful initiative with assistance from a German development organisation InWEnt, alongwith Namibia Open Learning Network Trust (NoLNeT) for delivery of e-Learning  programmes. The eLC programme has 60 stakeholders representing PPP of multi-stakeholders. The methodology involved prior research on the learner management systems, followed by constitution of four task force teams on the management and governance, business-finance plan, technical audit and policy-making components. Training for the stakeholders was conducted to guide them on e-learning development and implementation of programmes on content development and instructional design, e-Learning management and support of virtual learning communities alongwith with orientation  on change management. The key success factors were an  ICT in education policy guiding document for the programme,  followed by constitution of a steering committee to follow up on the policy targets. The major changes shared by Whittaker were building the top management buy-in and limited resources.
India is a leader in IT and policy, regulatory and Internet governance. The digital content development in India is again a leader in e-Learning across the world. India is today a leading  skills training programmes. The experience sharing from India through the learning experiences from the maturity of the e-Learning market added to the capacity building objective of the workshop. Digital Learning,  the media initiative of Centre for Science, Development and Media Studies (CSDMS) got the opportunity to be a part of this knowledge exchange programme. The Indian experiences added to the experiences of the policy makers in African countries to understand  e-Learning through a country perspective.