EDURITE, a premier company in the field of ICT based Learning and Education content incorporates process of Cognitive Learning to provide the best possible teaching aids and learning solutions to schools and students alike.  EDURITE has been enabling technology led education in classrooms for seven years. These solutions help teachers explain concepts better, increase level of understanding of students and help children improve their performance. It employs principles of cognitive learning by using multi-media based animations, graphics and videos to explain concepts in a very interactive and intuitive manner.
EDURITE caters to 600 private schools, 2000 government schools and over 1000000 home users. We are giving the 21st century state-of-the-art classroom in A, B and C class towns in India with Smart boards, multimedia content and teacher teaching aids. EDURITE is the only Indian content creator to license content to the US, proving the credibility in the global market. It's also the first to introduce CD ROMS with text books. Understanding the less penetration of Internet and computer in India, EDURITE also launched the first DVD based curriculum content. Microsoft, HP, LG and Frank Brothers Publishers have partnered with EDURITE as part of their education initiatives, recognising the superiority of EDURITE content.
DigitAlly, a multimedia resource library from Edurite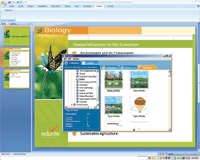 EDURITE's flagship product, aptly named DigitALly, (which means Digital Ally) is a massive multimedia resource library for delivery of subjects in a collaborative way in the classrooms. This tool can be used by the teachers in the kindergarten to class 12 to enhance the teaching with animations, videos and diagrammes. Digitally was first launched in 2005. Features include enhanced searching capabilities, create lesson plans or even select a lesson plan to suit to the syllabi. It is a digital repository of digital media objects, where we have all the learning media objects. The in-built search engine can easily extract the desired learning objects to be integrated into the lesson plans from the vast repository of over 5000 illustrative animations, 20 hours of video and more than 8000 self explanatory diagrams. Teachers can also add to this repository any animation, video, graphic that they deem as appropriate for teaching for their students. DigitALly covers CBSE, ICSE, IGCSE and state board syllabi from classes 1 to 12.
Presence in private schools
EDURITE has proved its necessity in various schools like Indus International School, Primus International School, Bangalore, MES Group of Schools, Poddar International School and many more. EDURITE animations helps in making the concept crystal clear & also it can draw the attention of the children.
Presence in rural schools
EDURITE's Digital Equaliser Centres (DEC, technology enabled learning centres) has fulfilled this idea to a great extent. Content is created by inviting the best teachers to the studios, shooting them, hiring animators to add text and creating a complete package. Schools can load it on servers so students can learn from their best teachers. EDURITE has been involved as part of the Mahiti Sindhu Project (Computer Education Programme for the Government High School Children of Karnataka) and education programs for America India Foundation (AIF), chaired by Former US President Bill Clinton. AIF aims to bridge the digital divide between urban and rural India. Edurite has helped establish over 76 Digital Equaliser Centres across India.
Mobile PC for easier content delivery
EDURITE has an ingenious method for implementing the e-Learning content for schools – Mobile PC. This indigenous self-sufficient Mobile PC developed by EDURITE delivers computer aided learning content and IT content for rural schools. The Mobile PC, encapsulated in a box consists of a Projector, Table, Keyboard, Mouse and a UPS. The monitor has been substituted with a projector so that the image can be projected on the wall for the benefit of the entire classroom.
Edurite increases success level in education
Edurite Technologies has established five learning centres at Besagerahalli, Mysore and Bangalore. The results from the first two centres established have been astounding. In Besagerahalli, the 10th grade pass percentage went up by 55% in 2004 and the 12th grade pass percentage went up by 30%. The impact of these centres on the rural public has been substantial. In the Mysore centre, more than 500 villagers have been trained to use the computer in the last six months.
EDURITE's vision is to be the largest player in Education business in India targeting all the 1.2 million schools in India.
Follow and connect with us on Facebook, Twitter, LinkedIn, Elets video