Let us examine the contribution of various stakeholders in this process!

Government
The government needs to stimulate a learning culture, and e-Learning must become a policy issue. Government must recognise the e-Learning Industry as a separate forum and not treat it as part of the IT enabled services or a sub sector of the IT industry. A case in point is the Australian Government support for promoting e-Learning. The Government there has been successful in increasing the industry use of e-Learning in workplaces.
The Academia
Schools and Universities taking the e-Learning route are still a very small fraction of the overall number. In addition, the transition from distance learning to e-Learning is moving at a snail's pace. Universities are long over due in making significant improvement in the quality and employability of their courses offered. Through e-Learning, they have a chance to improve both the quality and quantity (wide audience).
The Industry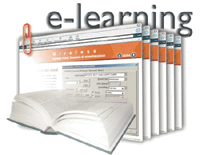 Unlike the west, in India, even the large corporates and business houses have been slow to adapt to e-Learning. Corporate sector must realise that e-Learning is one of the best ways to train and retrain employees and workforce, and any delay in implementing e-Learning is postponing the obvious; and the cost is enormous in terms of longer gestation period, logistic nightmares of having to arrange training at multiple locations, high obsolescence of content and information and lack of standardisation of training infrastructure. Corporates must start integrating e-Learning into their strategic plan, and by combining e-Learning with a knowledge management system, they can improve learn ability, and performance.
e-Learning Companies and Technology Providers
E-Learning companies have been heavily dependent on custom e-Learning courseware development which is still not very cost effective as per Indian standards and affordability, since the industry is still exploring automation opportunities and process oriented methodologies.
With the tremendous explosion in web usage as a knowledge sharing and delivering platform, e-Learning will become more a norm than an exception. It is incumbent upon all of us to drive this process. Together we need to create an e-Learning infrastructure that is sustainable and continues to transform learning, education and training! .
Follow and connect with us on Facebook, Twitter, LinkedIn, Elets video